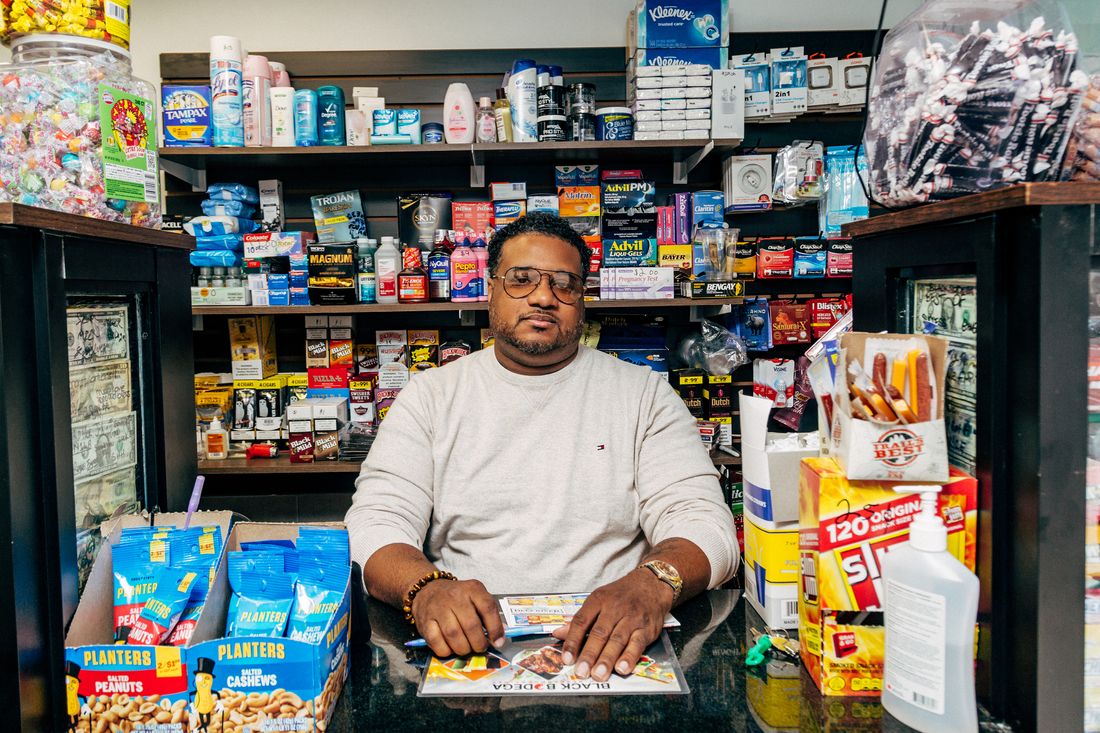 Photo: DeSean McClinton-Holland
With its steady stream of locals placing their regular orders: a sausage, egg, and cheese most mornings for a neighbor who lives across the street; a grilled-chicken sandwich for the senior who scolded employees for not saying hello to her last time she strolled by the shop (no one has forgotten since), BLACK BODEGA seems like it's been a neighborhood fixture for years. In fact, the bodega, which is located two blocks east of the 167th Street station in the South Bronx, smack in the middle of a thoroughfare lined with apartment buildings and retail storefronts, only opened two months ago.
The store is owned by former music executive and Morrisania native Lenny "Alizé" Jones, who has collaborated on records with artists including Ginuwine, Puff Daddy, and Tyrese, and has always dreamed of opening a bodega in his home borough. It wasn't until 2020, as the pandemic claimed thousands of lives and shuttered several businesses in the South Bronx, that Jones realized it not only created a financial opening to launch the business — but was the very reason why he should. "A lot of times people get successful and they turn away from the people who contributed to that, so this comes from a place of: I'm from the neighborhood, and now I'm in a position to create jobs," said Jones, who grew up a seven-minute walk away from the store. "Of course everybody wants to make money, but honestly speaking, that's not the primary goal here. This is something the community needed."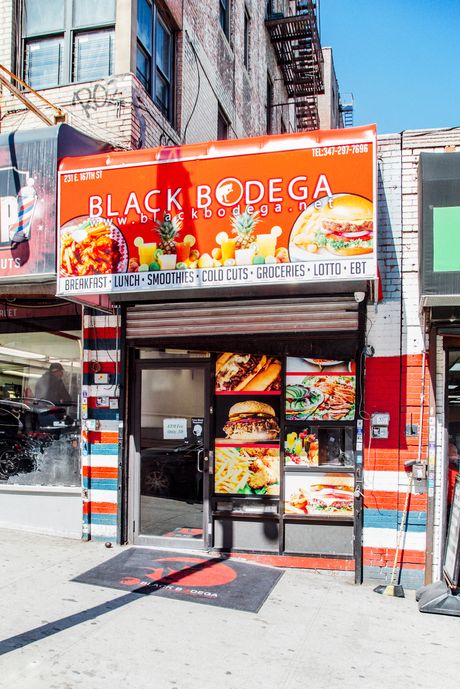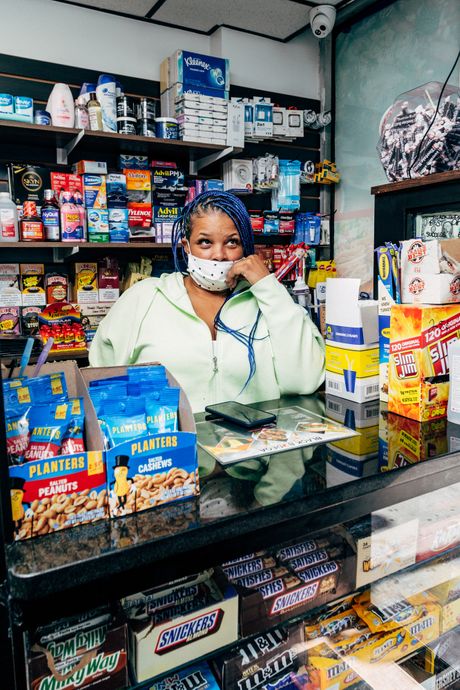 Jones, his brother Robert Forbes, and childhood friend Rusheed Nash (both partners in the store) had originally hoped to set up shop at the intersection where they grew up: East 168th Street and Clay Avenue. That's also roughly where he launched Beat Brokerz recording studio out of an apartment in 2005, where rapper French Montana supposedly got his start (the studio has since closed). But after another bodega rented the space they had been eying, Jones's realtor suggested he visit the East 167th Street storefront. "When I saw it, I said, 'Okay this is perfect.' It's literally the only eatery on the block," said Jones. "So it's not the block we wanted, but it's dead center in a commercial area and it felt like we were filling a void." After haggling the rent down from roughly $6,500 to $5,000 a month, Jones was able to hire more staff — seven all told, mostly from the neighborhood — who had lost work during the pandemic. (He's paying minimum wage, but says he aims to ramp up those rates after assessing how the business is faring in a few months.) One of the women who works the cash register is a local who was laid off from her job working for a Harlem day-care center. Another hire, a cook from Queens, lost his job as a chef when the restaurant he was working at closed.
Since opening in late February, Jones has settled into a routine of getting to the shop around 6:30 a.m., making a run for any supplies that may be low, and then settling in to man the register. Black Bodega is open seven days a week from 6 a.m. to 11 p.m., but as of May 1, they will transition to 24-hour service to be available to neighbors nonstop. Like any bodega, you'll find plenty of kitchen-cabinet staples and neat rows of candy and snacks by the counter, all of which Jones says he's priced about 50 cents to a dollar cheaper than his neighborhood competitors; even the ATM fee is only a buck. Jones worked out pricing and exactly what to stock his shelves with after weeks of what he calls "reconnaissance work" scouting bodegas across the city. He also took to surveying people on the weirdest — but most useful — things they ever bought at a bodega. "One guy said rust remover, which sounded far-fetched, but I said, 'You know what, I'm gonna get it.' So I have two bottles of this crazy rust remover, and one day when someone needs it, it'll be there. That's really the goal: just to be what the people need," he said.
But there are also plenty of unique eats that have customers returning. The main attraction is undeniably the deli, with an intentionally minimal menu of about a dozen hot and cold sandwiches that's already attracted a bit of a cult following. Among its top sellers is their chop cheese: the Bronx bodega classic made up of ground beef grilled on a flat-top with peppers and onions, chopped with a metal spatula, smothered in melted cheese, and dressed with condiments like lettuce, tomato, and mayo ($4 on a roll or $6 on a hero). It's already become a lunch-mainstay for the staff at the barbershop next door, but the sandwich has also lured three friends from southern New Jersey who drove two hours for sandwiches after learning about Black Bodega on Instagram. The only item that tops the chop cheese is the wings, which come in flavors like lemon pepper, garlic Parmesan, barbecue, and buffalo (mild or hot); for a recent special, the deli made a honey-Jack Daniel's sauce. On the day Black Bodega opened, the shop sold 70 pounds worth of chicken wings, and since then has settled into selling anywhere from 300 to 500 wings daily, at $4.50 for a half-dozen. Jones remembers a woman who said she walked a mile one frigid day in February just to order 35 wings — and who then had to trek up a hill on her way back home. Another customer single-handedly halved their inventory of wings one day after purchasing a box of 100 and then returning hours later for 125 more.
That the store is doing well — better than expected, even — has been exciting for Jones. But what's particularly gratifying is being in a position to build up the neighborhood in an area recovering from a tough year, and to help support locals, even if it's just in little ways. One woman who came in with a child one day was short about three dollars to pay for the sandwiches and juice she was buying, Jones told her to pay the balance when she could. "You have to support the people who support you. For somebody to come and spend their last bit of money at my store, it feels good to reciprocate that," said Jones. Growing up he frequented a bodega around the corner from his grandmother's home. He remembers the woman at the register, Patricia, giving him and neighbors a small line of credit when they were short on cash. "I wanted to replicate that feeling of community," he said.