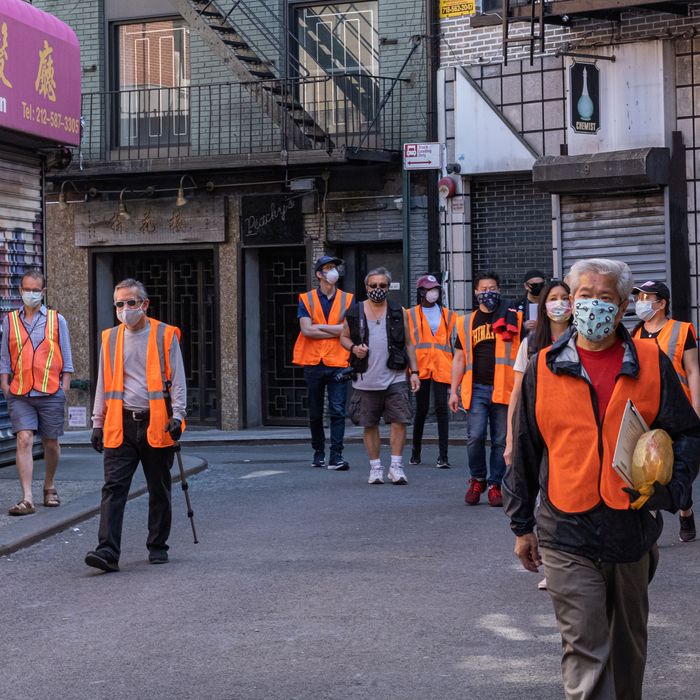 Karlin Chan (far right) and a group of volunteers with the Chinatown Block Watch on a patrol in Manhattan Chinatown.
Photo: Jeenah Moon/REUTERS
On a Thursday afternoon in late February, half a dozen members of the Chinatown Block Watch gathered on Mott Street. Among the day's volunteers were an upbeat woman with bright purple hair, a ponytailed man walking a friend's dog (a Bernese mountain dog named Simba whom several passersby stopped to pet), and a tall, imposing figure dressed from head to toe in what looked (at least from afar) like military-style combat gear, provoking double takes everywhere he went.
That week, they were observing a poignant anniversary: one year since they began patrolling Chinatown in response to the rise in harassment against Asian Americans. Weeks before the citywide lockdown went into effect last March, Chinatown had already become something of a ghost town as misinformation and fear about COVID-19 — exacerbated by anti-Chinese sentiments spouted by the former president — kept many people from patronizing the neighborhood. And as streets emptied across the neighborhood and across the city, the number of violent attacks against Asian New Yorkers increased dramatically.
When Karlin Chan, a local community-board member who is in his 60s, first put out a call for Chinatown Block Watch volunteers — reaching out to friends, posting fliers around the neighborhood — he didn't know how long the group would last. As he explained, the group is "just an extra set of eyes and ears" and a "visual deterrent to anything happening." If things improved, maybe they'd disband; if they got worse, they might increase the frequency of patrols or add evening shifts.
One year later, it's apparent that things haven't improved. If anything, the attacks seem to be intensifying. The recent shooting spree in the Atlanta area — during which a white gunman killed eight people, the majority of whom were Asian women — is a extreme and horrific example of this. In New York City, the attacks, which seem to be concentrated in the city's Chinatowns, haven't abated either. In April, a 39-year-old Asian woman in Sunset Park was attacked with acid while taking out her trash. In July, an 89-year-old in Bensonhurst was lit on fire by two teenagers. And in late February this year, a 36-year-old Asian man was stabbed in the back near Manhattan's Chinatown. March has seen a fresh wave of violent incidents. Most recently, a 65-year-old woman was brutally attacked on her way to church; the suspect was out of prison on lifetime parole. The NYPD received 28 reports of hate crimes against Asian American victims in 2020, versus just three the previous year. This year has already surpassed last year's record, with 33 and counting. However, many say that the real number is likely higher because some victims are reluctant to report the incidents — perhaps, in part, because of language barriers — and many incidents don't formally get classified as hate crimes. "A lot of people are wary of interacting with police — especially immigrants, because they're afraid of retaliation and they prefer to stay off the radar," Chan said.
The block watch varies its route through Chinatown but usually does a loop beginning and ending on Mott Street, often turning east to walk along Grand Street before heading south and crossing under the Manhattan Bridge. That day in February, the group walked their route without stopping. Along the way, Chan exchanged a few stray nods and hellos with vendors who recognized him as he passed; at one point, a chatty pizza-shop owner tried to persuade the group to sit down for some free slices. They were done with their route within an hour. Some days, they stop by businesses to check in, usually with Chan leading the way in Cantonese. It often feels more like a social activity than anything else — members chat freely as they walk, and at least once, a few of them have peeled off for a margarita break.
Every time a new incident occurs, Chan receives more inquiries about joining the group, which now has a roster of 40 volunteers. The twice-weekly patrols are welcome to all — the group includes a mix of male and female volunteers, spanning in age from their mid-20s to their mid-60s. There is a range of ethnicities in the group as well, though a majority of the volunteers are Asian American. There's no barrier to join; all you have to do is show up at the location Chan shares for the next walkabout. The members include neighborhood friends who've known each other for decades as well as strangers who learn about the group online and arrive alone. While some are macho men eager to send a message, regulars also include local elders in their 60s and restless moms looking for something to do. Some take the subway in from south Brooklyn or even drive from Queens or New Jersey. Somewhat fittingly, one regular, Henry Chang, is a crime novelist who has written a detective trilogy set in Chinatown.
When Margaret, the purple-haired volunteer on that February day, began hearing about the harassment early last year, she worried first about her elderly mother and other family members who live in Chinatown (she's a local resident too). One Asian American friend of hers had been shoved into traffic while waiting for the bus, and another acquaintance had nearly been run off the road while doing volunteer food delivery. So she began making masks for the block watch volunteers, and as she became more comfortable leaving the house, she began patrolling with them too. She felt safer knowing the block watch was around, and, she added, "It's helped me get more involved with the neighborhood. Pre-pandemic, I was just involved with my own life."
The spike in attacks on Asian Americans has brought with it a flurry of media and political attention: a segment on the Today show, the formation of an NYPD Asian Hate Crime Task Force, a recent rally at Foley Square where Mayor de Blasio spoke of "a particular horrible challenge faced by the Asian American community." Grayson Chin, a third-generation Chinatown resident who has been volunteering with the block watch since day one, feels encouraged by the media attention. "Before, nobody believed us or thought it was a big deal, but those of us in the community knew what was really going on," he said. But not all of the responses are welcomed; in September, more than 25 Asian American community groups denounced the formation of the NYPD hate crime task force, which is tasked with investigating crimes against Asians (acts deemed hate crimes would result in heavier penalties). "We do not believe this task force will make us safer, but instead put our communities (especially the most vulnerable) at greater risk," they said in a statement.
Chinatown, like many of New York's ethnic communities, has an uneasy relationship with the police. Through the 1980s and '90s, police were widely viewed as indifferent to locals' demands for action as Asian gang violence in the neighborhood spiraled out of control. Relations were worsened by tragedies like the 1995 police killing of 16-year-old Yong Xin Huang and the bungled police response to the 1993 gang kidnapping of 19-year-old Chong Hui Chen from his parents' restaurant in Chinatown, which his parents blame for his death. In recent years, rifts in attitudes toward the police have emerged around flashpoints like the 2015 conviction of Peter Liang, a Chinese American NYPD police officer who killed Akai Gurley, an unarmed Black man who happened to walk into a public-housing stairwell near Liang.
Few of the volunteers would call themselves anti-police — one occasional volunteer is, in fact, a police officer — and, as a community board member, Chan often works closely with the police and encourages people to report incidents to them. The group once intervened in a street altercation (involving two Asian people) and helped the alleged victim call the police. For Chan, it's a resources game: "If you report, they'll have the numbers, and if they have the numbers, they'll allocate the resources," he said. He is aware of the concerns of those who oppose the NYPD Asian Hate Crime Task Force, but believes that the task force should be made permanent, rather than staffed with volunteer detectives as it currently is.
At the same time, Chan believes that a large share of street incidents in Chinatown are linked to the lack of funding for the homeless and mentally ill. He often hears from vendors on Grand Street who complain about harassment from men on the street, many of whom have not been receiving medical treatment or support services because of the pandemic. "It's a city problem, and a mental health problem," Chan said. And at the end of the day, his vision for solving the problem is not a police one. "No amount of enforcement and no amount of [policing] is going to stop this tide. We can put new laws on there, and make the penalties more strict, but that's not going to stop anything," he said.
So what exactly is the Chinatown Block Watch? Chan is careful to note that it is not a vigilante group — after all, none of the volunteers are armed. But the khaki-and-camo–clad Asian man walking beside Chan somewhat undermined that message. "I feel like, Fuck it, let's let people know not to fuck with us — I'm going to look like I came out of World War III," said the man, who only gave his name as Mike. "But I know some people say it's too much and I'm more terrorizing the locals." (He also clarified that, although it looked like he was carrying a weapon, he had just picked up a rolling pin on a grocery shopping expedition to make dumplings.)
For the most part, the Chinatown Block Watch's day-to-day activities have little to do with the kind of altercations Mike's outfit implied. Most days, the group functions like a roving community message board, providing information and the occasional volunteer labor. Last spring, the group handed out paper signs in Chinese and English reading "No mask, no entry" for Chinatown business owners to post on their doors, after a scuffle between staff and customers at a Grand Street fish market resulted in several arrests. Other days, the group has skipped their usual patrol to help sign up seniors for vaccine appointments, or do crowd control at a free community store event organized by local nonprofit Asian Americans for Equality (which, in March, presented the Chinatown Block Watch with an award for grassroots responders).
Many of the members are also involved in other mutual aid efforts in Chinatown, like local bakery manager Patrick Mock, who has spent the duration of the pandemic providing free meals to people in the neighborhood, while other members have been delivering meals to elderly people and health care workers. And last year, Chan and Chin spent several months bringing meals to and trying to find housing for an unhoused Asian mother and daughter who'd been sleeping in Grand Central, after a police officer friend had reached out to them for assistance.
Without necessarily intending to, the Chinatown Block Watch offers a glimpse at how to keep a community safe without more policing. "Defund the police" proponents believe that money spent on policing should be diverted to community-based programs and social services, which is what the Block Watch does most days, Mike's World War III outfit notwithstanding. "It's important for people to have locals they can go to, and they know Karlin," said Mock, the bakery manager. "He speaks the language, he's a fixture in the community — people will tell him things they may not tell police or authority figures or just strangers in general. It's that community thing, gaai fong."