Photo: DeSean McClinton-Holland
For 14 years in a row, Erik Knapp was first in line to ride the Cyclone when it opened for the season. The pandemic interrupted that streak, and for 18 months, Knapp, better known as Mr. Cyclone to locals, has pined to return to the red leather seats of Coney Island's beloved, ancient wooden roller coaster. The Bensonhurst native says he's ridden the coaster nearly 3,000 times in his 55 years. "When I was a kid we used to ride it 25 times a day, when it was Astroland I had a season pass," said Knapp. "One season I rode it at least 125 times." He's a fixture of the People's Playground; on steamy summer days, Knapp, who works in vehicle maintenance at a Manhattan garage for the U.S. Postal Service, is usually cruising through the neighborhood streets in his bright-orange dune buggy (painted to match the Thunderbolt), wearing a faded muscle tank and an ear-to-ear grin.
A year without the seasonal thrills of the Cyclone was excruciating for Knapp, who regularly arrives at dawn each opening day to be first in line. One year, he says, he was too excited to sleep and showed up at 1 a.m. That's why when Luna Park finally got the green light from the state to reopen, Knapp was there at 5:27 a.m. today, his dune buggy parked across the street, eagerly awaiting his reunion. (Mayor de Blasio got there much later, as did Senator Chuck Schumer.) We spoke with Knapp moments after he stepped off his first ride.
First time in 18 months: How'd that feel?
Oh, man, that felt good. I got my first ride! I'm a little disoriented, but I feel really good. Just a little dizzy from not riding for 18 months. I was used to all these twists and turns, and then suddenly they went missing from my life, so it's going to take a little while. But the ride felt nice and smooth. I tell you, going up that first hill, the word normalcy just kept coming to my mind. I feel like I'm back in my routine. The adrenaline starts flowing and you're just going with it. Your heart is racing. I get into the banks and the curves, I know it all by heart, so I'm going back and forth with the ride. When I got off it was just relief. It was, "Oh my God, my baby. My baby's running strong." Just feeling a little emotional.
What did you miss most?
There's a couple of things: one is the clickety-clack going up, with the safety locks. I love that clack-clack-clack sound. And when you get to the last part of the ride, the last three turns are the most intense to me, because you really pick up — like 60 miles per hour speed — on that last turn. It was just great hearing and feeling all that again. I'm in my comfort zone now.
It sounds like a really meaningful part of your life.
It means normalcy. It'll be something that I continue to do, and now that it's finally back in action, it means I can get out of work and go for a quick ride on the Cyclone and grab my sausage and peppers from Ruby's every day. I can just go for a ride again! Unbelievable. There's money coming back in, things are opening up, it's becoming a place again where people can actually have an outlet now, social-distance at the beach and on the boardwalk, and that's just so, so important right now.
Walk me through your early-morning setup today: How was camping out this year?
Two weeks ago we had that nice weekend — it was like 70 degrees out — and so I got my dune buggy out and got it all ready to go. I call her Thunderbolt — she's the same orange color as the Thunderbolt. I was driving it around Coney Island. Just seeing the Cyclone and knowing I was going to be riding it in a couple of weeks was definitely, definitely exciting. So I got up at 3:30 a.m. I got my dune buggy set up; I fixed her brakes yesterday. I knew I wanted to get there around 5 or 5:30 a.m. This one was a very soft opening for me because I didn't want to get down here too early — some friends don't show up like they used to. Guys I used to hang out with, they would come religiously, but with this virus, a lot of people had to leave the city and couldn't make it. It was just me. I was enjoying the ambience of the morning, watching them set it up, and just seeing it all come together.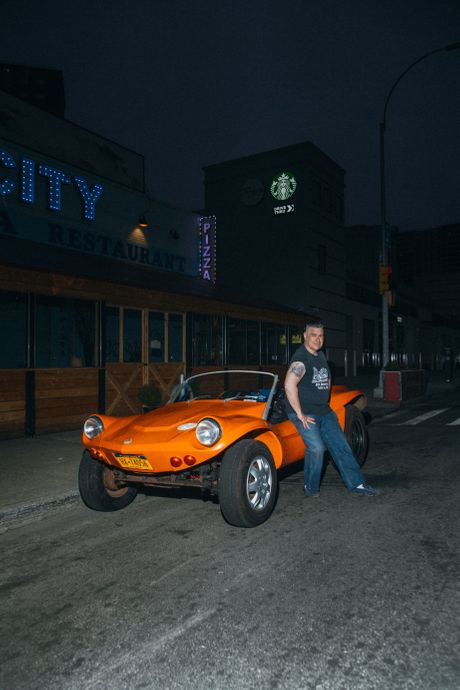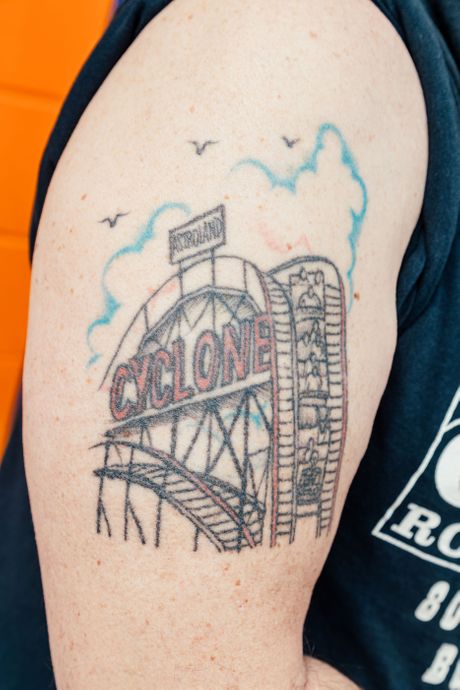 How did COVID-19 change things this year?
The first 100 riders were supposed to be essential workers, but not too many showed up. Then there was a big pause after that because they were trying to figure out how to run things with all the changes and social distancing. It was crowded, but not crowded crowded, so today was a good test. But there's definitely an edge in the air. Everyone is spread out. Lots of masks. I did wear the mask on the ride, except for the last curve.
What keeps you coming back? 
My first ride on the Cyclone was 1973, when I was 7. My grandfather took me down here a lot and my parents demanded: "Don't you ever put him on those roller coasters." And me as a little kid was, "I wanna ride. I wanna ride. I wanna ride." I finally convinced my grandfather to disobey my parents, and I rode the original Thunderbolt first. Then, that same day, we walked over and I rode the Cyclone. And it was just something special. I still get that same feeling as when I was a kid. That feeling has not left me. On my tattoo of the Cyclone, in the first car, it's me as a skeleton, and that sort of represents that I'm going to ride this till I die.
When will you be back for your next ride?
Probably next weekend. Weather permitting.