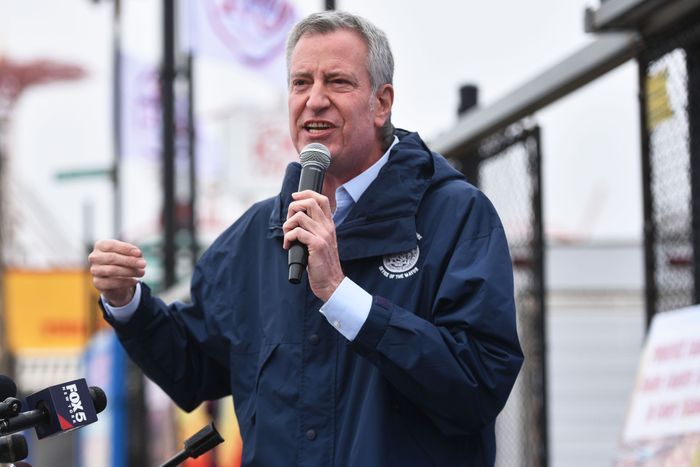 Photo: Erik Pendzich/Shutterstock
On Thursday, Mayor Bill de Blasio said the words all New Yorkers have eagerly awaited, "We are ready to bring New York City back fully," promising to reopen everything July 1. During a press briefing, the mayor painted a rosy picture of the city, with residents going to restaurants and bars without capacity restrictions, visiting theaters, and enjoying the many cultural events that were curtailed or canceled last year because of COVID-19. He triumphantly declared it "the summer of New York City." The only problem is the mayor doesn't have the authority to do most of what he's promising.
Under New York's state of emergency, local governments must get the green light from Governor Andrew Cuomo — who over the last year has engaged in a bitter, constant back-and-forth with the mayor over details of reopening — to end or ease lockdown measures. Capacity restrictions at restaurants, cultural venues, and indoor and outdoor gatherings are all firmly Cuomo's to set. De Blasio did acknowledge that he has yet to consult with the governor's office on his "goal" of a July 1 reopening, but said it was important to have a date to work toward. "I think the best way to proceed here is to set out the city's vision," de Blasio said, offering few specifics about which precautions would stay or go. So, really, it's more that he's hoping for the summer of New York City, so long as Cuomo will let him have it. One of the only things he can do to make the summer of New York a reality is send municipal workers back to the office, who are due in cubicles on Monday (the mayor also has exacted authority over public schools). But, at a press conference in Buffalo, Cuomo already called it "irresponsible" to project a full reopening date, while also offering his own vague timeline: "I don't want to wait that long. I think if we do what we have to do, we can be reopened earlier."
De Blasio pointed to the city's progress on vaccinations as the top indicator that the five boroughs are on a path to recovery, and he's right about that. To date, more than 6.4 million vaccine doses have been administered in the city, meaning 36 percent of New Yorkers over the age of 18 are fully vaccinated (and 52 percent have received at least one dose). And the state has rolled back a few restrictions already. On Wednesday, the legislature suspended an unpopular Cuomo rule that required bar and restaurant customers to order food along with their alcohol. The curfew that forces bars and restaurants to close early will also end, statewide, on May 17 for outdoor dining and May 31 for indoors — an announcement that was made by Cuomo, the person who will likely have to sign off on lifting the city's remaining restrictions.