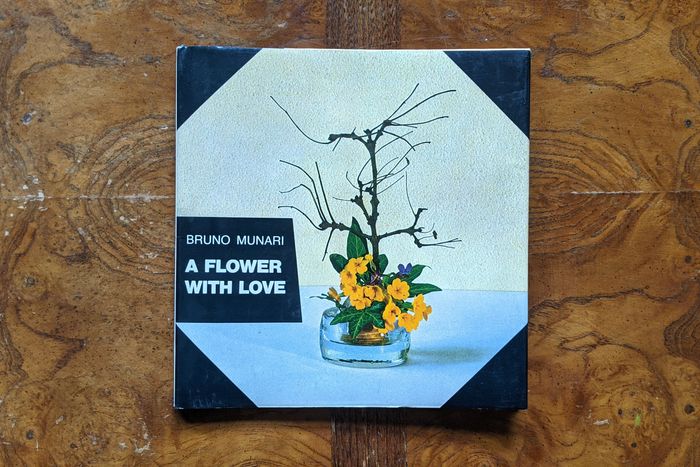 Robin Rose Hilleary is the founder of Fleurotica, a floral-art-and-design atelier based in Chinatown, which she started in 2019 after years of working in restaurants, most notably Dimes.
Robin Rose Hilleary's reference manual: The late-Italian designer Bruno Munari's 1973 book, A Flower With Love.
Why she goes back to it again and again: "I learned about Bruno Munari from my friend and former boss Sabrina de Sousa, who owns Dimes. I think it might have been our mutual friend Cynthia Leung who got her into this particular book. De Sousa showed it to me when I was just starting to find my voice in floral design and coming to see flowers as an artist's medium.
"Munari wrote children's books for grown-ups. I don't think they were intended for any particular audience, but that is how I would describe them. Munari would use a potato as a floral pin frog or a wineglass as a vase, flipping the measured restraint of traditional ikebana on its head and eliminating the elitism we might associate with expensive flower arrangements. There is no force in A Flower With Love. It's a really gentle, colorful presentation of joy."
Her favorite pages:
"This image is from the first spread in the book and so carries a text with it that is kind of introductory. The purpose of the book, as described by Munari, is to inspire creative gift giving. That ties into consensual gift giving — a concept I've been thinking about recently. It also makes me think of the energy a flower carries. Many of the flowers I work with are not humanely raised. Flowers are a luxury market, and luxury people do not investigate from where their luxury comes, so their source is rarely an issue to the client. This particular arrangement (along with many others throughout the book) feels so powerful because it's made from non-luxury flowers. Weeds are not farmed for profit and so do not carry a lot of trauma. For me, it's fun to work with stuff that's perhaps a little bit less complicated and less burdened by the trauma that we grow commercial flowers with. Also, I love the dandelion in the arrangement, which I never see in New York. I miss dandelions."
"I would describe this arrangement as 'ugly cute.' It's just some small dead wildflowers and cool weedy grass stalks that look kind of silly. Together they seem accidental. There are also two radishes floating at the bottom of the little French wineglass the arrangement is in, and they turn the water red, which is so cute. Collectively, the arrangement looks a little forlorn, and I like that."
"The arrangement looks so sophisticated, but it's just weeds in an egg cup and a potato! Munari writes that an 'ordinary egg cup or even an ash tray can be turned into a container for flowers.' Basically, he is saying stick organic matter into anything you have lying around the house. That is so obvious to me in my practice I forget it remains a novel idea to most people. It's a great reminder to do whatever you want."
"Grandmas always have a few pin frogs. This arrangement makes a bootleg pin frog out of a halved potato — turned upside down so it looks like a rock. I love a bootleg. This page reminds me of cooking too. More specifically, it reminds me of making fridge soup — you collect whatever is in your fridge at the moment and make a beautiful meal out of the ingredients, random though they may be. This arrangement is a piecemeal collection of the things you have lying around and reminds me of the things I make just because I need to make something, and for no reason outside of that. (I need to be constantly making or else I'll lose my mind.)"
"This arrangement feels dorky and cute to me. It's a little, happy, strong leaf. The image makes me fight my inclination to feel critical. Its simplicity makes me think, Oh, it's so cute, but it's not a flower arrangement, and that's really the point of the whole book.
"I still have this natural, ever-present urge to be critical of my work. I think, Oh, it's not polished enough, or flowery enough, or designed enough — but Munari isn't claiming his arrangements are any of those things. He's saying exactly the opposite. These are gifts that you can make at home with whatever you have. The book is a nice reminder to shush that overly critical voice in my head."