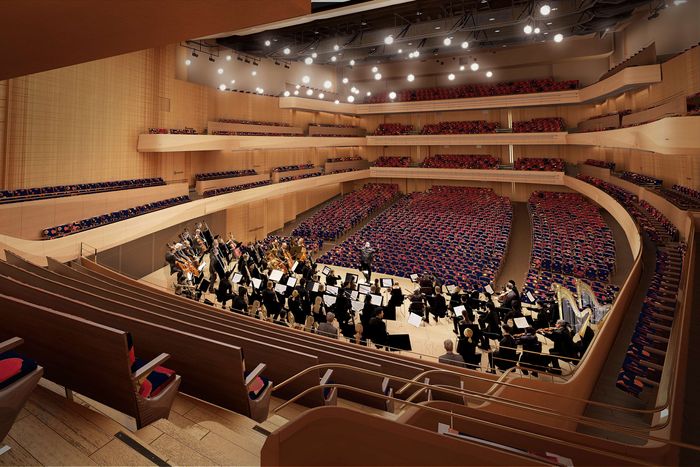 See it next year!
Photo: Diamond Schmitt Architects
In all of human history, the number of massive construction projects completed two years ahead of schedule probably hovers around zero. The overhaul of David Geffen Hall may hit that target, thanks to the pandemic-enforced cancellation of an entire concert season plus half of another, which left the building free to be torn apart. The $550 million gut renovation, which had been planned to stretch until 2024 with multiple interruptions so the orchestra could continue to play, will instead be finished by the fall of next year, the New York Philharmonic and Lincoln Center promise. "We're not building twice as fast — we're just not doing the phasing," says Lincoln Center co-chair Katherine Farley.
There is a trade-off: While Broadway glimmers back to life in the fall, the Philharmonic won't be able to come back to its home for another year. Still, the orchestra has other, smaller venues available on campus, and it plans to perform a full season starting next September, mostly divided between Alice Tully Hall and Jazz at Lincoln Center's Rose Hall with occasional excursions to Carnegie Hall.
After decades of abortive plans, postponements, retractions, and rethinkings, the news that 175 workers are busily reconstructing the hall's interior, which has already been ripped apart, comes as a surprise. So does the announcement that a fund-raising effort in the middle of a recession and a pandemic had crossed the half-billion-dollar line, with just $50 million more to go. (Much of that was raised before March 2020.)  "Once this plan came into view, and it became clear that it could be part of the economic and human recovery, there was a huge response," says Lincoln Center president Henry Timms. "So many people have gotten excited about this contribution to bringing New York back."
Some may find it unseemly that upgrading a concert hall should rise so quickly to the top of New Yorkers' financial needs, especially when the city's devastated arts community remains mostly idle. The Philharmonic managed to avoid furloughing its musicians, but in a contract ratified in December, it accepted heavy pay cuts into 2024. (The orchestra will reconvene for its first performance before a small live audience at the Shed on April 14 and 15 with Esa-Pekka Salonen conducting.)
The Philharmonic and Lincoln Center announced the substance of their renovation plans in late 2019, just as COVID was starting to swirl around the globe. A few months later, the world went dark. "We all thought at the beginning that maybe we wouldn't be able to play for five or six weeks," says Philharmonic president Deborah Borda. "And it became more and more clear that this was a disruption like nothing we'd ever seen in our lives; we started seeing what kind of advance planning could be done." The architects — Diamond Schmitt for the auditorium, Tod Williams and Billie Tsien for the public areas — pushed through the design phase so the job could be handed off to contractors, while Borda's team pulled apart and rebuilt several years' worth of artistic plans.
This 1962 beast of a building has never been worthy of the musicians who perform there, despite many attempts to fix it up. Dull acoustics have remained impervious to tinkering or even wholesale rehab. And over the years, while the prospect of a definitive renovation glimmered on the horizon, the structure grew more and more derelict, leaky, and cramped. The current project goes well beyond a sleeker, more resonant auditorium. Williams and Tsien's design reshapes all the public areas, adds new cafés and offices, doubles the size of the lobby, and equips it with a 65-foot screen where a free livestream of the concert will play for anyone who wanders in. A new glass-walled rehearsal and performance studio will open on the northeast corner of the building, at Broadway and West 65th Street.
The fast-tracking solves several problems at once. It piggybacks on the disruption that COVID has already caused and minimizes the pain in future seasons. It also lights a beacon for the city's cultural life: September 2022, the date when thousands of musicians and listeners may finally gather, unmasked, in the comfort and glamour of a new hall.