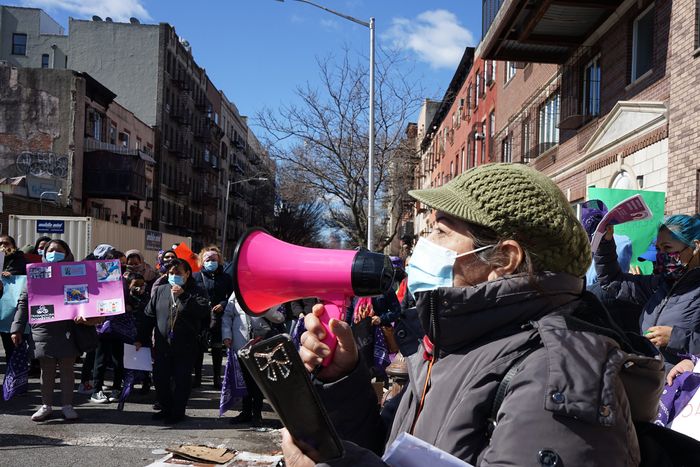 Photo: Courtesy of Workers Justice Project
On most mornings, Merced Aguilar takes a train from Bushwick, where she lives, to the corner of Marcy and Division avenues in Williamsburg, where she mills around with dozens of other women, most of them also immigrants from Mexico and Ecuador. There, holding gloves and face masks, Aguilar, a jornalera, or a female day laborer, stands and waits, hoping that one of the Hasidic women in the neighborhood will pick her from the crowd to clean her house that day. Unlike nannies or au pairs, Aguilar usually has to go to around five houses a week to make a living. Typically, she makes $15 an hour, sometimes $13, and is often forced to clean on her hands and knees because employers won't give her a mop or other basic cleaning supplies. But on Monday afternoon, Aguilar and nearly 100 fellow jornaleras were on the corner for a different reason: to protest. This past year, conditions have only worsened, with clients refusing to provide PPE and not wearing masks themselves. The fact that the jornaleras are mostly undocumented immigrants means they've had no financial support from the government. And after a year of dealing with these terrible conditions, they're fed up.
The jornaleras who gathered on Monday are part of a collective called Liberty Cleaners. The group was started three years ago by a number of women who frequent the Marcy-Division corner (one of the few outdoor locations in the country where women day laborers wait for potential employers), and over the years, it has pushed for guaranteed sick leave and other basic rights like mandatory lunch breaks. The point of the rally was to raise awareness for a new campaign to push employers to hire through Liberty Cleaners — thereby ensuring that workers get a $25/hour base wage, written contracts, employer-provided PPE, and notification if an employer gets COVID. In addition to doing door-to-door outreach in neighborhoods where they often work, the collective also wants city and state legislatures to write Liberty Cleaners' standards into law.
"Who among us has to work three different jobs without a fair wage?" Ligia Guallpa, the executive director of the Workers Justice Project, the organization that helped start Liberty Cleaners, asked the crowd of jornaleras, who immediately raised the purple handkerchiefs they were holding in honor of women's history month. "Who here had to work without PPE?" Guallpa asked. "Who here had to go out to work during the pandemic because there was no other choice?" Again, the women waved their handkerchiefs.
Celina Martínez, a house cleaner from Mexico, was at the protest. She was working for a family on the Upper East Side at the start of the pandemic, but in early March the entire family got sick after the husband returned from a business trip to China. But because COVID wasn't yet widespread, Martínez thought it was just the flu. "I was even happy because they gave me more hours; they wanted me to take care of them," she remembers. "They wanted me to make soup, to give them tea." But a few days later, Martínez started feeling sick as well. Her bosses told her to take some time off to rest, but they didn't pay her while she was recovering. Later, the nanny told her that the family had COVID — and Martínez realized that she must have it too. She was asked to test negative before returning to work, but with tests so hard to come by early in the pandemic it took her two months to get one. "They used me," she says.
Meanwhile, Aguilar has worked for several different families across the city during the pandemic. "Everyone said, 'Stay at home,' but we have to pay bills, we have to pay rent, and unfortunately we couldn't stay at home — we had to leave and risk getting sick and infecting our loved ones," said Aguilar. During one of her gigs last year, she asked the person she was working for if she could have a mask, but was offered a sock and a scarf to tie around her face instead. "And the sock was dirty," Aguilar recalls. "I told her I couldn't use that, but she said she didn't have anything else, so I had to work like that."
So far, Liberty Cleaners has succeeded at helping 300 workers sign contracts with employers over the last three years — which help guarantee things like a $25/hour wage, PPE, and a mop and other basic cleaning supplies (to avoid having to clean on their hands and knees). But there are thousands more across the city without these job protections. Ultimately, the jornaleras plan to keep pushing until all of their jobs come with the same guarantees. "The pandemic was really bad for us but we have to keep fighting, that's the reality," Aguilar said. "We can't stay quiet."