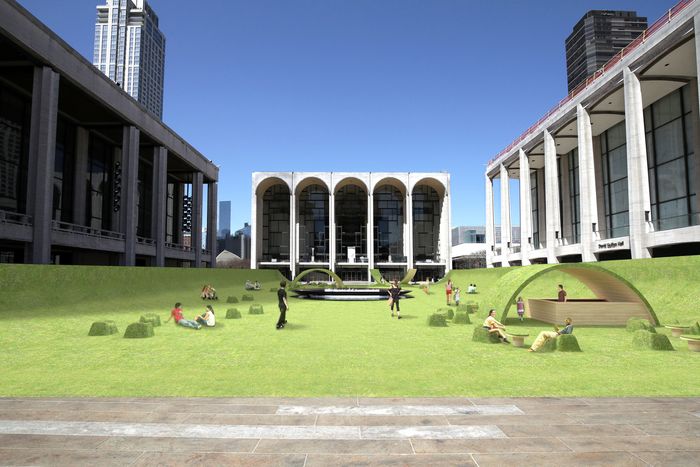 Urban turf.
Art: Designed by Mimi Lien; Rendering by Timothy Leung
When it was designed in the early 1960s, Lincoln Center's plaza was intended to be much more verdant than it is. The original plans, rendered by the architect Hugh Ferris, called for it to be ringed with big trees, and they were then stripped from the plans by none other than Robert Moses, who wanted to save money. The plaza as it finally came to be has come to be well-loved, but even its defenders admit that it's a little severe and windswept much of the time. (The fountain at its center helps a lot.) When its pebbly concrete floor was resurfaced with granite in the early 1980s, the great urbanist William H. Whyte again proposed that trees be added; again they were pruned from the plan to save a buck. And now, this summer, Josie Robertson Plaza (as it is officially known) will indeed be greened — but not with trees or grass. This week, Lincoln Center unrolled a plan for a temporary installation of SYNLawn, which is one of those new-style plastic grasses that's shaggier and less carpet-like than its Astroturf ancestors. It will cover the plaza's granite floor on May 10, and stay in place till September, then go to an athletic field upstate. The surface will have a few bulges and bumps here and there, including a few that are chair-shaped, as well as a couple of curious barrel-vault-like structures and what looks like a vending kiosk or information desk. But mostly it'll just be a field.
It's the brainchild of Mimi Lien, a designer of wonderful theater sets who is a MacArthur genius-grant recipient, and whose statement to the Times said that she "wanted to make a place where you could lie on a grassy slope and read a book all afternoon … Get a coffee and sit in the sun. Bring your babies and frolic in the grass. Have a picnic lunch with co-workers." All of which sounds good at first. The project, despite the fact that it's a giant swath of plastic, has been made out to be ecologically passable: the turf is partially soy-based, and because it will be reused afterward, its wastefulness will be mitigated. And nobody but a sociopath could possibly be against a plan to bring Lincoln Center's music out onto the plaza. Outdoor concerts are a good thing irrespective of the year; outdoor summer concerts after this particular year of being cooped-up and isolated will be paradise.
But here's the thing. Have you ever plopped down on one of these lawns? Yes, they are much less unpleasant than the scrubby, heat-retaining, excellent-at-giving-rug-burn Astroturf of the 1960s. But they are still scratchy, a little like sitting in a bed of cellophane Easter-basket grass. They're pretty great for a soccer game, but when you get down low and try to relax, you never get the feeling that you're lying on a natural surface. The blades rustle around you.
More of a problem, though, is the question of who exactly might attend. If the audience is principally local, and drawn in particular from Lincoln Center's loyal patrons, well … a thing about opera- and symphony- and balletgoers is that they tend to be old. And if I have learned one thing in midlife, it's that sitting on the ground for long periods grows a little more difficult and uncomfortable every year. Lien's stated goal — "I immediately thought that by changing the ground surface from hard paving stones with no seating to a material like grass, suddenly anyone would be able to sit anywhere" — is both limited and limiting. The few seat-shaped outcrops in the floor will surely fill up fast. (That said, SYNLawn, when installed correctly, is ADA-compliant.) One gets the sense that Lien, being a set designer, applied the habits of her profession here. It will look beguiling from 50 feet away, and then when you get up close, it will reveal itself to be gimcrack artifice.
We have learned, over the centuries, how to construct an excellent urban public space that gathers and mingles people effortlessly — and it often requires a mix of surfaces and forms and layers, commingling comfort and utility and access. (Playgrounds come to mind, as do urban markets like this one.) When Bryant Park was renovated in the early 1990s, it very quickly became noticed for one particular detail: It was stocked with hundreds of lightweight, inexpensive bistro chairs and tables. In these high-crime years, a lot of people quietly suspected that the chairs would all be stolen within the week, probably used to bash in the windows of nearby parked cars with NO RADIO signs in the windows. Somehow, though, whether through unobtrusive security measures or just plain civic niceness, the furniture stayed put, and the descendants of those chairs are in constant heavy use in the park to this day. People move them around to form groups at will, and their lightness and rearrange-ability are a major part of their success.
Which is not to say that the turf is a terrible idea! But this uniform totalizing monolithic (or monosynthetic, I guess) surface is a quixotic choice at best. Consider this alternative: Lay down a couple of rings of SYNLawn around the fountain, for those limber folks with supple quads who want to stretch out. Then, in addition, scatter 100 bistro sets around the plaza for the season, and perhaps bring in an extra espresso-and-pastries cart or three, and maybe a cocktail bar if the red tape isn't too snarly. We would suddenly have a quick-and-dirty knockoff of the Piazza San Marco on our hands, one that's not ancient but contemporary, attuned to the American preference for casualness and flexibility and experimentation (and, yes, lawns that are a little too green). The travertine marble all around the plaza is already Italian; just add a little Campari and some taralli, and a couple of arias, and you're good to go.