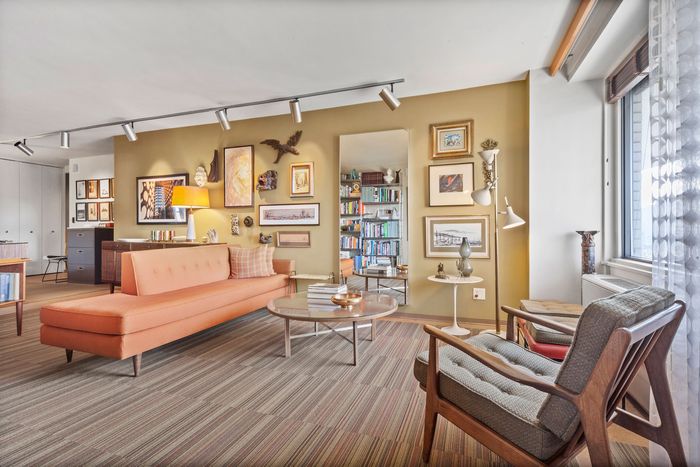 Photo: Brown Harris Stevens
On the seventh floor of Executive Towers, a 23-story co-op on the Yankee Stadium–adjacent stretch of the Grand Concourse, sits a meticulously renovated two-bedroom apartment packed with details inspired by Frank Lloyd Wright, Joseph Eichler, and Eero Saarinen (among others).
The owners, architectural historian John Kriskiewicz and property manager Christopher Bianchi, asked their real-estate agent to show them "dumps" eight years ago, and this unit, which had not been lived in for three or four years at that point (and was a rental for 40 years prior), was the one they eventually chose.
The couple wanted to design everything in the spirit of the 1963 building. In the kitchen, they put in a new stainless steel wall oven, since the original kitchen had a wall oven. The slanted wood ceilings were an homage to Eichler's ranch houses. The stone-patterned wall covering was a nod to Wright (the couple stayed at one of Wright's Usonian houses at Polymath Park, near Fallingwater, for their honeymoon and were impressed by the home's centralized stone hearth). And the countertops are quartz but with a terrazzo-like look.
There are commercial-grade vinyl floors in the kitchen and cork floors throughout — except in the two bathrooms, which both have penny tile. One of the bathrooms, in fact, is nearly completely covered in yellow penny tile, a reference to Saarinen's extensive use of penny tile at the TWA Flight Center.
The flow of the apartment centers around a roughly 12-by-nine-foot foyer that leads to a 21-foot-long living room, which has a big window and a door out to a terrace with views down to midtown. (These large, well-lit living spaces were typical of efficient apartment layouts designed by Philip Birnbaum, the architect behind the building.) There are two ways to get into the kitchen — either via a short hallway off the foyer or through a separate dining room. This is especially helpful during parties, Kriskiewicz says, when everyone naturally gravitates toward the kitchen.
Potential buyers will notice that the couple decorated the apartment with period-appropriate furnishings, too — including multiple Lightolier lamps and a plug-in fireplace they found on eBay. Although these pieces are not included in the sale, Kriskiewicz says they're open to offers.