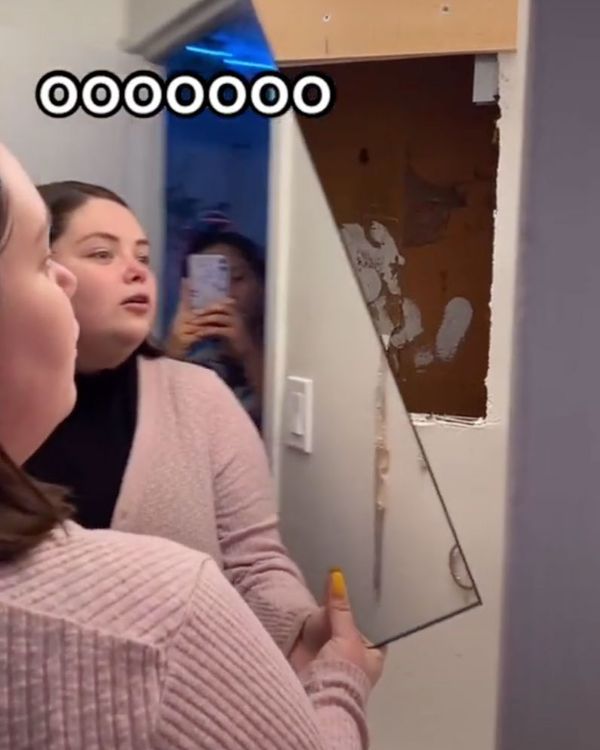 Photo: Erin Smith/@Schmidtyballs
In March, millions of people watched the saga of TikToker Samantha Hartsoe, who found a whole apartment behind her bathroom mirror. Turns out some viewers were more than just theoretically freaked out: 22-year-old Erin Smith recognized that bathroom, and quickly learned that she and Hartsoe live in the six-building Roosevelt Landings apartments (which used to be part of the Mitchell-Lama affordable-housing program and is now owned by L+M Development Partners). She too found that her mirror was removable, and her own TikTok discovery videos also went viral, even though she didn't discover anything more interesting than a few plumbing pipes and a random plastic bag inside the wall. Apparently, tenants across the complex's more than 1,000 units might have had the same idea, so management is now bolting down everyone's bathroom mirrors.
"Somehow, I think they found my TikToks," Smith says, "and someone called me like a week later and was like, 'We need to set a time to come in and fill out your mirror.'" She hadn't called the building's management to complain and says it's usually almost impossible to get things fixed that are actually broken. Within a few days, maintenance staff anchored the mirror to the wall, plastered up the hole behind it, and repeated the process in the second bathroom in the apartment. The maintenance worker said they were doing the same thing to mirrors across the complex. (C+C Apartment Management, which manages the building and is owned by L+M, declined to comment for this story.)
While that probably spells the end of viral TikToks from these particular Roosevelt Island apartments, discovery-in-your-own-house content is practically a full-blown genre on the app now. See this viral clip about an Oklahoma couple who found a whole "hidden" bathroom behind a wall during a home renovation.