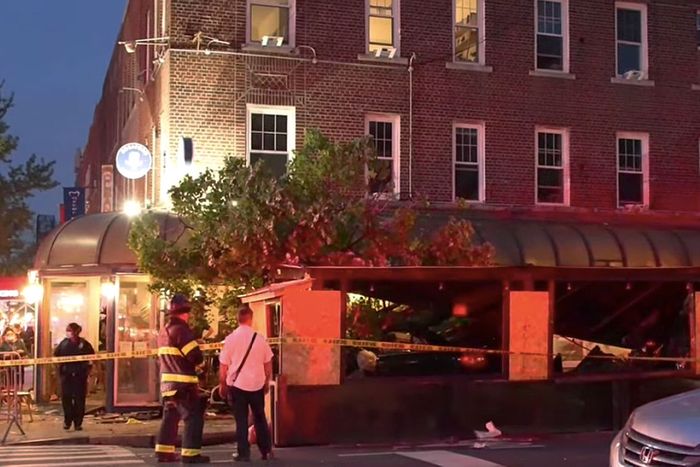 The Astoria streetery a driver collided into after fatally striking a delivery worker.
Photo: FREEDOMNEWS TV-NYC/YouTube
On Thursday night, a reckless driver fatally struck a delivery worker on a scooter before plowing into a streetery in Astoria. One diner was injured; had it been a warm weekend night, it's likely many more would have been hurt or killed. The crash is the latest of several where motorists have pulverized outdoor dining setups, highlighting how these structures are truly at the mercy of drivers.
The city requires streeteries to be banked with sandbags and water-filled plastic barriers, but that's hardly enough to stop a two-ton vehicle, and on many major avenues, the structures they protect sit barely a hairsbreadth from traffic. Transportation advocates have ramped up calls for traffic-calming measures and other physical changes to the streetscape ever since restaurants expanded into curbs and parking lanes. Now, the worst-case scenario has happened: Xing Long Lin, 37, lost his life after a driver smashed him into the streetery outside Rosatoro, a Peruvian restaurant at the corner of Ditmars Boulevard and 35th Street, just before 8 p.m. About half of the plywood structure was reduced to splinters.
Police and observers told the Times that the driver, a 60-year-old woman, was speeding northbound on 35th Street when she rammed Lin on his Yamaha Chappy moped before striking two parked cars and then ripping into a roughly 40-foot row of tables and chairs. Kevin Sales, the general manager of Rosatoro, told the paper that a tree and an electrical pole near the streetery likely slowed the vehicle down, "or else she would have been inside the restaurant." Surveillance-camera video showed the car plowing into the seating area and sending a spray of debris toward a woman sitting with her dog at a curb-facing table just inside the restaurant. No arrest has been made.