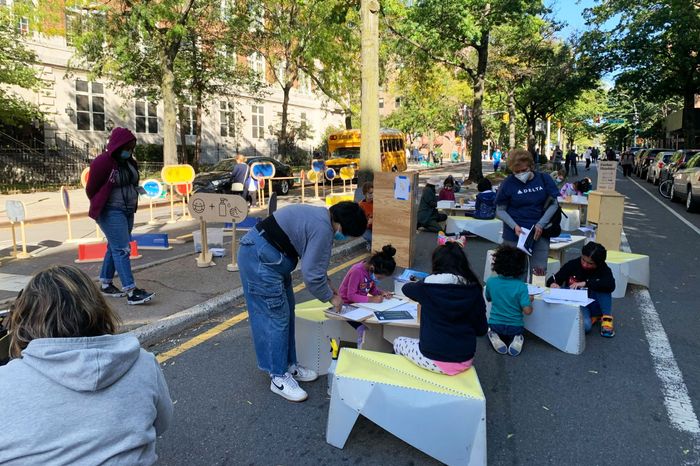 Each morning at 8 a.m., about a dozen volunteers in orange safety vests drag barricades to close off a 26-block stretch of 34th Avenue in Jackson Heights. Soon, residents trickle onto the mile of road. Instead of cars, strollers and wheelchairs and cyclists roll in. A group of seniors unfurls chairs and gathers for daily bingo. Neighbors lay yoga mats on the asphalt for weekly classes and, a few yards away, sit in a circle for English-language lessons. Children at crafts tables fashion dream catchers out of paper plates, string, and beads; others scrawl flowers in chalk on the concrete medians. This is the scene that has unfolded on the Queens corridor almost every day since May — rain or shine — as part of the city's Open Streets program.
These car-free streets, 83 miles of them altogether, are both popular and a proof of concept, a gold standard of what reclaimed roads can look like for New Yorkers — and they exist largely in spite of, rather than because of, the city. Mostly all-volunteer groups, like the 34th Avenue Open Streets Coalition, are the ones who manage them. The city regulates the program but doesn't fund it or help with daily operations, leaving these groups to raise donations themselves. Initially, the city selected streets and put the NYPD in charge of managing them, but now the police are less involved. Locals are the ones who pick up the slack. That's made it difficult for neighborhoods with less enthusiasm to get their open streets going; the South Bronx and the North Shore of Staten Island, for instance, don't have these corridorwide programs. It's why the accomplishments of these volunteers in Jackson Heights are all the more impressive: They took over a bare-bones city initiative and built it out into a transformative community project.
Which is not to say that they haven't tried to get the city to step up. In March, more than five dozen community groups wrote an open letter to Mayor Bill de Blasio urging the city to dedicate some resources to these groups. Three days later, the administration announced a new application process for the 2021 season — presumably in the works before the letter — but added no money and few other resources. There were also no specifics about building out the Open Streets program from a temporary effort to a permanent program. The DOT's commissioner, Hank Gutman, did say, "[We are] focused on the fact that not all communities necessarily have readily available the resources to partner with us in this program," and that it is working on addressing that gap. At a recent virtual town hall, Kyle Gorman, who manages the Open Streets effort for DOT, added that the city hopes to emulate the OneNYC Plaza Equity Program, which provides reimbursement funding and technical assistance to community groups struggling to maintain those public spaces. The administration says it'll offer funding eventually, but hasn't put forward concrete plans; officials say they'll have more to share throughout the spring.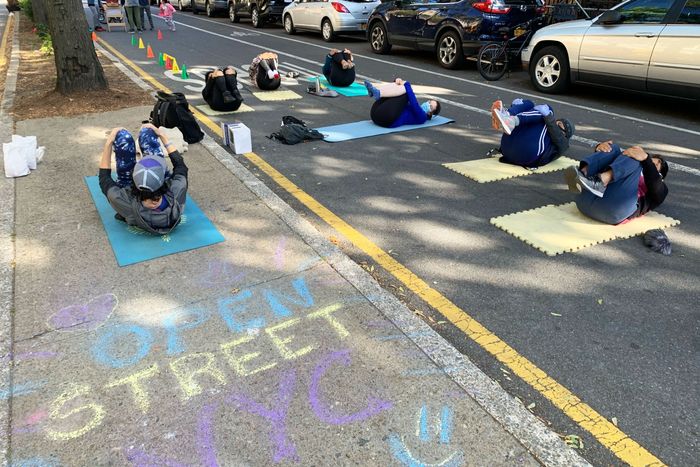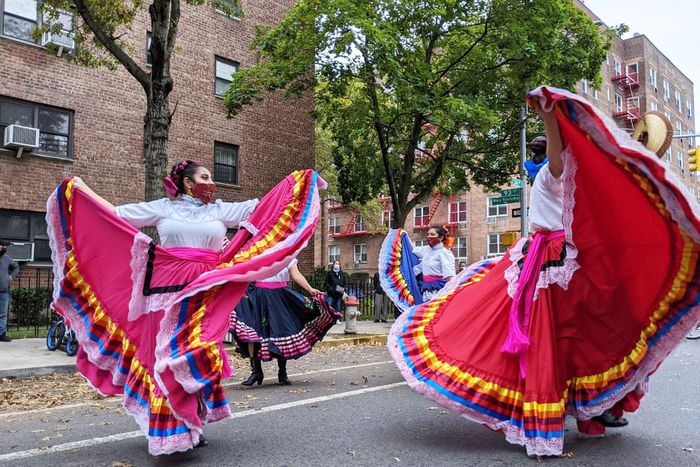 In Jackson Heights, the 34th Avenue Open Streets Coalition has collected $20,000 in mostly small amounts given by local residents. Those dollars have bought signage, paid small stipends to out-of-work instructors for activities like meditation and salsa dancing, and hired bands and other entertainment. Without those crowdsourced dollars, the avenue's open street couldn't exist, and that worries Jim Burke, an organizer behind the project. "When you go into other neighborhoods, or even deeper into our neighborhood, you eventually run out of people who have the privilege to be able to support this," said Burke, who says the program simply isn't sustainable as is. "You just can't leave safety to a volunteer. It can't be, 'Your neighborhood doesn't have volunteers so your kid can't be safe.' That doesn't make sense."
One Brooklyn community has managed to go a step further than the Jackson Heights group by making a pedestrian-only zone out of a high-traffic road lined with restaurants and businesses. On Vanderbilt Avenue between August and November 2020, neighborhood organizers sectioned off five blocks so restaurants could spread out their outdoor seating. The effect was transformational. On weekends, jazz singers serenaded diners. Kids snaked through the streets on their bikes. One couple even got married on the asphalt. But organizers were overwhelmed by the prospect of finding volunteers to manage the open street during the holiday season, and the program closed up for the winter. Through a GoFundMe launched last month, the organizers raised enough — over $25,000 — to contract out much of the planning and reduce their dependence on volunteers. Gib Veconi, one of the locals behind the Vanderbilt Avenue initiative with the Prospect Heights Neighborhood Development Council, says the city could explore a similar approach by kicking in funds for consultants to supplement the work of volunteers, thereby making it easier for open streets with less neighborhood support to take off. "We needed to begin to scale the way we approach staffing in order to make sure we have continuity," said Veconi. "I would like to think we're paving the way for how the open street is something the city puts in place that doesn't require a huge effort from the community."
It's unclear if the involvement of groups like the Prospect Heights Neighborhood Development Council and BIDS and neighborhood coalitions elsewhere managing open streets will continue in the long term. But until the city develops a model that makes it easier for communities to adopt open streets without the Herculean efforts required in Queens and Brooklyn, volunteer groups have little choice but to shell out their time and resources if they want their neighborhoods to enjoy the boon of car-free streets. "I would describe this as a bit like a poker game," said Veconi. "We don't know exactly how this whole thing is going to work out, but we've been dealt some pretty good cards, so we're continuing to put chips in the pot."