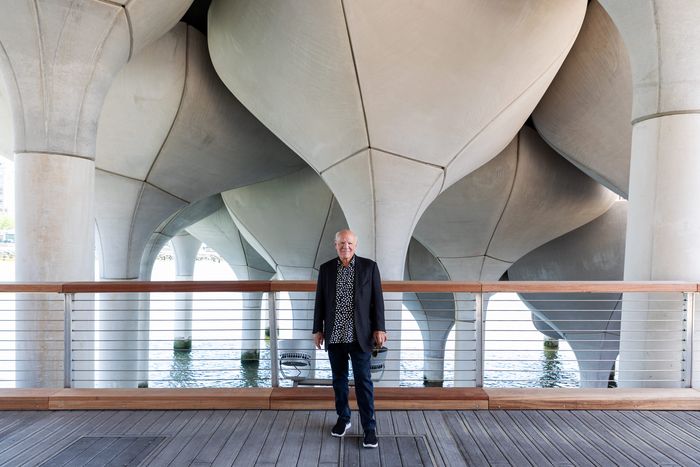 Barry Diller, under the concrete pods supporting the new park, May 18, 2021.
Photo: Dean Kaufman
As the city wakes up and masks come off, here comes news that something else has happened while we've been in lockdown: Construction has been completed on Barry Diller's long-gestating, once-declared-dead-but-soon-resurrected "floating island" on the West Side, and it officially opened to the public today. For eight years now, the media mogul has planned it, pushed it, and paid for most of it, and is so closely associated with it that, for a while, it was nicknamed Diller Island. It's officially called Little Island, and Diller, who is 79, is so proud of it that, last week, he biked down from the Upper East Side — he always bikes there if he can, he says, noting that "the last few days, freezing and windy, I thought I was gonna get blown into the river" — to show it off.
Bounding up the gangplank and under the planted archway, he's clearly enjoying the attention. "When you're working on something like this," Diller says, "you can never get the whole thing in your grasp. Not that I have it." My tour came right after the one he gave Gayle King. "Weirdly, she's a friend," he tells me, although that doesn't sound that weird at all. "She had no idea why she was coming here. But she liked it." Other well-connected well-wishers have stopped by in recent days to see what Diller has been up to; all of them, the media mogul says, have come away duly impressed, though he declines to mention any by name. "I don't want to pimp them," he says.
Diller and his wife, Diane von Furstenberg, helped remake the once-derelict area. In 2007, she built her company's headquarters — with that distinctive semi-pyramid on top, in which she lives — in the Meatpacking District, and that same year, he opened his IAC headquarters, a series of billowing glass sails designed by Frank Gehry, a few blocks north. ("I tried originally to get one of the piers and make it into an office building, but that was hopeless," Diller once said.) The two gave money and support to the High Line, which seems like a gentrification juggernaut now, but had almost been torn down in the 1990s. "But we weren't that engaged in the process," he says. Not like this. "This is all us," he says. "Our foundation is 100 percent of the support."
It began with a request. "Hudson River Park Trust approached me and said the pier was falling apart after Sandy, asked if I wanted to help rebuild it. I said, 'Not really,'" Diller says. "But, I said, 'Boats used to be alongside the piers, so could I be ambitious about the space?' And they said, 'Yeah, it's your money!' So, as I can't help myself — I love public spaces — we started dreaming. Could we build something that would make people happy, entertain them, maybe become an icon of the city. That's it. I know it sounds loopy."
And it almost didn't happen. Three years after it was announced, and before it was even ready to build, the floating park foundered on a series of lawsuits brought by a small civic group, the City Club of New York — reportedly bankrolled by real-estate big shot Douglas Durst — which claimed it lacked a proper environmental review. To be more specific, Diller pulled the plug, telling the Times: "Because of the huge escalating costs and the fact it would have been a continuing controversy over the next three years, I decided it was no longer viable for us to proceed."
As Diller now remembers it: "We got in a big fight with this real-estate guy, Durst. Some dispute he had with the Hudson Park Trust," he recalls. "Things were tied up in court. So I went to him and said, 'I know you don't like these people, but can't you find another project to be mean about?' And he looked up at me — he's sitting at his desk — and said, 'You have my sympathy.' Not another word. Then the project died. We'd already invested $40 million in it. And then Cuomo, a month or so later, called and said, 'If I can settle this thing and get rid of him, would you do it?' My family said, 'Go where you're wanted, don't do this.' I still had this big yen, so we started up again and here we are."
Little Island serves as a capstone to the area's years-long transformation, hovering over the wooden pilings of the long-vanished piers that once drew a very different crowd. "It was very dodgy," Diller says, adding, "I wasn't a practitioner."
The function of the floating island evolved over time. "First, it was a park. Then I thought, Let's have performances. We decided to have the amphitheater. We wanted to do a festival. So by the time we looked up, we had 500 performances. It'll be a huge mess, but I wanna make it a mess," he says. Stephen Daldry, George Wolfe, and Scott Rudin were his brain trust on this. (Diller told The City last month that Rudin, who's lived an "outstanding creative life," would continue to serve on an advisory board for the island.) "I think we're doing something with City Ballet. I could show you the book. I dunno if they'll let me. Every day, every week, there's like three to five things happening."
As for the food, "We interviewed Danny Meyer's company," Diller says. "But we chose this little company called Savory. I think they're fantastic." As we walk around, Savory's food-and-beverage staff are right in the middle of a training session, seated in a big, socially distanced circle in the shade. Diller, making his way toward one of Little Island's artificial hills, cuts through, waving excitedly.
"Thomas is charming — like the Wizard of Oz," says Diller. That would be Thomas Heatherwick, the man responsible, along with landscape architect Signe Nielse, for the park's design: a 2.4-acre faux hillock, mixing green space, plazas, performance areas, and scenic overlooks, hoisted above the Hudson on a cluster of podlike concrete pedestals. The engineering firm Arup figured out how to actually build it. The result sort of makes me think of a very glamorous oil platform.
"I always knew it was gonna be Heatherwick," Diller says. "I cold-called him. First thing he kind of designed was completely unbuildable — Noah's Ark in stainless steel. And then he came up with this little sketch of pods and tulips." Not that it was easy. "These geometries took a year and a half, value engineering. And of course we thought we could build it for x …" He trails off. It cost much more than he thought it would, of course: $260 million in the end. And that doesn't count the maintenance of such spectacularly unnatural nature, but Diller has promised that his family foundation will pay for upkeep and programming costs for the next 20 years, which he estimates will add up to $380 million.
Heatherwick is not in the same favor as he once was. His proposed Garden Bridge in London, which might remind you a little of Little Island, never happened, and his Vessel at Hudson Yards had to be closed after a series of (perhaps predictable) suicides. Diller assured me that Little Island was safe. "I got so drunk here the other night," he says, and then points to a row of protective steel rods that lines the park perimeter. "Hopefully you won't fall in. That's our barrier." He then gives a playful turn to a spinning pinwheel, installed on one of the sloping pathways.
But there are other things to worry about, like sea-level rise. "We're 15 feet above floodplain," he says. "My wife said, 'Please don't do this. You're crazy — it's going to sink.' But we did a thousand-year scenario. I think we're okay."
Bullish as he is about Little Island's prospects, Diller isn't going for the hard sell. "Look, it doesn't cure cancer," he says. "But it'll make people happy." And, inevitably, a wealthy man nearing 80 is thinking about what he leaves behind. "I come upon things in various cities, 100 years old, and I think: How the hell did they do that thing? And so I dunno how long this is gonna last, but I hope that people will come and say, 'Gee that's nice to have.'"
Gayle King left in a limo, but Barry Diller is biking back to the Upper East Side, stopping off at his headquarters en route. As long as he's got a long ride, why not spend it thinking up his next project — maybe something not adjacent to an already overpriced Manhattan neighborhood? Diller is open to ideas. "Just send 'em in," he says.