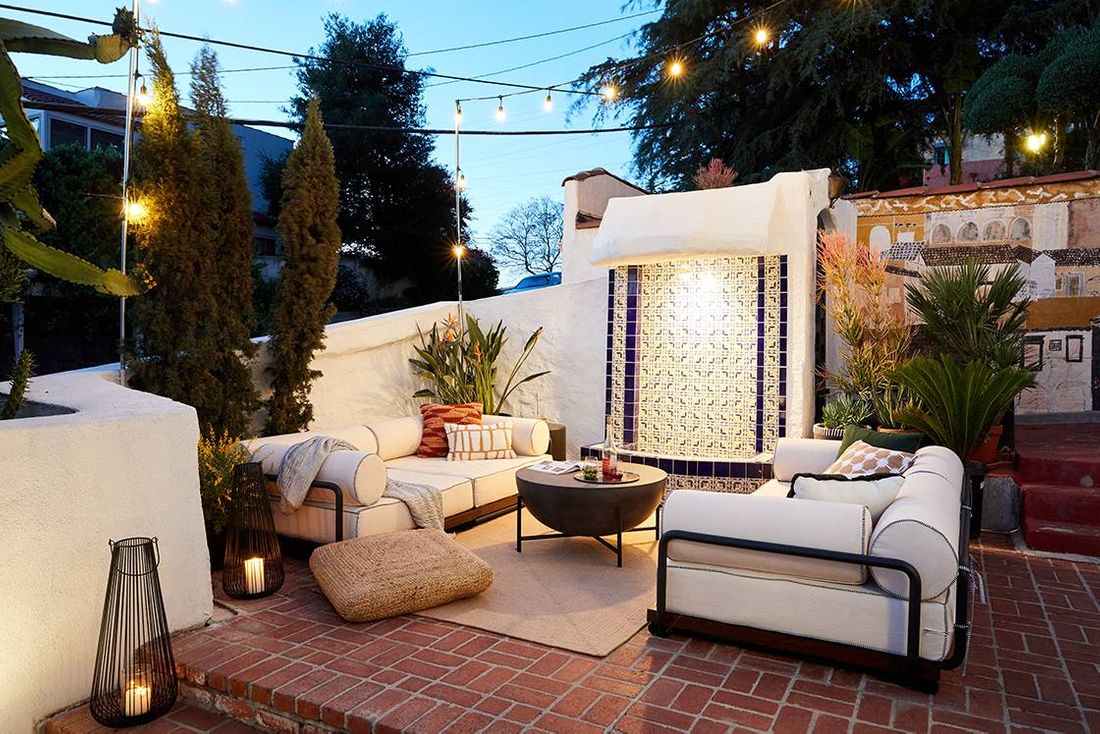 Spring is always a good enough reason for a party — especially after the longest year on record, when we didn't exactly get out much. Entertaining might still be limited to small groups with plenty of breathing room, but those long-overdue family gatherings and best-friend reunions will feel just as festive as the packed-backyard ragers of yore.
Your small-talk game might feel a little rusty, so let us make the decorating part as easy as possible. Ahead, we selected the best of CB2's modern outdoor accessories to transform your outdoor setup. Think entertaining essentials like unbreakable (yet chic) serving ware and supplementary seating. Elegant lighting that casts a rosy glow over the whole proceeding. And cool decor pieces, like expertly paired planters and colorful throw pillows to zhush up your outdoor space after a year of not nearly enough love.
Read on for everything you need to make your backyard feel fun — and company-worthy — again.
Decor
The finishing touches that add style to your space — and make your dining tables and lounge chairs feel fresh again. Think sets of planters that look like they were curated by experts (because they were); bright, pop-y throw pillows that make your space feel more inviting; and a midcentury-inspired rug that pulls the whole space together.
Brass Watering Can
To keep your new plants happy, consider this brass watering can that doubles as decor — its high-shine finish and elegant curves look like something you'd see at the design museum.
Black and White Planter Set
An artful cluster of planters gives your space instant jungalow chic. Intimidated by the mixing and matching of it all? Buy a pre-styled set like this one for effortless coordination. (Or try the terra cotta set if rustic is more your vibe.)
Phaedra Outdoor Mustard Loop Pillow
Make your outdoor seating pop with the addition of a few throw pillows — they're the easiest and most budget-friendly way to change your space's color story, and the nubby knit adds texture.
Dart Black and Grey Diamond Dhurrie Rug
A good rug can really pull your patio together — especially this one, with its bold triangle design. Pro tip: It looks even better layered with a neutral rug like this one.
Entertaining
It's been a while since you've had people over, so start simple — a small (and responsible) dinner party is the perfect way to ease back into things. Your must-haves include extra seating (that transforms into the perfect ottoman or coffee table when you're solo lounging), striking serving pieces that can survive a fall, and of course, a stylish spot to chill the wine.
Pebble Matte Black Melamine Dinnerware
Achieve the perfectly-imperfect look of hand-thrown stoneware, but made of unbreakable melamine. Genius for outdoor entertaining.
Braided Jute Large Pouf
It's added seating when the lounge chairs are full. It's an extra side table when you need your coffee at arm's reach. It's an effortlessly cool, beachy accent piece — is there anything a jute pouf can't do?
Skinny Dip Bird Bath
You know that one really good vacation where you woke up to birds singing every morning? That could be your actual life. Welcome a little nature in with this unusually stylish bird bath — or for the less ornithologically inclined, you can also add some ice and use it to chill your drinks when hosting.
Lighting
There's no quicker way to set the party mood than with lighting. For the ultimate cozy vibes, think in terms of "layering" your lights. Put out a few tall hurricanes to define the edges of your space, supplement with overhead string lights for extra glow, and set the stage for all-night chats with a few flickering candles tabletop. Of course, sometimes less light is more: If you're entertaining or lounging midday, a shade-giving oversized umbrella is a must.
Swoon Hurricanes
Place a set of these industrial-inspired iron hurricanes at the edge of your patio space to fill it with a gentle glow. For even more illumination, you can string up these stylish, complementary Edison string lights that make any space feel instantly festive.
Coco Smoked Glass Hurricanes
"Elegantly blobby" is definitely a look right now (think that Ettore Sottsass mirror everyone's obsessed with). These swanky hurricanes are just the thing to dress up your tabletop with a little late-'70s flair — not to mention some extremely flattering amber light your guests will appreciate.
Shadow Rectangular Black and White Stripe Umbrella
Feel like you live at the beach — or at least, a very fancy beach club — when you recline in the shade of this oversized umbrella in crisp black and white stripes.
This advertising content was produced in collaboration between Vox Creative and our sponsor, without involvement from Vox Media editorial staff.