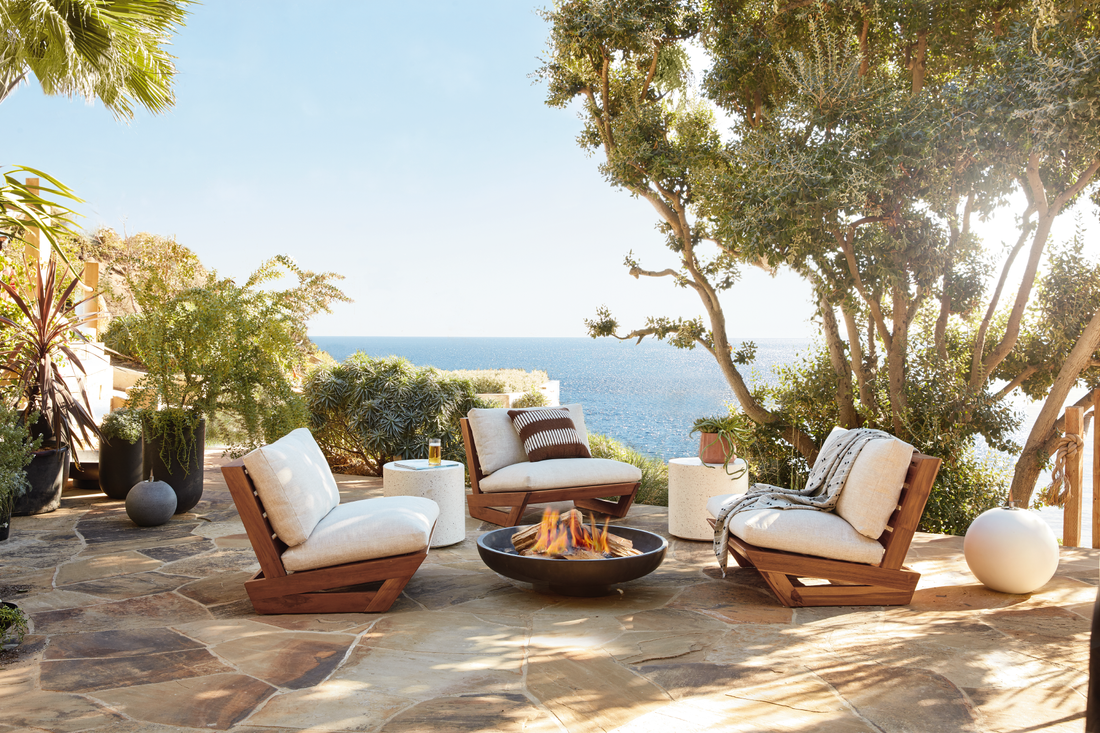 Summertime is right around the corner — can you feel the midday heat rising? With warmer weather comes more opportunities to dine outdoors, gather with friends and family, lounge, and celebrate good news and birthdays. That also means it's time to sweep up winter's debris from that patio space — and finally invest in new outdoor furniture and decor. Patio furniture has come a long, long way from the rusted metals and rickety wood of yesteryear, though. These days, outdoor enthusiasts and hosts are opting for materials designed to withstand the test of time.
The right combination of weather-resistant pieces and stylish silhouettes can be hard to come by. So where to begin? CB2 is here to guide us with its outdoor collection brimming with leveled-up materials and French Riviera-style tones that will complement any home aesthetic. From sustainable teak to stylish, heavy-duty steel frames, we rounded up the best of CB2's meant-to-last outdoor collection. We've broken our picks down by fabrics and materials, with coordinating al fresco furniture selects, too.
Teak
Teak has been certified as sustainable by the Forest Stewardship Council, making it look as good as it'll help Mother Earth feel. Varying from blonde to rich amber, teak's natural weather resistance makes it ideal for year-round use. When left uncovered and untreated, the teak will slowly turn into a soft silvery patina, so it'll look good even after many seasons. Translation: Even with little care, this wood can stay beautiful for years.
Stainless Steel, Iron, and Cast Aluminum
Cast aluminum is long-lasting and requires very little maintenance on the owner's part, which is excellent for those of us who prefer a laid-back approach to decor. On the other hand, stainless steel (just like your favorite kitchen pan) is durable enough for recurring, long-term use. For a material naturally protected against rust or unsightly corrosion, look to iron. The powder-coat finish adds to the durability.
Resin Wicker & Faux Rattan
Both resin wicker and faux rattan are ideal for various climates and temperatures, resisting fading throughout the elements — even hail and intense heat spikes. New weaving techniques and color variations mimic the look of the natural material without the fragility.
Sunbrella®
If you're looking for a sun-ready fabric that genuinely does it all, keep your eye on Sunbrella®. This performance fabric is durable, comfortable, easy to clean, and color-stable. Sunbrella® fibers are saturated with UV-stable pigments to resist fading from sun exposure. Ready to clean yours off? No problem — apply a mild soap and brush away the stain with water.
This advertising content was produced in collaboration between Vox Creative and our sponsor, without involvement from Vox Media editorial staff.