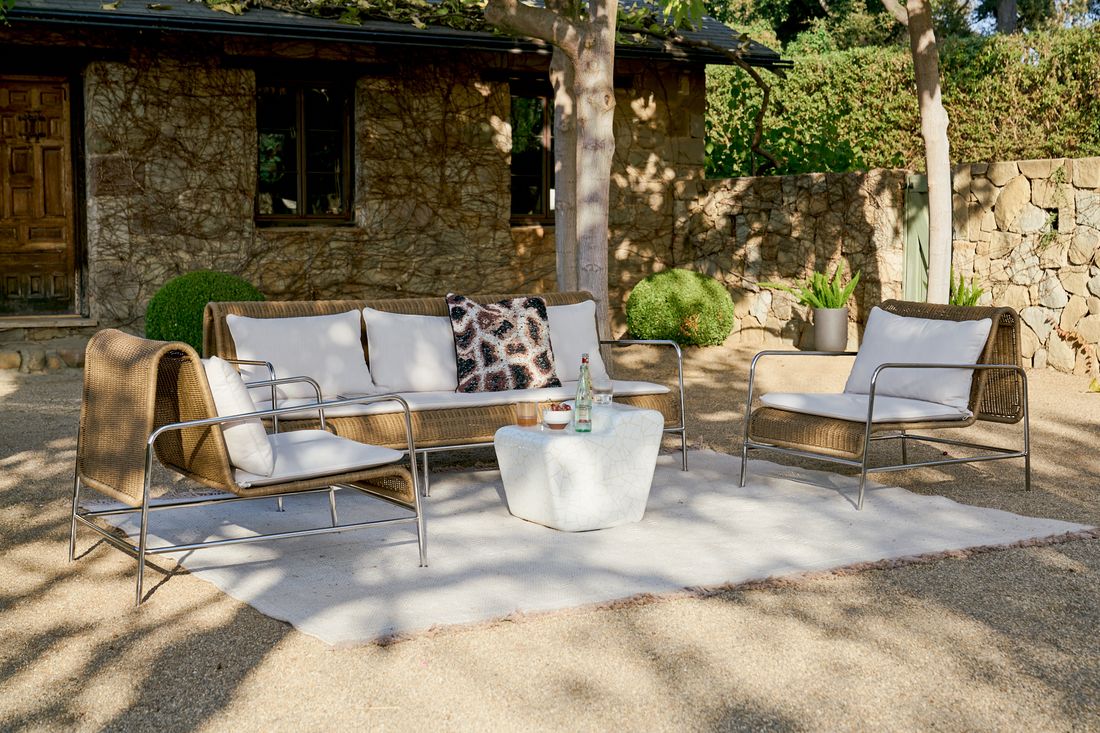 If you're lucky enough to have outdoor space, chances are you're using and appreciating it now more than ever. Like many city-dwellers, you might have even moved this year in search of some — any! — outdoor space to call your own.
Whether you're working with a teeny balcony that's your personal oasis above the city, or a new-to-you suburban patio so big you hardly know how to fill it, you probably have lots of questions about how to best use your space. Ahead, we're sharing the best design tips and tricks to help you create your ideal setup — for working, dining, and responsibly entertaining — plus some very cool, modern outdoor pieces from CB2 that'll transform your space into a stylish sanctuary.
Your small-space WFH/dining setup:
One hundred forty-four square feet — or 12 by 12 feet. That's about how much outdoor space many city-dwellers are working with, often in the form of a balcony or small outdoor courtyard. It's not much, but it's yours — and don't worry, you can still pack plenty of style into your micro space. Maximize versatility by creating a setup that easily swaps from WFH to weeknight al fresco dining, and add personality with chic planters. The following picks make the most of every inch of space.
Watermark Brass Bistro Table
CB2's compact brass bistro table boasts maximum style for its minimal size — the vibes are very "low-key cool café by the Seine." It comfortably seats two for side-by-side working or after-hours relaxing.
Brava Dining-Lounge Wicker Chair
A bold, black-and-white diamond pattern gives a graphic update to the classic wicker chair. This one's refined enough for dining, comfy enough to camp out in all work day long.
Zen Planters
A micro-balcony doesn't offer much room for spiffy accessories. Your best bet? A hefty clay planter adds some drama to your space without eating up square footage, and lets you add some all-important lush greenery.
Lola Round Concrete Dining Table
If your budget's a little bigger, consider this concrete dining table to anchor your small space. Its clean, rounded form is reminiscent of modern art — a truly striking conversation piece.
Your medium-space lounge setup:
Have a little more space to play with? At 250 square feet — about the size of a 16 by 16-foot deck or patio, your options open up. Think in terms of setting up two distinct zones for entertaining: keep your small dining setup, while adding a little lounge space. Keep each zone looking harmonious with what interior designers call "the rule of threes" — two lounge chairs plus a side table make a perfect spot to unwind.
Corrina Faux Rattan Lounge Chair
This low-slung lounge chair is nice and wide: the kind of seat you'll sink into, and barely want to move from. It's made of resin that mimics the laid-back look of rattan but is far more durable and weather-resistant.
Terrazzo White Side Table
This chunky, cylindrical side table in trendy terrazzo goes perfectly with your lounge chairs. It's one of those pieces that looks way more expensive than it is — and it adds a little whimsy to your space, without being super loud and Memphis about it.
Ixtapa Black Loveseat
Loveseats are another great option for medium-space lounge seating — this one boasts a sleek, modern take on the traditional Acapulco-style chair, at a very affordable price.
Lucinda Stacking Chair
For medium-size spaces, versatility is key. These compact, stackable seats allow you to expand your dining setup for any drop-by guests, and take up minimal room otherwise. (Very necessary once word gets out about your sweet new outdoor space.)
Your large-space outdoor setup:
If you're working with a large space, then you're living the dream. At 300 square feet and above (about the size of a 16 by 20-foot patio or deck), you can take your pick of sophisticated, full-size dining and coffee tables, plus oversized sectionals with room for the whole family. The same tips from our medium-size picks apply here: Think in terms of distinct zones for dining and entertaining. Using outdoor rugs to define each area is a favorite designer trick.
Naya 4-Piece Cast Iron and Teak Sectional Sofa
With its teak wood frame and cast iron base, this sectional sofa is as elegant as outdoor seating gets. Over time, the wood will gain an elegant patina that makes it look like a stellar vintage find — but the cushions will stay new thanks to the Sunbrella® weather-resistant fabric.
Mikos Black Coffee Table
Blocky, monolithic, and uncompromising — Brutalism is having a moment. This concrete and fiberglass coffee table is a stunning way to try the style at home, and add an unexpected touch of drama to your outdoor lounge.
Gartner Teak Lounge Chair
A low-profile, '60s-inflected lounge chair made of sustainable teak will perfectly complement the sectional above.
Form Cement Fire Pit
What's better than the whole family gathered around the fire pit at night? Especially when the fire pit is as sculptural and stylish as this one is.
This advertising content was produced in collaboration between Vox Creative and our sponsor, without involvement from Vox Media editorial staff.