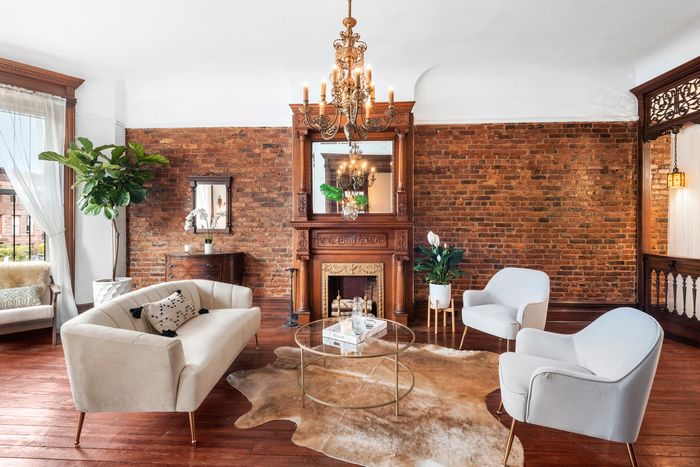 Photo: Courtesy of The Corcoran Group
This 1899-built brownstone is one of four nearly identical ones on a leafy stretch of Jefferson Avenue just off Ralph. The current owner, Verna Thomas, has lived in the house for well over 50 years — she moved in with her parents when she was just 6 months old.
Which means she knows quite a bit about the building — and its neighbors. For instance, she says, all four brownstones in the cluster have small doorways on the top level that were originally connected, allowing contractors to do work without having to go up and down the stairs. Thomas only found out about this when she decided to rip plaster off the wall to expose the original brick.
The house has 13-foot ceilings on the parlor floor (ten feet everywhere else), five fireplaces, huge pocket doors on every floor, and an original brass chandelier (plus matching brass doorknobs throughout). It's also full of incredible original woodwork, which, she says, guests staying in the duplex — the upper two levels of the home that Thomas ran as an Airbnb for eight years before the pandemic struck — especially like.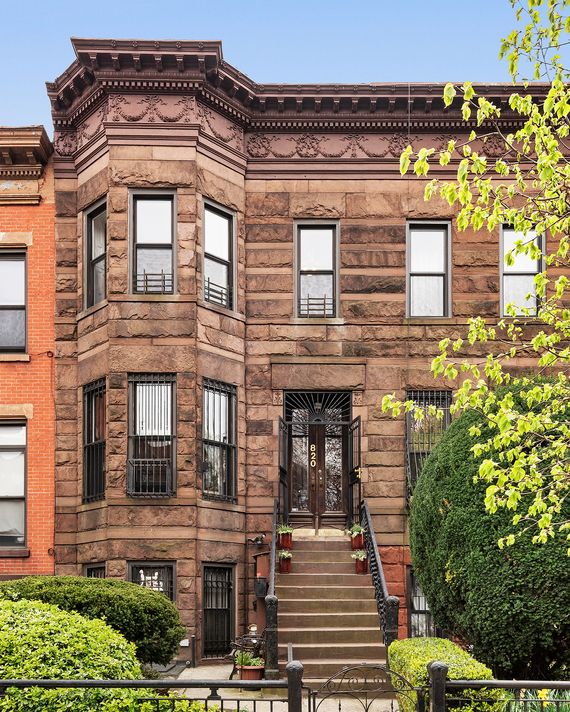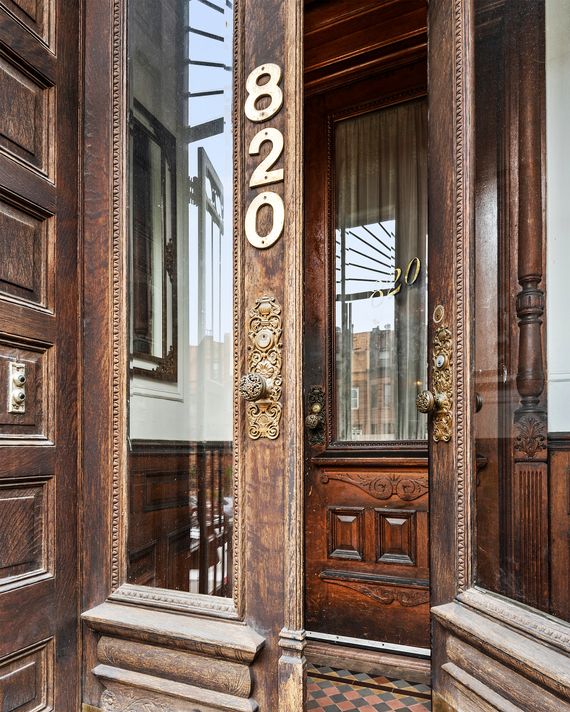 Former guests, who generally happened to be international visitors, would ask Thomas to take them from room to room and talk about the original details. She'd pull out the window shutters, which fold twice to completely disappear into the window. She'd also show them the musical notes hand-carved into the arched doorway on the parlor floor (in Victorian times, there was always a music room next to the parlor, where people tended to keep their baby grand pianos). "The guests loved it," she says. "They were grown people acting like children in a candy store."
Over the years, Thomas made many upgrades, from a new roof and plumbing to an electrical rewiring of the entire house. One thing today's buyers may not realize, Thomas says, is that brownstones might still have gas lines (which used to light ceiling lamps) running through the ceilings. Out of fear that all of her newer ceiling fans might disturb those old gas lines, she hired a plumber to take all of them out.
Thomas also took on some maintenance work herself. "I got down on my hands and knees and varnished the parlor floors. I took my time. Then I got up and looked at it and thought, Oh I like this color. So I did all of the floors."