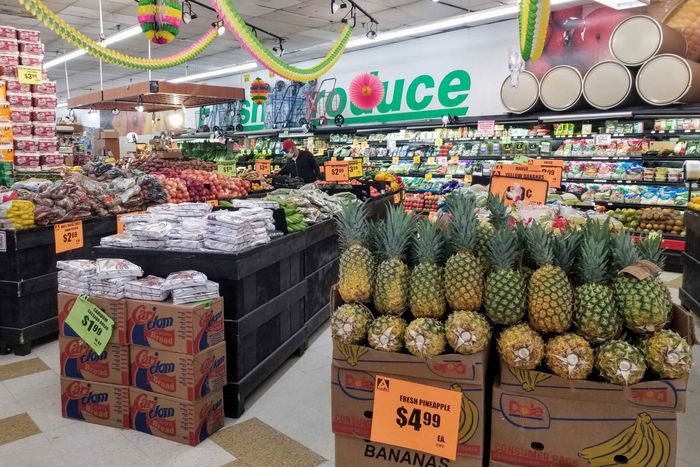 Nearly every day, Manny Tavares is the first to arrive at the Associated supermarket on Nostrand Avenue in Crown Heights. "You could say this is my second home, but actually it's more like my first, because I'm here by 6:30 a.m.," said Tavares, who has worked at the store since it opened in 1991. In his office, he keeps a running list of requests from customers for items, including a host of Caribbean spices and various plant-based meat products; one time, he ordered a batch of specialty vanilla-bean paste for a chef at a nearby Italian restaurant. When neighborhood groups host block parties, the Associated donates snacks. "I've seen people's kids grow up from babies to middle school to college, and now some of them are living on their own in the neighborhood and they still keep shopping here," said Tavares. But these days he's running a store that should, for all intents and purposes, already be closed — and he has no idea whether, or when, that will happen.
As gentrification continues to encroach on this predominantly Black and Caribbean community, the Associated has become desirable not solely for its affordable prices and location but also for the large footprint of its lot — and what could be built there. Midwood Investment Development, which bought the low-slung Nostrand Avenue building and its adjacent parking lot in 1970, has sought to redevelop the site since at least 2015 with "a significant amount of affordable housing" (though how much is unclear; Midwood has yet to officially file plans) and retail, including a larger supermarket. Even if the loss is temporary, it could be years before a new grocer opens. But although he's been aware of Midwood's intentions for years, the supermarket's owner, Pablo Espinal, has rejected cash offers to leave the space now that Midwood is ready to move forward with the development — setting the stage for a monthslong eviction battle and leaving customers and staff stuck in the middle.
Back in 2015, Espinal signed a five-year lease with an option for Midwood to terminate when it was ready to move forward with its project; last June, when that lease expired, they agreed to go month-to-month. After a lengthy negotiation, the grocer received a notice in March requiring it to vacate in 30 days — a deadline it has blown past. Midwood has sued alleging that Espinal undertook a "smear campaign" against the landlord, citing a January Bklyner story. A spokesperson for Midwood says if Espinal fails to vacate, it will pursue "all available damages" in court, which "could be multiple millions of dollars."
That's disheartening for the many families and seniors who rely on the Associated for its well-priced selection. Lifelong Crown Heights resident Ida Brown, 71, says without the supermarket, her five-minute walk there would turn into a 25-minute trip to the nearest grocer in her price range. "For a lot of us, losing this grocery store means losing quality food. It's no easy thing to walk 10 blocks to another place," said Brown, who uses a walker due to her chronic arthritis and says she relies on the supermarket for budget-friendly sales and ingredients she has a hard time finding elsewhere, like her favorite brand of guava jelly for her glazed-chicken dishes. A new grocer is all well and good, but neighbors say it just won't be the same. "This place, and the people who work here, they're the community," said Teresa Palmer, 62, who has done her weekly shop at the Associated for 20 years. "You can't just put up a shiny new store and replace all that. The personality is gone."
When the pandemic hit, the Associated set its first hour each day aside exclusively for seniors and launched a smartphone app that allows for contact-free shopping and delivery. For several elderly customers, it offered free delivery, and cashiers would patiently walk shoppers through their new processes over the phone. Last spring the store partnered with local elected officials to give away free face masks and hand sanitizer, and in the summer it began weekly giveaways of $100 gift certificates to help customers who were hurting financially because of the pandemic. All this work has earned the store a proclamation from the New York State Assembly for "rendering outstanding service to the community during the COVID-19 pandemic." It hangs in a frame outside of Tavares's office. He finds the prospect of parting ways with the store's 35 workers and the community heartbreaking. "It's going to leave a void," he said.
Just shy of 5,000 residents have petitioned against the closure. At weekend rallies, they tout its importance to the neighborhood over a megaphone and openly worry that a new, higher-priced grocer will take its place. "What happens to the people who count their pennies?" said Alicia Boyd, a neighborhood activist. "You have to imagine someone who's on a fixed income, and they depend on those sale items. This is the reality here."
Midwood said Espinal has twice rejected cash payouts to leave — for $300,000 and $400,000, respectively. "As our project moves forward, we are hopeful that community members will see the benefits of replacing an oversized surface parking lot and a 50-year-old obsolete building with much-needed affordable housing and a new, larger supermarket to serve the neighborhood," said James Yolles, a spokesperson for Midwood. Espinal did not return requests for comment, but told Bklyner in March that he was looking for a guarantee that the Associated would be given a space in the new development.
Tavares doesn't really know what he'll do if the Associated closes, but for right now, he's keeping busy with the day-to-day operations. "We don't want to leave. And the community doesn't want us to," Tavares said. "We can probably get another store, but it won't be the same. It's sad to see 30 years go down the drain just like that."