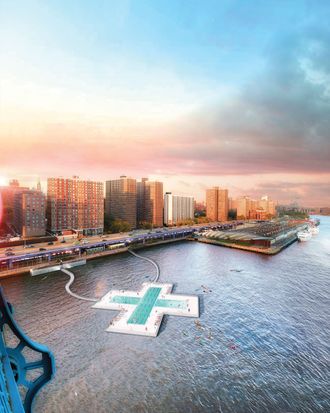 Illustration: + POOL in Two Bridges. Designed by PLAYLAB, INC. and Family New York. Rendering by Luxigon.
There is finally a city-approved spot for the long-proposed floating Plus Pool to drop anchor in the East River, just north of the Manhattan Bridge on the Lower East Side. This is the first rendering of its future mooring.
You do remember the Plus Pool, right? The giddy, dare-to-dream proposal from that seems-so-long-ago, optimistic era of city-as-global-playground? Well, it's now a whole lot closer to happening.
To catch you up if you've forgotten: Back in 2010, Archie Lee Coates and Jeff Franklin of the design firm Playlab, Inc were chatting with their friend, the architect Dong-Ping Wong, at a coffee shop. "In 2010, Jeff and I didn't have a ton of projects, and neither did Dong," Coates once told me. "It didn't even start with the idea." It was more a notion: "'It would be really rad to swim in the river.' I think I put that up on my Facebook in 2010." Together with Oana Stanescu, the foursome set about designing a way to do just that.
For centuries, New Yorkers commonly took a dip in the river to cool off (see: the income-inequality film classic Dead End), although it became riskier as boat traffic increased and the river became more polluted. In the 19th century, people often swam in floating baths — essentially open-bottom barges. In 1890, there were 15 public floating baths in the Hudson and East rivers, each 95 feet long and four and a half feet deep, built on pontoons. In 1911, more than 1.8 million people swam in them. After Robert Moses built a series of massive pool complexes, like the one in McCarren Park, river swimming became a thing of the past.
In 1999, a group raised money to convert a 260-foot barge into a floating swimming pool. Nicknamed the Floating Pool Lady, it opened off of Brooklyn Bridge Park in 2007, attracting 50,000 swimmers that summer before being donated to the city and moved up to the Bronx, where it's now called the Barretto Park Pool. But that floating pool lacked what the Plus Pool team wanted most: that river-water experience. The problem they had to fix was that the East River is full of — among other things you don't want to swim in — human poop. When it rains, the city's sewers flush into the rivers, making them a potentially hazardous place to swim. Realizing this, they came up with a fun idea: Why not clean the water with, like, a big Brita filter? Also: Why not design it shaped like a plus sign? "It was goofy," said Coates. "But we thought, We need to have four pools" — separate ones for kids, lap swimmers, loungers, and splashers. Stuck together, they take the distinctive form: "X marks the spot." Here their nonprofit got its name: Plus Pool (or +Pool, as they choose to write it).
Almost immediately it caught the media's imagination. They raised money on Kickstarter.  Time magazine labeled it one of "the 25 best inventions of 2013." They started hosting a series of quite fun benefit parties that attracted political and celebrity support (Kanye West thought it was cool.) They began testing the filters. Other cities reached out to see if the technology might work for their waterfronts. After the team collected thousands of signatures to show support through their "Swim in the River" campaign, the city's Economic Development Corporation issued a request for expression of interest (RFEI) in the fall of 2019. Heineken and a developer helped pay for a plus-shaped light sculpture near the South Street Seaport to call attention to the project. Given how complicated things like this are, the project was moving along quickly by 2020. And then, like so much else this past year, everything ground to a stop.
Until this week. "We have an official confirmation to succeed with the next steps for the project," Kara Meyer, Plus Pool's managing director, told me. "We have a home. Mayoral candidates are talking about it." (Maybe unsurprisingly, given his status as the "fun" mayoral candidate, Andrew Yang included it in his platform.)
So what's next? "We are going to move forward" with "due diligence," Meyer says. "The next big hurdle is regulation."
They've been modeling the project using EPA software, but it's (unsurprisingly) quite complicated. Their engineering teams determined that the proposed membrane filtration systems would be able to treat the water to swimmable standards, and the team's health risk assessors at Gradient determined a "water quality modeling process" to "ensure that the + POOL met relevant regulatory thresholds for bacterial contamination" caused from potential "in-pool" contamination. "There's the water quality of the river plus the quality when the people are in the pool," Meyer explains. (Gradient notes that "skin-shedding" of "illness-causing bacteria" is one of the things they must control for too.)
But it's more than even that. "It's not just health," she says, there are also the various regulations involved in construction in the river (although she's hoping Little Island, which is soon to open, will set some precedents). All sorts of things need to be further refined: how it will be tethered to the riverbed, the specifics of gangways, and the entry pavilion — which right now is set to be located under the FDR in the rendering, and will contain the changing rooms, including the all-important showers to control for "skin-shed."
And then there is the question of funding — the project should cost $20 million to $25 million, and most or all of that will probably have to come from private sources.