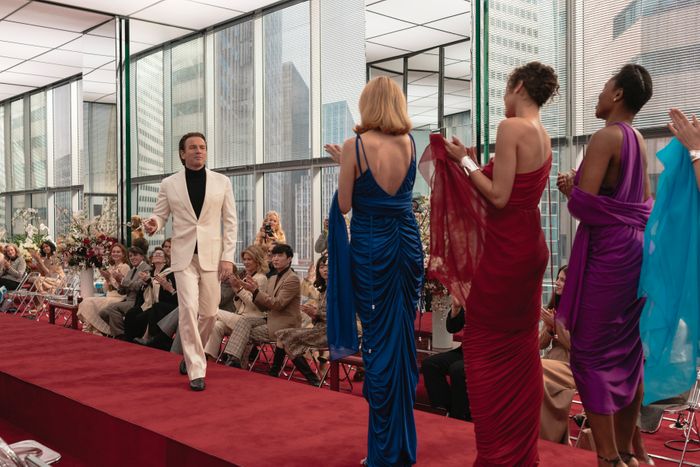 Halston (played by Ewan McGregor) puts on a fashion show in the Olympic Tower.
Photo: ATSUSHI NISHIJIMA/NETFLIX
Ewan McGregor plays the fashion designer Halston in Ryan Murphy's five-part limited series, which premieres May 14 on Netflix. Halston was, from the 1960s through the 1980s (he died in 1990), as famous as many movie stars and chic-er than almost anyone. At the peak of Halston's celebrity and influence in the 1970s, he was besties with Liza Minnelli and a regular at Studio 54, and he ran his business from a double-height all-red office, encased in glass and mirrors in the Olympic Tower on Fifth Avenue. The dramatic view south was of the spires of St. Patrick's Cathedral across the street.
Halston, whose full name was Roy Halston Frowick, was born in Iowa and grew up in Indiana. He arrived in New York City in 1957 and found work with the hatmaker Lilly Daché before becoming the head milliner at Bergdorf Goodman. In 1961, First Lady Jacqueline Kennedy wore one of his pillbox hats to the inauguration. He opened his own boutique on Madison Avenue in 1968 and launched a ready-to-wear collection in '69. Among his innovations: Ultrasuede, the wrap dress, caftans, the bias cut, and other staples of American fashion. His famous clients included Babe Paley, Elizabeth Taylor, and Martha Graham.
In order to ensure a steady cash flow, he sold the rights to the name Halston to a businessman whose ubiquitous licensing deals with the likes of JCPenney eventually undermined the brand's glamour. On the other hand, it meant he could afford to live in a louche townhouse designed by the cutting-edge architect Paul Rudolph on East 63rd Street and buy a seaside compound in Montauk to move the party in the summer.
One of the challenges for the series was to lavishly evoke Halston's long-lost New York, with its glamour and seediness, convincingly and within a miniseries budget. I spoke with the show's production designer Mark Ricker, who this year was nominated for an Oscar for Ma Rainey's Black Bottom.
I'd always associated Halston with this very chic modernism. And yet the beginning of the show, he's living in a somewhat conventional prewar apartment that doesn't resemble the minimalist aesthetic he is famous for. 
I never saw the actual apartment, so it was conjecture based on photographs and then what the script called for and we cobbled all that together … You know, it's funny, that was a set that was inherited from another TV show; it just happened to be there.
We see the apartment through three iterations, which was also fun. We changed all the appliances at one point. The bed went down to the floor … it was just as he started to develop his style.
Who did the shopping to get all of the period details right?
Cherish Hale, the set decorator, and she had the set-decorating team and a fabulous assistant, Carol Nast, and then a team of buyers, and they just sort of break it all down, and we are doing it all simultaneously … I mean, we were ordering the Lucite chairs from China for the fashion show in Olympic Tower early on … We knew that was going to be a project and luckily before the pandemic hit, or we never would have gotten that, but you try to look at the big picture and think, What is going to take a lot of time, what do we need to land on, and then simultaneously the whole time you're shopping and waiting for scripts too …
He called his friend [interior designer] Angelo Donghia to set up that fabulous harem tent [in his early showroom, above]. He was borrowing things from the apartment for there. In the first episode, those items and details aligned. It was so fantastic to discover that aesthetic that Halston had before it stripped down to minimalism. It was a completely different Halston.
Where were the Paris and Versailles scenes shot?
Initially, there was talk of going to Paris and doing what we needed to do there, but the budget precluded us from doing it, so that was another whole, you know, building Versailles in Jersey City and Yonkers [laughing] was a project.
What was the stand-in for Studio 54?
We were going to shoot at the real Studio 54, the exterior and that famous mirrored lobby, but we lost that opportunity when the pandemic hit because theaters were shuttered … and they wouldn't allow us to do it. So anyway, we landed in the Hammerstein Ballroom for the interior, which is West 34th Street, and Amanda Burbank, my location manager, discovered that it had the right structure with the balconies and stairs and the places … The whole lobby we just created … we just tried to reduce the space with a lot of those Mylar curtains, and get the scale of the famous gold bar and the DJ booth, and then of course the neon and the light columns with the flashing bulbs, and of course the silver sofas with the tube cushions.
Tell me about the Olympic Tower set. 
We built that on Stage 10 which was in Brooklyn at Broadway Stages, a large soundstage that we basically filled. It took a while because looking at photographs of Halston's office, [it] was impossible to figure out what was really going on here because of all of the mirrors — every photograph was like you were looking into a kaleidoscope. So I went to the real building, first of all just on the street, and then eventually we got into the real building as well onto the floor, and that is where we shot the backdrops from; I got architectural plans, and then Chris Royer, who was one of the "Halstonettes" (a term coined by André Leon Talley for Halston's favorite models), drew up some ground plans, and really sort of directed where things were.
How did you re-create the 1970s midtown-skyline view out the windows?
We photographed the view from each direction. The company that made [the backdrop] really did a brilliant job of Photoshopping, replacing all of midtown, because the Pan Am building you can't see anymore, it's blocked by newer buildings. We put the Twin Towers back in. We erased Trump Tower. The key was that we erased the two spires of St. Patrick's out of the photographs. We built them in 3-D, which meant these spires move in relation to each other. If we had not done that, then I think the entire thing would have been betrayed. It would have looked like a flat backdrop. My assistant art director, Marie Wagner, was brilliant in figuring all of that out, and all of the carving and all of it. Honestly, as good as the sets could be, no matter how many orchids or the red furniture, if you didn't believe the city, then I think the whole thing would have been betrayed. So we put a lot of work into the vistas.
Let's talk about the set for his Paul Rudolph–designed house.
I've got to say when I signed onto this job, my assumption was that we will shoot at the real townhouse, because it had existed for years as an event space and you could rent it, and I think things had shot there. And for whatever reason we couldn't shoot there, then I just assumed we'd just build the entire set because it is so iconic and so specific. But then, there wasn't any space and we didn't have the budget to build it, and the hunt began to try to figure out how do we do this? I mean, quite honestly, I was a little distraught by the whole thing, and then one of our scouts found a house in Red Hook and I looked at the pictures of it and I thought we could get in there, we could figure this out. If you were to see the location before we did it, it looked very different. We built platforms and we created the sunken living room, we built the whole hearth and fireplace and floating staircase, and we covered up their existing kitchen. For the photography and the drama of the film, it really did work. I know that people who know the house so well will know that it is an interpretation of it, but I think that we did right by it.
But I will also say that the Rudolph house was an entire conversation in terms of lighting because Halston didn't have any lamps, you know, when you look at every photograph of that place, there's no, what we call them, "practicals" — a practical lamp which serves as a lighting source, so that was one of the reasons we embraced leaving the windows open on either side of the hearth, because it just allowed natural light to come in there, and then I really drove home the idea of the architectural lighting that was in there; there was like a column of fluorescent light that is in the fireplace and then a horizontal one that runs the length behind the sofa, and then we really talked about what lamps can we have here that aren't going to distract from the iconic notion of the fact that there weren't any, so we talk and we collaborate and we sort of push and we pull and ultimately we hopefully just come up with the right thing.


Were you able to film at his place in Montauk?
No, we didn't. We did go to the compound very early in production because I knew of it; I knew that Mickey Drexler owned it for a long time, because I used to work at J.Crew. I found the new owner and they welcomed us out there and for a while I thought that we were going to be able to shoot there. But, as we didn't shoot that until COVID, and they were selling the house again, we had to re-create it. That location that we shot in was just a series of houses in Locust Valley, Long Island, on the Sound, so what they did was they erased Connecticut in the visual effects. We just created that whole place, and we got the spirit of it. It was a little frustrating for me because I had been to the real place and it's just so majestic and so beautiful, but I think that what we pulled off was good.