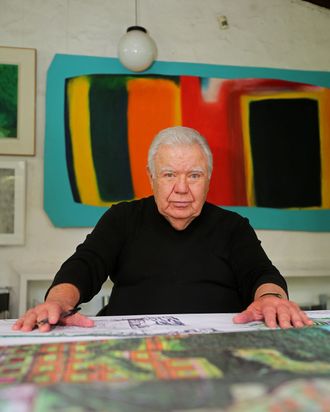 Photo: Heuler Andrey/AFP via Getty Images
"You get creative when you take a zero from your budget," says Jaime Lerner in the 2010 documentary A Convenient Truth: Urban Solutions from Curitiba, Brazil. "But sustainability starts when you take two zeroes from your budget." As mayor of an inland city in southern Brazil across three decades, Lerner transformed a metropolis of just under 3 million residents into a thriving, globally famous laboratory of livability. Lerner died this week at the age of 83, leaving behind a legacy of high-return, low-cost urban innovations that have been copied all over the planet. You live in his kind of city more than you think you do, and in a well-run world that would be even more true.
As an architect who became his city's first urban-planning director, Lerner had created a master plan for the city's downtown to increase residential density while improving access to public transit and parks. When he was elected mayor in 1971, he had an opportunity to put his plan into practice. He was presented with construction quotes for a rail system that were far more than the city could afford, and instead directed investments into a new type of public transportation: bus rapid transit (BRT). The idea was to give buses dedicated lanes without traffic so they could zip along almost as fast and frequently as trains. Lerner took the plan for the city's Rede Integrada de Transporte (RIT, or integrated transportation network) a step further, imbuing the system with rail-like infrastructural investments including platform boarding and kiosk ticketing. He also personally oversaw every detail of the system, from some pretty fabulous metal framed, curved glass-tube stations to extra-long, custom-ordered articulated buses. Perhaps even more critically to RIT's success, Lerner mandated that the streets immediately surrounding the routes were zoned for high-density, mixed-use construction, ensuring that ridership remained high. Curitiba's system was duplicated throughout the country, where a total of 21 Brazilian cities now have BRT networks, and all over South America. It's also referenced by many U.S. transportation planners as influential to their work. The way New York City plans to expand the 14th Street busway, for example, comes directly from Lerner's vision.
Lerner did more than create bus lanes. He pedestrianized the city's main street over the course of a weekend, defying drivers who claimed it would destroy the local economy (it didn't). When new sanitation trucks were unable to navigate the narrow streets of Curitiba's favelas, Lerner turned trash collection into a game, offering families incentives like toys, tickets to sporting events, and even bus passes in exchange for their bags of garbage. He also designed a tiny car — like, really tiny, a single-passenger golf cart — as a last-mile solution to get people home from the bus, well over a decade before scooter companies started dumping their own shared-mobility solutions on city streets.
Although many of Lerner's ideas in Curitiba — and later, as governor of the state of Paraná — were intended to save money, some of his sustainability visions were so prescient that city leaders are only starting to fully understand their value. Curitiba is situated in the basin of the Iguaçu River, and its many tributaries would regularly overflow their banks, causing widespread damage. Instead of channeling floodwater through cement chutes, Lerner set aside undeveloped areas as parks and sports fields designed to soak it all up, both increasing access to green space and keeping residents out of harm's way. These types of simple solutions are among the urban innovations that are finally being embraced as we confront the volatility of climate change, and cities are spending billions of dollars to fix the mistakes of the past. Lerner had the ideas we needed — before we realized we even needed them.