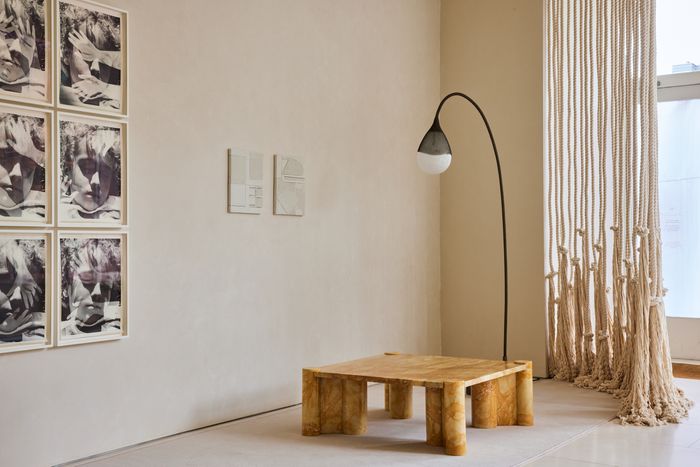 Protective Gestures
(2020, by Telia Ellis Ritter);
Armor Floor Lamp
(2021,
by Natasha and Helena Sultan / Konekt); and
Jumbo Coffee Table
(circa 1970
,
by Gae Aulenti), all on view at Egg Collective.
Photo: Nicole Franzen
Inside "Designing Women III: Mother," a new exhibition at Egg Collective's Tribeca showroom, you'll find quilts from Gee's Bend hanging next to a wood table and chairs by Charlotte Perriand, a chunky yellow-marble table by Gae Aulenti next to a teardrop-shaped floor lamp by Konekt, and an earthy-red folding wood screen by Kai Avent-deLeon in a room with wall coverings designed by Calico Wallpaper. The unifying thread? Everything was created by 28 people who are mothers — a group that has historically been underrepresented in the design world because of structural discrimination and cultural bias.
"Mother" is the third in a series of exhibitions from Egg Collective, the furniture studio founded by Stephanie Beamer, Crystal Ellis, and Hillary Petrie in 2011, in part to highlight the work of women in design. The exhibition has been in the works for a few years now, since co-curator Tealia Ellis Ritter read a 2019 story about the curator Nikki Columbus, who had a job offer from PS1 rescinded after the museum learned that she was pregnant. Ritter's reading on the subject eventually led her to a Harvard study that named the "Motherhood Penalty," an extra level of discrimination posed by workplaces that don't accommodate the needs, expenses, and other demands placed inherently upon people taking care of children — on top of a widespread, and of course untrue, perception that mothers are less loyal and dedicated to their jobs than childless women are. (Men, by contrast, are perceived as more capable after they become parents.)
These perceptions aren't rooted in truth, and motherhood isn't a creative expiration date. So Ritter decided to dive deeper, curating an exhibit made entirely of superior work that women artists and designers made after they had children — work that, in some cases, was overlooked when it was made. Below, five objects from the show, giving a taste of its breadth.
Drape Cabinet A and B by Maria Pergay (2005)
The 91-year-old French designer Maria Pergay says her favorite material is stainless steel, deployed to gleaming effect in these ripply cabinets whose fronts seem to fold away. "Everybody is scared of stainless steel, but we have a link — there is something deep inside between me and stainless steel," she said back in 2010. "This material which looks so strong, hard, and cold is sweet and not sharp, and it matches with everything."
Metaphora coffee table by Lella Vignelli/Vignelli Associates (ca. 1970)
Massimo and Lella Vignelli worked collaboratively throughout their careers, though it is Massimo who usually gets the credit — a fact that was frustrating to both of them. However, for objects (as opposed to graphics) that Vignelli Associates designed, like this simple glass coffee table resting on travertine geometric solids, it was usually Lella who took the lead. "All her work bears the mark of clarity and simplicity which is specific to her design approach," Massimo wrote in his autobiography. "All of it shows a distinctive sense of pragmatism with no room for meaningless decoration …her work is solid, timeless and elegant."
Lure Radiata lamp by Jean Pelle/PELLE (2021)
Jean Pelle, a New York–based designer originally from South Korea, has recently been experimenting with paper pulp as a material. She used it to make the Lure Radiata lamp, which debuted at the exhibition. Up close it looks almost like oxblood leather, and has texture and dimension like a real leaf.
Duet 2021 by Calico Wallpaper (2021)
For this wallpaper, Calico co-founder Rachel Cope gave her 6-year-old daughter a few oil crayons and invited her to scribble on the wall. After Willow was finished, Rachel filled in the gaps to make the final abstract — and satisfyingly unruly — motif.
Bow chair by Vonnegut/Kraft (2021)
Katrina Vonnegut and Brian Kraft make furniture that always has crisp lines mixed with a certain suppleness that looks sculpted, like the Bow chair that also debuted at the exhibition. The point where the seat, back, and arm meet is as beautiful as any joint can be.