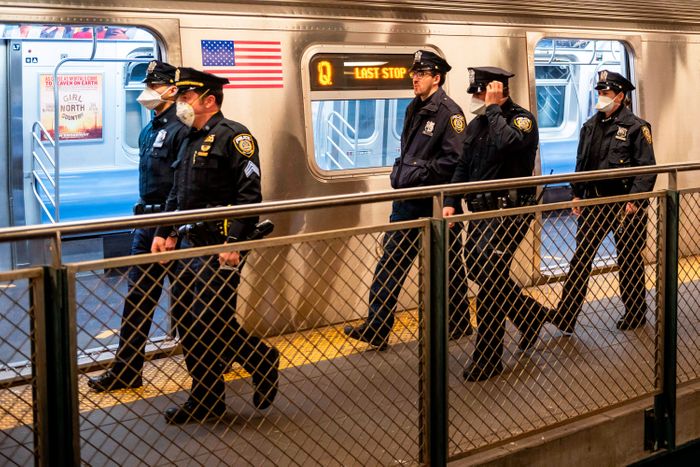 Photo: Corey Sipkin/AFP via Getty Images
The subway, statistically speaking, is pretty safe from a COVID standpoint. Your chances of contracting the virus from surfaces in the system are slim — roughly on par, the CDC says, with getting struck by lightning. The trains are pretty safe in terms of crime too: despite a string of high-profile attacks, NYPD says major crime on the subway was down 53 percent from January to March. But felonies have since increased by 15 percent month over month, and there's a growing perception that the trains are unsafe, which has made some New Yorkers hesitant to return to mass transit. As municipal employees begin commuting to the office again, the city has even set up a buddy system for workers who feel unsafe riding alone. "It's a much emptier system than it ever has been before. And that lends a different feeling to the system," Sarah Feinberg, the interim president of the New York City Transit Authority, told Curbed late last month. "I think part of that is the stations can be more desolate." The empty cars and platforms have a lot of riders recalling the old high-crime days of the '70s and '80s. And her solution is straightforward: more cops.*
Feinberg has called for 1,500 more NYPD officers (on top of the 3,000 who now patrol the system). "Generally, when there's a uniformed presence, people are more likely to behave," she said. Feinberg says the data showing that crime — including murder, rape, and robbery — was down from January to March left a lot out. "The statistics and the data that are shared by the NYPD, while very helpful, don't tell the real story of what's happening in the system," because they don't capture riders' perception, and don't count other incidents, like harassment, she says. Feinberg points to a recent MTA survey that found, of 33,000 current and former riders, 72 percent said they were very concerned about crime and harassment, and 76 percent said they feel safer seeing police in the subway. "If you are an active customer, or contemplating your return to the system, you're also experiencing or thinking about harassment and bias crimes and other things that can happen in the system that might not be reflected in these specific data sets," she said.
For instance, Feinberg points to the barrage of abuse MTA employees have faced. There have been roughly 700 incidents of harassment so far this year, and more than 100 assaults. Seven hate crimes against Asians were reported in the subway this year to date, while none were reported last year. And this is at a moment, she notes, when just 2 million people are riding the trains every day, down from 6 million riders daily before the pandemic.
The presence of more cops might be a comfort to some riders, but transit advocates, some politicians, and even the NYPD all believe that it's a bad idea. NYPD transit chief Kathleen O'Reilly says the real problem is the MTA's "fearmongering" with calls for more police. "It's a disservice to New Yorkers to advance a narrative that crime is soaring in the subways when it's simply not the case," O'Reilly said at a recent MTA board meeting. After adding about 600 cops in February, then initially rejecting MTA's further requests, NYPD said on Friday that it would send "auxiliary officers" to the 20 busiest stations across the system, but did not commit to a specific number.
The transportation authority plans to use federal COVID relief funds to expand its MTA police force, made up of officers under its own control who deal with fare evasion and worker assaults. That's a continuation of efforts approved by the MTA board last year to beef up security at a cost of $249 million over four years, and plans to install 1,000 new CCTV cameras throughout the system. Will that amount to security for riders, or security theater? For Feinberg the answer is this: "I think that crime is relatively low and the system is relatively safe, and that's a good thing. I don't think it's nearly as safe as it could be, and that's my problem," she said. "How our customers feel is not something that should be swept under the rug and not something where we should just pretend it's not happening."
* Clarification, May 10, 2021: This paragraph has been updated to reflect more up-to-date crime statistics.