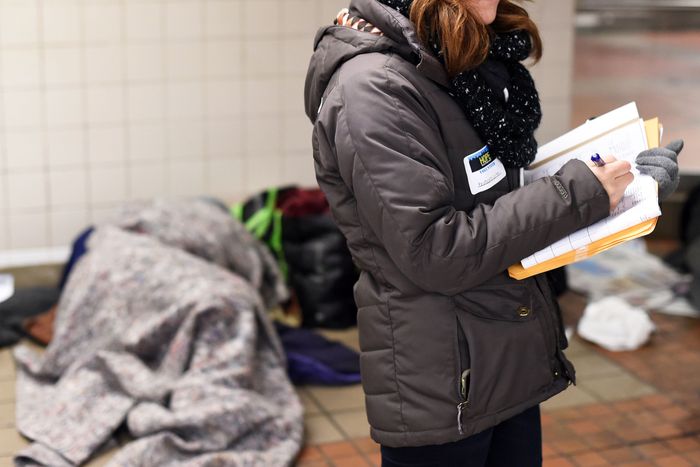 Photo: Timothy A. Clary/AFP via Getty Images
In a press conference last week, Mayor Bill de Blasio announced that the number of people sleeping on the streets and subways has dropped by 38 percent since last year. "This is an important development," he said. "It is the one objective measure we have, and it's showing us that all this outreach is working more and more." The Department of Homeless Services said that this year's lower count aligns with what its staff are seeing on the ground and reflects the increases in safe-haven beds, outreach workers, and other measures it put in place last year. But homeless advocates say that the HOPE survey, which de Blasio cited and is the city's only official count, not only routinely undercounts the homeless population but is even more unreliable in a pandemic year.
Timing is part of the problem: The survey always takes place in January, when people living on the streets often go into places like bank vestibules and 24-hour McDonald's. Because these are private spaces, those who are conducting the count don't canvas the people there. This throws off the survey in a normal year. But this January, many homeless New Yorkers were forced out of public spaces altogether. The overnight subway shutdown resulted in fewer homeless individuals riding the trains in general, and police doubled their encampment sweeps in 2020. Scared of getting picked up by cops and losing their belongings, many tried to escape detection. "You can't find somebody who's hiding — people were all over the place," says Peter Malvan, an organizer with advocacy group Safety Net Project who was recently homeless himself.
The pandemic also changed the way the survey was conducted: Just 230 city staff and outreach workers replaced the thousands of volunteers who normally do the counting. Even though the count was spread out over the course of four nights instead of one in order to make up for having fewer people, it isn't clear that this would make up for the lack of manpower. Another big change was this year's omission of the shadow count, in which volunteers stand as decoys in the subway or the streets to see if canvassers count them. This method helps to verify the accuracy of the count, and without it, this year's number is not complete, according to advocates. The Department of Homeless Services said in its own press release about the survey that "comparing to prior years' estimates is not exactly apples to apples" — even though this is exactly what de Blasio did.
But the survey doesn't have to be this way. According to Craig Hughes, a social worker with the Safety Net Project, the city could instead count people at soup kitchens, churches, and other places where unhoused people already gather for food or basic services. This method, which the federal government calls a "service-based encounter model," is already used for counting homeless youth at places like drop-in centers and other sites where they might go. Research has shown that meeting unhoused individuals at service locations results in higher — and more accurate — overall numbers. But undercounting is good for optics, as de Blasio's press conference shows. "No mayor wants to change that methodology because they would have to say there's thousands more people on the streets than under the preceding mayor," Hughes adds. "So de Blasio, of course, didn't tinker with the methodology that was developed under Bloomberg. The methodology is always a politicized number."