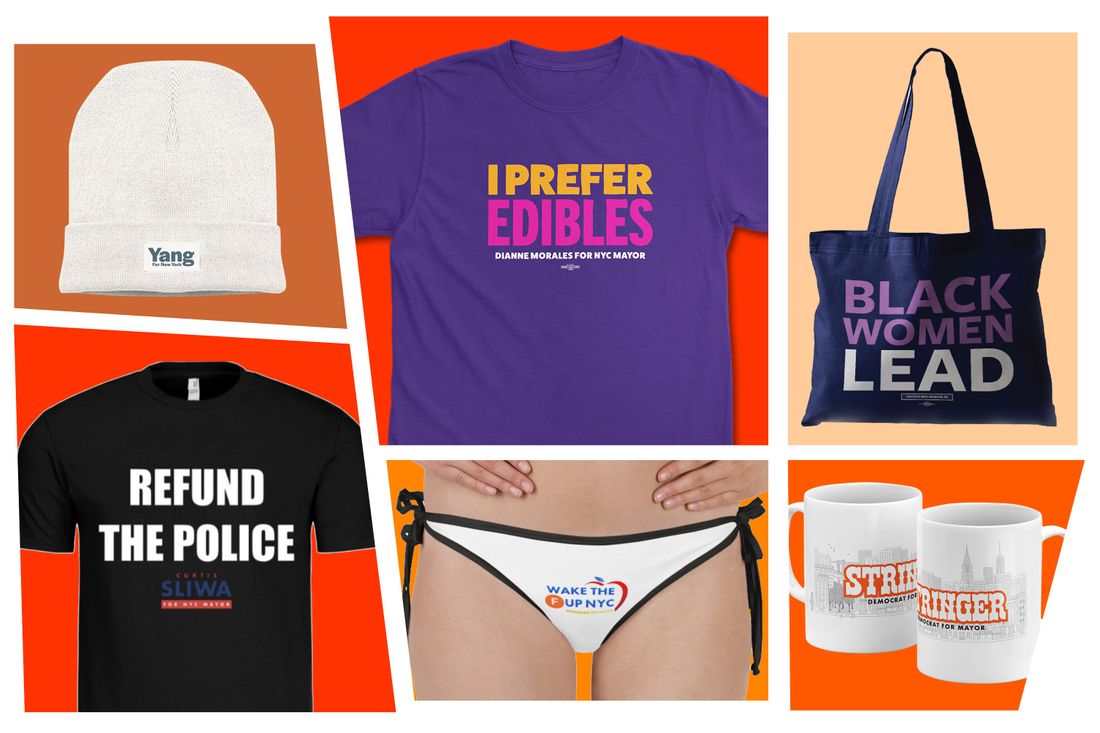 Photo-Illustration: Curbed. Photos: Courtesy of the Campaign
The year of merch — New Yorkers showing their civic pride and support for local businesses by buying logo tees and tote bags — has met the mayoral campaign. Most, but not all, candidates have a hat or a poster or a button (and sometimes a lot more) supporters can buy. It's still anyone's race. But is there a clear winner in the swag department?
Although candidate branding goes back many decades, to "I Like Ike" and beyond, Barack Obama's 2008 presidential campaign was the watershed moment. His strategists recognized that the visual tools of commercial advertising and branding could help elevate an Illinois senator to a national leader, emphasizing his perceived strengths and combating his perceived weaknesses, and it worked. Since Obama's campaigns, good (and genuine) political graphics have become de rigueur, and sophisticated visual language has trickled down to congressional races and now to local government (sometimes with a direct ripoff of Obama's). Today, candidates have to meet with potential voters in more places than ever before — on social media, television, radio, podcasts, print and digital news outlets, billboards, the list goes on — all while contending with the attention economy and people who have deeper understandings of visual communication. In his 2020 presidential run, Pete Buttigieg even released a downloadable design tool kit his supporters could use. That said, the strongest political branding speaks authoritatively to the audience it's supposed to read, as Trump's MAGA hat proved. It broke most of the so-called design rules, but it got one thing right — it was instantly identifiable from any angle, even at a great distance — and it really worked on his base.
The candidate pool, which topped 40 hopefuls at one point, still has few household names (except Andrew Yang, for better or worse). No candidate has polled above the low 20s, and an estimated 50 percent of voters are still undecided. It's precisely this scenario in which branding can help establish and shape — and, perhaps, redirect — someone's reputation.
This year, the mayoral candidates have taken full advantage of our Zizmorcore moment in hopes of winning over the votes, and closets, of New Yorkers. We took a look at all the official merch.