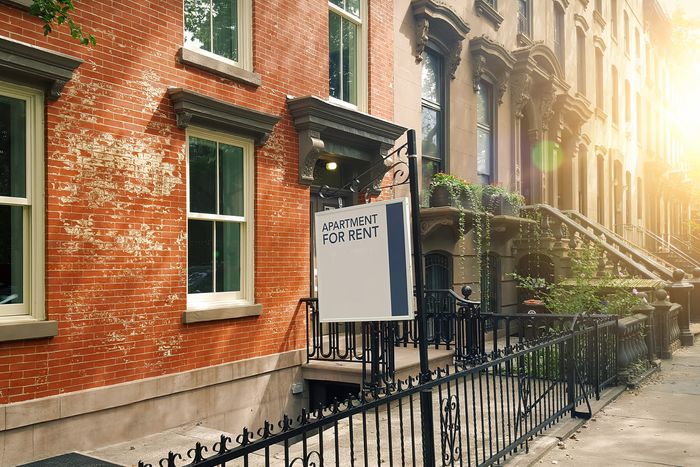 Photo: Busà Photography/Getty Images
Since the pandemic began, New York City rents have plunged — last June's rental declines in Manhattan wiped out all the increases of the past two years — and prices are the lowest the city has seen in years. But StreetEasy's latest market report hints at the possibility that the city's market rents might be returning to their perennial frenzied climb. Between March and April, the median rent inched up from $2,495 to $2,499, those four bucks signaling "that rents may have hit bottom and the market is slowly starting to rebound," according to the report.
Now the main question on everyone's mind is, How long will these rent deals last? The answer, according to at least one expert, is probably the rest of the year. "New York City is in it for the long haul with these deflated rents," StreetEasy economist Nancy Wu tells Curbed. "We haven't seen rents this low in years — in Manhattan, it's been over a decade since someone could rent at the prices we're seeing on the market now."
A first-quarter report by StreetEasy found dramatic price decreases for the early months of 2021 in Manhattan, Brooklyn, and Queens. Manhattan rents dropped 16.8 percent from a year ago, to a low of $2,700 a month, while Brooklyn's median rent was the lowest since 2011. In Queens, rent fell to $1,999. The latest numbers for this April, at a median of $2,499, still remain low compared to April 2019, when the median asking rent was $2,800.
And, Wu says, "I think we're getting close to the bottom." New York is reopening, and leasing activity is picking up: According to Corcoran's April Rental Market Report, lease signings are up 383 percent from a year ago, soaring 840 percent in East Williamsburg and 637 percent in Carroll Gardens. "In Manhattan, we are seeing new leasing activity at record levels since October, meaning each month since October, new lease signings are the highest for their respective months since the financial crisis," says Jonathan Miller, an NYC market expert with Miller Samuel, Inc. "You're seeing a lot of churn, a lot of moving around."
What's going to keep prices from shooting up right away is the sheer number of apartments that are available. "There's more than double the inventory on the market than a year ago, and it's going to take longer than the summer for that same number of people to move back to the city," Wu says. As Miller puts it: "Thinking that when rent stops falling, it should start rising — the answer is no. Vacancy and inventory are still very high; concessions are still very high." Gary Malin, chief operating officer at Corcoran, also believes the city is close to 10 percent vacancy for its rental inventory, compared to 2 to 3 percent in pre-pandemic times.
In April, UrbanDigs data noted that landlords are "warehousing" a high number of empty apartments  — only leasing the bare minimum to cover immediate expenses — because they consider the current rents unsustainable. Malin hypothesizes that when apartments start filling for higher rents, tenants who scored a deal won't be given "a second bite at the apple," as he puts it.
While the shift in New York's rental market is good news for many, this historic dip in a record-high market does not mean the housing is affordable to many New Yorkers. "Those looking for affordable housing — there's still a shortage of that inventory," says Wu. Adds Miller, "For people on fixed incomes and statutory rents — rent controlled or rent stabilized — they didn't see rents come down. Nothing really changed, and these people are also the most exposed to the economic damage [from COVID-19]. There's tremendous polarization in that regard."
So while rent drops have facilitated great deals and better apartments for people to pick up and move — largely upper- and middle-class professionals — they haven't made a dent in increasing the stock of truly affordable housing. Or, as Wu says, "The tale of two housing markets in New York City has only been exacerbated by the pandemic."