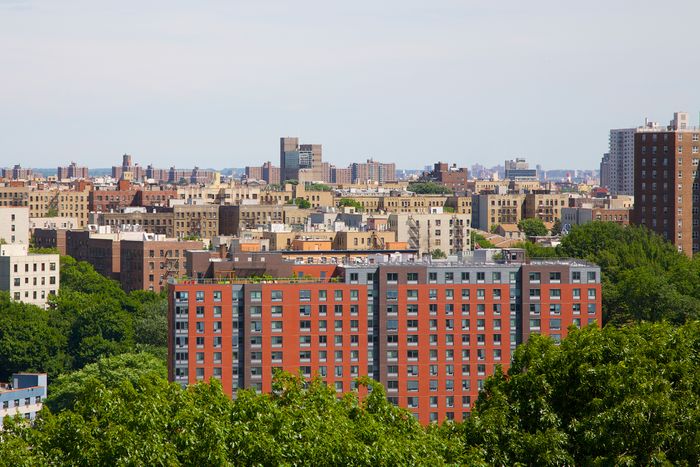 Photo: Barry Winiker/Getty Images
Amidst the barrage of questions the New York Times editorial board recently put to city mayoral candidates was one from Mara Gay that elicited a number of wild — and wildly wrong — responses: What's the median sales price for a home in Brooklyn? Ray McGuire, the former Citigroup executive who lives in the San Remo building on Central Park West (where currently available apartments start at $4.2 million, and maintenance fees can run $10,000 a month) put the average around $80,000 to $90,000. Shaun Donovan, who ran President Obama's Department of Housing and Urban Development for five years after working as a housing official in New York City, guessed $100,000. (He later said that he was referring to assessed values.) The median price currently sits at $900,000, and I regret to inform you that Andrew Yang was the only candidate who had the correct answer. Park Slope resident Kathryn Garcia, whom the Times endorsed, was close at $800,000. At the other end of the spectrum was Maya Wiley, who said $1.8 million.
It's difficult to fathom how anyone could believe home prices are so low in Brooklyn — never mind two people who want to be mayor of a city with significant housing issues. But that aside, the conversation left us wondering this: What can you get in New York City for under $100,000? There are currently just seven units on StreetEasy that fit the bill, six in the Bronx and one in Queens. (In Brooklyn, $100,000 will just barely buy you a parking spot.) And while, say, a bright, pleasant-looking studio apartment in a co-op building in the Highbridge for just five figures certainly sounds like a steal, most of New York City's cheapest homes for sale have lingered on the market. Because at this lowest end of the price range, apartments tend to have specific limitations on who can actually buy.
Here's a look at a few of the very few homes available in the Donovan-McGuire price range.
Prewar Charm in Highbridge Starting at $60,000
With parquet floors and original moldings, the two studio units in this Summit Avenue co-op building look quite lovely and are a short walk from Yankee Stadium. But not only is this an income-restricted building, both available units cannot be financed (monthly maintenance is about $500), meaning a buyer would have to both earn $95,520 or less ($109,200 for a family of two) and have $60,000 or $70,000 in cash to purchase one of these units.
At 550 square feet, this studio is just $145 per square foot — far, far cheaper than the citywide median of $763. It has exposed brick and a renovated bathroom with a barn-style sliding door. But it is also both an income-restricted and all-cash sale; the unit has been on the market for 109 days, and the price was dropped by $10,000 nearly two months ago.
This co-op unit in Queens is a rarity in this lowest of price ranges: It is not income-restricted, and does not require an all-cash sale. So what does $100,000 get you in North Corona? The listing only features photos of the building's brick exterior, but other, pricier units in the co-op look just fine, if not a little dim.
While this is yet another income-restricted sale in a Highbridge co-op, it's the closest opportunity to a traditional home-sale situation of the four: Only 10 percent down is required, with "limited financing available," per the listing. Maintenance is about $500, so depending on mortgage terms, this nearly all-white studio with high ceilings could cost around $1,000/month.
This is another anomaly in the $100,000 price range in that it is a straightforward sale: There are no income restrictions and the apartment can be financed. The deck off of the main living space is admittedly a bit narrow, but there is a view of the nearby reservoir in Jerome Park.
This 550-square-foot one-bedroom appears to do a lot with very little space and includes a kitchen that's large enough for a small dining-room table. But like other Bronx co-ops in the five-figures, not just anyone can buy it: The unit is income-restricted, and offers must be all-cash.