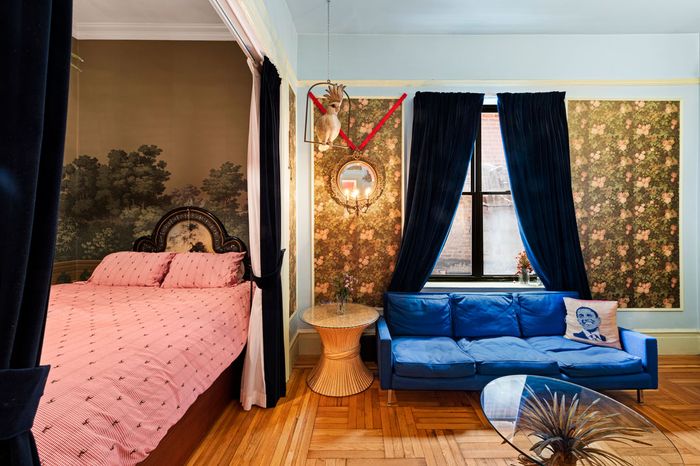 Rufus Wainwright's longtime first-floor studio apartment in Gramercy Park is on the market for $450K, which is about a grand for every square foot it's got.
Wainwright described the place to the New York Times back in 2012 thusly: "It's a total dump, but in a weird way that's very New York to me. Or what it used to be."
Indeed, the apartment is a classic tiny studio with a tiny sink in a tiny kitchen and two windows that unfortunately both face brick walls. Wainwright bought the place in 2002 and, per the listing, worked on several albums and the opera Prima Donna there. In those early years, the Times piece says, the studio was "totally cluttered, with cigarette butts everywhere."
Then Wainwright's artistic-director husband, Jörn Weisbrodt, moved in, and the apartment became their landing spot in the city while the couple spent more time at their Montauk home and on the road touring. Somewhere along the way, they zhuzhed it up into a pretty nice pied-à-terre.
Panels of pink floral wallpaper are neatly framed by wall moldings, and fancy scenic wallpaper from Zuber (which can cost well over $10,000 for a full scene) gives the sleeping alcove (itself cordoned off by velvet curtains) a moody Tuscan-villa feel.
And then there are the 11-foot ceilings, along with herringbone hardwood floors, a red marble fireplace, and a walk-in closet by the foyer. The not-such-a-dump-after-all is also close enough to Gramercy Park (50 feet from the northeast corner) to have access to a coveted park key.