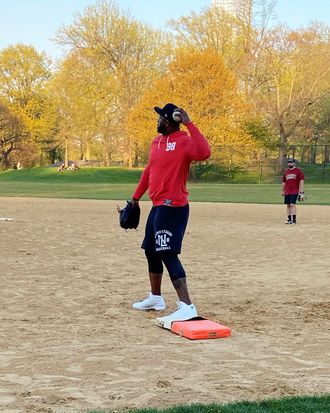 Warriors first baseman CC Sabathia.
Photo: Courtesy of Matt Siegel
During his final season with the Yankees, six-time All-Star C.C. Sabathia sometimes dreamed of one day playing for another team — namely, his friends' rec-league softball team, the Warriors. And this year, two years after retiring and one year after the pandemic wiped out the 2020 season, Sabathia is finally getting his chance. He's played in two games so far, and in between getting gawked at pregame by high-school kids finishing their own matchups and taking post-game photos with onlookers (and sometimes with opponents), Sabathia has been wowing his citizen teammates by mashing the ball all over Central Park's North Meadow.
"This is something I've been talking about doing for years," says Sabathia. "Playing softball in Central Park was like a bucket-list thing, and getting to do it with my buddies is even more fun."
The Warriors were founded in 2012 by manager Mike Lunetta, a finance guy who assembled the initial roster from colleagues at his firm and some other assorted pals. One of those friends, Matt Siegel, had previously worked at the YES Network, which televises Yankees games, and he brought along a few friends of his own, including Ryan Ruocco, now an on-air personality at the network who also hosts a podcast with Sabathia.
Over the years, Siegel had become close with Sabathia, first at YES, then during a stint at Roc Nation Sports (which represents Sabathia), and now at Patricof Co (an investment platform for athletes, where Sabathia is a client). Softball would frequently come up in a group-text chat that included Siegel, Ruocco, Sabathia, and a couple of other guys. "It was a running joke that once he retires he was gonna come join the squad, and then this year, he was like, I'm ready, let's go," says Siegel.
Players on the Warriors take their softball pretty seriously: Many members played college baseball, and the level of play in their modified fast-pitch league is relatively high, as far as these things go. And so the hypercompetitive Sabathia fit right in. "I mean, he posts on his Instagram after every game," says Siegel. "He's super into it. It's hysterical."
Before the season, Sabathia sprung for a new bat, batting gloves, and a Ken Griffey Jr. model glove — Sabathia's first time buying gear since he was a kid — and the former Cy Young winner was slotted in the clean-up spot and given the start at first base. (He expressed zero desire to throw any more innings as a pitcher.) Sabathia has played in two of the Warriors' four games so far (all wins), and he got off to a slow start in his first few innings, dropping a throw to first and weakly putting the ball in play in his first two at-bats. But since then, he's found his groove, and he's been dazzling his teammates with his displays of power.
The Warriors split their games between Chelsea Park and Central Park's North Meadow, where the field they play on is partially enclosed by a fence in right field, some 285 feet down the line. It's a tempting target for Sabathia, who bats left-handed, and who despite spending most of his career as an American League pitcher managed to hit three home runs while in the majors. "He's hit a couple of bombs off that fence," says Lunetta. "I've been playing there for a long time, and I haven't seen anybody do that."
Sabathia will turn 41 in July — the same month he'll release a memoir, Till the End, written with the longtime New York contributor Chris Smith — and does have some limitations on the field. "I think those guys were surprised at how hard I ran the bases that first day," he says. "I was surprised, too, because my knee blew up on me after. I definitely can't do that again."
But despite his celebrity, Lunetta says that Sabathia "acts like one of the guys" in the dugout. "He's super-cool and down-to-earth. Doesn't expect anything because of who he is. He just likes to laugh and hang out with everyone. But it's also amazing being in someone like his presence. Being a huge baseball fan myself, and a huge Yankees fan, it's awesome."
Siegel admits that it's "a little surreal" to be playing with the former Yankees ace (and plausibly a future Hall of Famer). "Yeah, you're playing with your friend, but it's also like, holy shit, this guy's one of the best baseball players of all time." He says that at first, "when we walked up to the field, everything was fine. And then the umpire came over and was like, 'You look like someone,' and everyone started breaking out laughing. I was like, all right, this might be a thing."
At least one opponent agrees that Sabathia seems to fit right in. "I think everyone thought it was pretty cool that he was playing in a league with regular dudes," says Nicola Torchia, the second baseman for Supreme Systems, one of the Warriors' opponents. "At the end of the game, usually the umps will ask you to bring the bases in to help them out, and he brought in first base. I thought that was nice."
But opposing teams are most definitely aware of the advantage Sabathia brings. After Supreme Systems tried to use a pitcher who'd been declared ineligible for throwing banned pitches, Torchia says, "One of my teammates was like, 'You guys have C.C. Sabathia! We can't use this guy, and you're using a major leaguer?'"
And indeed, Sabathia's presence may give the Warriors one additional competitive advantage, beyond all the extra-base hits. Explains Siegel: "This is the first year we're actually getting some calls, because the umpires want to, you know, be friends with C.C."