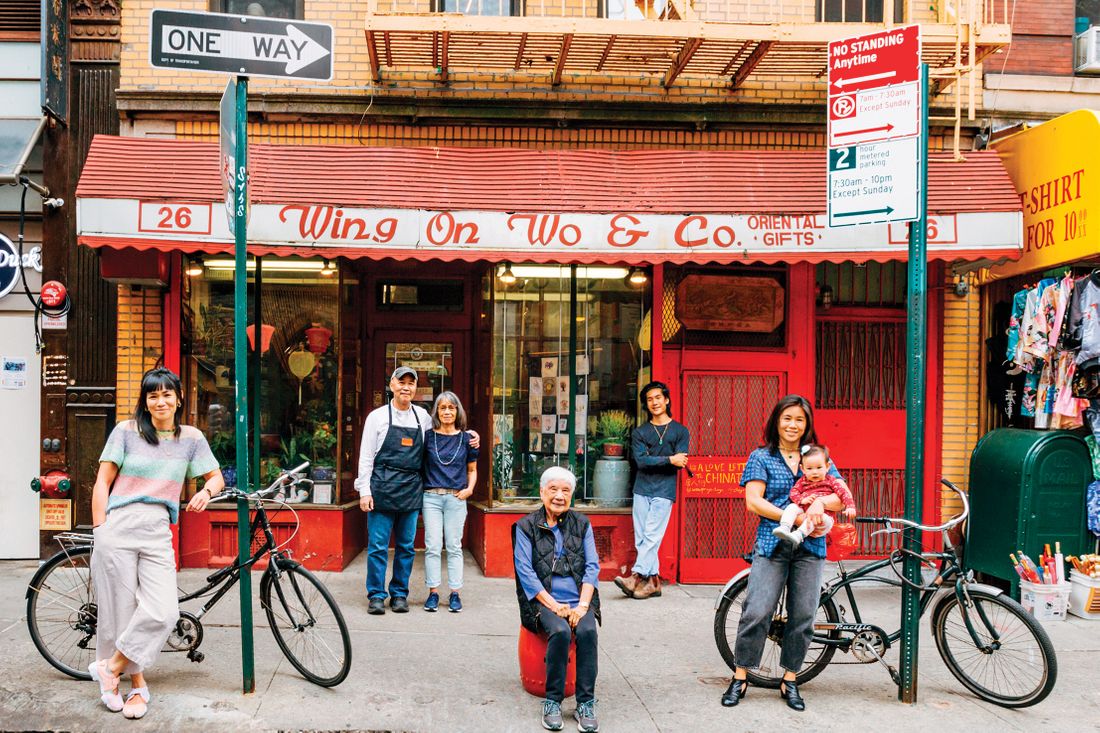 From left, Mei Lum, Gary Lum and Lorraine Lum, Nancy Seid, Evan Louis, and Lina Lum and Ava Lum Lloyd.
Photo: DeSean McClinton-Holland
In 2016, Nancy Seid, the longtime proprietor of Wing On Wo & Co., a porcelain shop in Chinatown, decided to sell the family business. She had inherited it from her father in 1964 and managed it while working full time at the Department of Health; now, the shop was becoming a burden, and she and her husband were ready to retire. Wing On Wo's century-long run would have come to an end had it not been for Seid's grandchild Mei Lum. "Letting go of the space could shift what our block looked like. A luxury tower could go up; a white-box gallery could open," says Lum, who now runs the store. "That's what compelled me to take this on with family."
Wing On Wo, the oldest continually operating shop in Chinatown, has been a fixture on Mott Street since the 1890s, first at 13 Mott and then at 26 Mott, where it has stood since 1925. Over five generations, the business has evolved along with the neighborhood. It has been a general store and an herbalist. It has served as a credit union and a postal drop-off-and-pickup site. At one point, a section of the store was outfitted with wooden platform beds: sleeping quarters for bachelors newly arrived from China as they assimilated into life in New York.
When the pandemic hit, Wing On Wo morphed yet again, this time into a full-fledged e-commerce operation. Lum's father, Gary, who has been working the counter for more than 30 years, became the head of shipping and handling. When people email customer service, Lum's mother, Lorraine (who is Seid's daughter), will likely respond. When a customer comes to pick up an order, Lum's great-aunt Betty hands off bags at the door. Lum's cousin Evan Louis, who lives upstairs along with Lum, helps with social media and running orders. Her sister, Lina, the only family member who doesn't live within a four-block radius of the shop, isn't as involved in the day-to-day operations but offers an outside perspective.
These days, Seid helps with marketing. On Wing On Wo's Instagram, she appears in "Po's Picks" videos, in which she shows off her favorite wares: papier-mâché guardian lions, porcelain-bead bracelets, a gold-speckled celadon-tea jar. "When I was growing up, I would come to the kitchen for afternoon snacks, and my grandmother would be here watching QVC," Lum says. "So I thought, What if we started a series that was inspired by QVC?"
Assigning roles to everyone isn't just about keeping the store open. "It's to maintain that life rhythm," Gary Lum says. "Throughout the COVID year, we had a half a dozen family members here every day. It's our family living room."