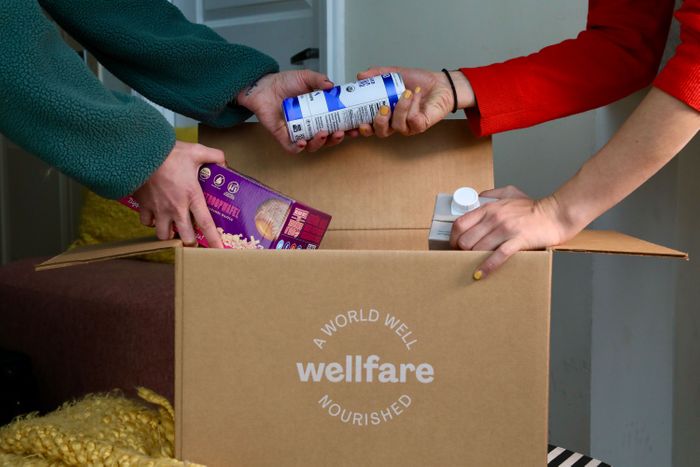 Photo: Courtesy of Wellfare
When the Bushwick restaurant that Nellie Santana worked at closed temporarily last winter, she had to get strategic with her grocery budget. The 48-year-old, who lives with her diabetic father, stretched things to make her weekly shopping last two weeks and cut out the trips she took each Monday to a grocer at Union Square to buy low-sugar nutrition bars and sweets — things she said she had a tough time finding near Hylan Houses where she lives in Williamsburg. So when Santana spotted a sign-up event outside the Morris Street Market in her neighborhood for a new snack subscription service, she jumped. Instead of cutting back, Sanata could get a box filled with things like grass-fed turkey jerky sticks, corn syrup-free caramel stroopwafels, and sparkling water flavored with organic tea at her door every two weeks — and all for free. "People might think, Oh, it's just snacks, but they make a big difference," said Santana, who has high blood pressure and is anemic. "We like to eat healthy, but it's expensive. This makes it easier. We eat these things, and we feel good."
The boxes come from Wellfare, a nonprofit food pantry launched in February that's now focused on delivering to food-insecure households. The idea is to pick up the tab for shelf-stable but also relatively healthy items that are often the most expensive part of a grocery trip. The delivery component helps to zero in on those who may have trouble reaching traditional food banks — whether that's the elderly, disabled, or those who can't wait hours in line. So far, the initiative is serving 1,000 qualifying households (for now, that's those living in public housing) within southeast Williamsburg's 11206 Zip.
The project got its start after Cole Riley, who was running a marketing agency for food and beverage brands when the pandemic hit, sought to leverage his industry contacts to support food-insecure households. Eva Kerner, his longtime friend who works as a brand strategist, joined Riley in launching Wellfare late last year and began reaching out to neighborhood groups, the local community board, and quizzing residents about what they'd find helpful. "A lot of the tenant associations were saying, Please stop with the onions, the tomatoes, and the potatoes. Pantries are stocked with them, and they're readily available in grocery stores," said Riley. "It's the packaged goods that are tough and are very, very expensive, even the unhealthier options."
Each box contains more than $100 worth of goods, and while items vary delivery to delivery, there are three core categories: pantry goods, ready-to-eat snacks, and single-serve beverages. The products are donated by a network of over 300 brands that range from specialty sellers like Ancient Provisions and Smart Sweets to megacorporations like Kellogg's and Hershey. Every other Saturday at a warehouse in Long Island City, hundreds of volunteer-packed boxes are loaded into a pair of trucks destined for North Brooklyn. The food-subscription boxes are strategically delivered to drop points across Williamsburg and Bushwick and then are rolled on dollies into public-housing complexes and into the hands of residents.
Every other week, Riley, Kerner, and a crew of volunteers do phone check-ins with subscribers, asking folks what they liked or maybe disliked about their haul and how their boxes can be best tailored to their lifestyle. Among diabetics, zero-sugar beverages that are still big on flavor, like drinks from Super Coffee, are a big hit. A favorite item for Maria Diaz, who lives in the Borinquen Plaza complex with her 22-year-old daughter, is the Banza chickpea pasta, because it cooks faster than regular pasta and makes for more filling meals. Through the boxes, Santana has discovered oat milk, which she now uses daily with her cereal. She also tucks away a couple of Vital Protein collagen bars in her purse ahead of waitressing shifts she's been able to pick up at her old job — they help her avoid eating the fried foods at the restaurant where she works. Another woman said she appreciated the jackfruit chips she received because they reminded her of her hometown in Jamaica. For her, the deliveries were a boon because she had long given up waiting in lines at food banks, typically alongside smokers, because of her chronic pulmonary disease.
For now, Wellfare is focused on its sole Brooklyn Zip Code, working out its kinks. But its founders have lofty expansion plans: They want to reach all public-housing developments in Brooklyn by the end of the year and to go citywide by the end of 2022 — for all New Yorkers. The eventual hope is to send Welfare boxes across the country. "It's honestly changed my life, I don't have to take the subway to find things we want," said Santana. "I can just drop things in my purse and bring them to work. I tell my dad to take snacks with him when he goes out. It gives us more options to eat healthy, and that feels good."