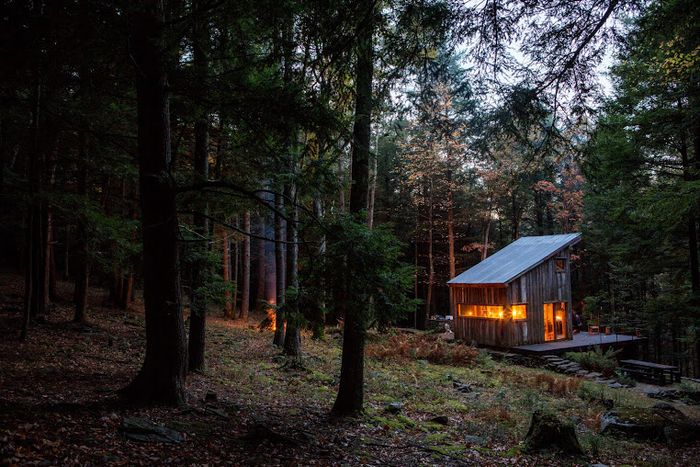 Photo: Noah Kalina / Courtesy of The Lillie K. Team and The Creatives Agent
A 53-acre upstate compound owned by the creator of Cabin Porn, the viral Tumblr blog that led to the book of the same name, has just gone up for sale for just under $2 million. It includes the very cabin featured on the cover of the book, along with three other habitable structures, a wood-fired sauna that sits up to 12, a Japanese-style hot tub, and a suspension bridge over a private brook.
The Barryville property, known as Beaver Brook, has long been used as a weekend retreat for Zach Klein and his wife, Courtney, plus dozens of their friends over the years. A New York Times story from 2015 detailed the various activities they put on over the years: a short film production about making a stool from an oak tree, an annual talent show, a week-long timber-framing workshop for students who paid $500 each to be there, amongst others.
Klein purchased Beaver Brook from fashion stylist and interior designer Scott Newkirk in 2010. It originally came with just the one 300-square-foot slanted-roof cabin (seen on the cover of Cabin Porn), which we spotlighted in 2007. Klein and friends reclad the post-and-beam structure to keep it from falling apart but kept it without plumbing or electricity.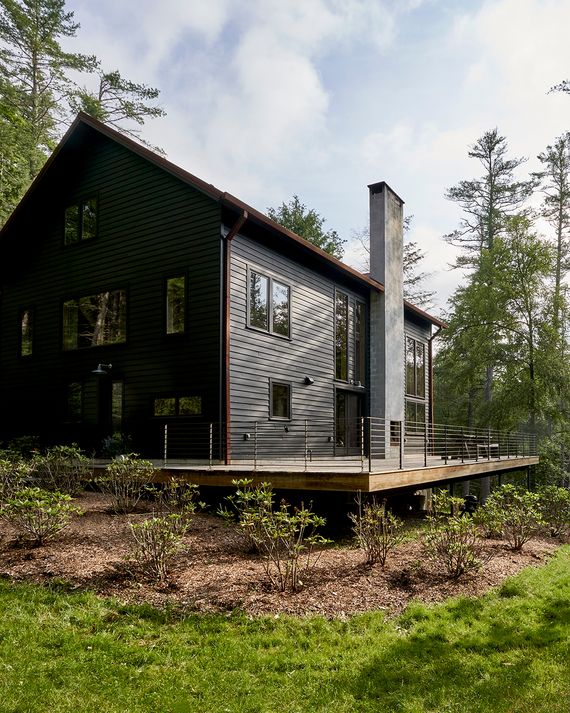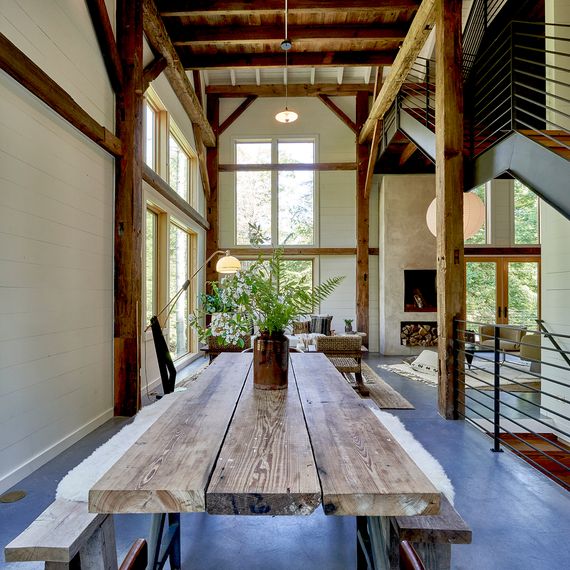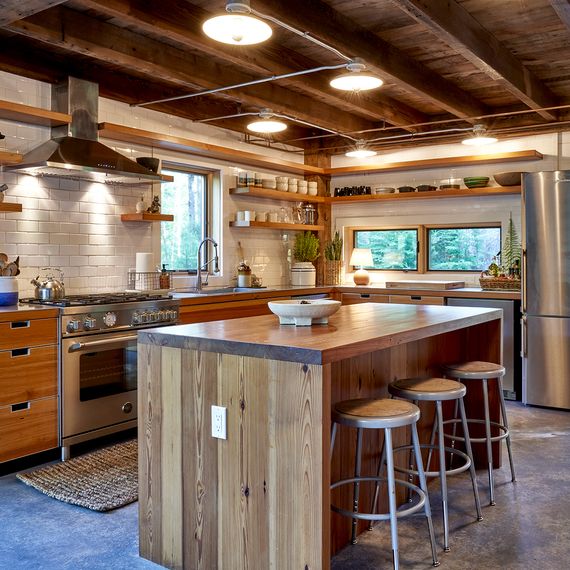 When they tired of true off-the-grid living, Klein built the Bunkhouse, a 3,600-square-foot house assembled from the frame of a 19th-century barn but equipped with all the modern amenities (a six-burner Bertazzoni stove, radiant heat concrete floors, and fiber-optic internet), plus 16-foot-ceilings and room to sleep two dozen people. Two of Klein's friends also built on the site what they call the "Half Tree House," a 360-square-foot cantilevered cabin, designed by New York City firm Jacobschang, that comes with three eight-by-eight-foot pivoting glass doors and partly relies on trees for support. The design is what you'd expect from the property of the Cabin Porn founder (who also happens to be the current CEO of Dwell) — fur throws abound, as do sliding barn doors, accent axes, and unusually handsome brooms.
The Kleins moved to San Francisco years ago and have since decided to stay there with their two kids. Zach Klein tweeted a series of memories of Beaver Brook yesterday, including a picture of the baby blessing he held after his daughter was born under the suspension bridge, by candlelight.