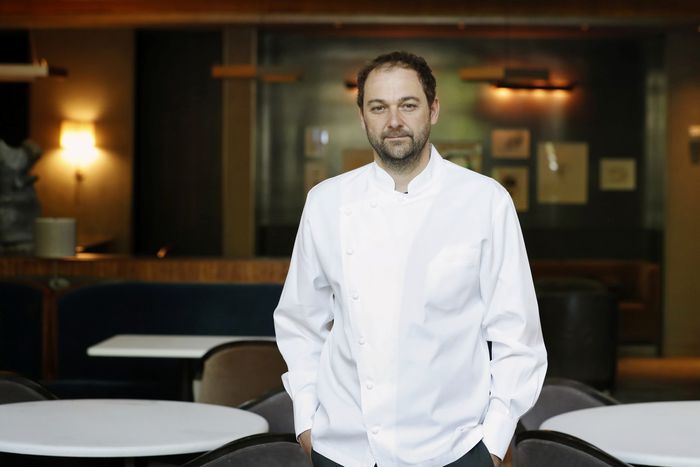 Daniel Humm, new homeowner.
Photo: Lucas Jackson/REUTERS
The phrase chef's kitchen is criminally overused in real-estate listings, but the one in the new $14.5 million apartment of Eleven Madison Park's Daniel Humm may actually be worthy of the distinction. It was used by another food-world big shot: M. Steven Ells, the founder of Chipotle, who bought the apartment for $11 million in 2009.
According to city records, Humm has purchased a penthouse co-op at 40 Fifth Avenue in Greenwich Village, paying $14.5 million for the apartment. The prewar building is within easy walking distance (about 15 blocks south) of Eleven Madison Park, the Michelin-starred restaurant that Humm reopened just last week with a fully vegan menu. The deal was made off-market, according to a source.
The apartment, at least back in 2009 when it last traded hands, is a four-bedroom, four-bathroom penthouse with a private elevator, classic architectural elements, two "huge" terraces and "endless light from four exposures and a seamless indoor/outdoor connection throughout," according to the New York Observer.
Who will come to dinner at the new place? Maybe Humm's girlfriend, Laurene Powell Jobs, the philanthropist and widow of Steve Jobs, or his other friends, who, according to the Financial Times, are all "artists or professional athletes." Humm, who as of 2017 was living in an Upper East Side rental that he had decorated with art by the likes of Lucio Fontana, Rita Ackermann, Daniel Turner, and Franz West, is not listed as the owner of any other residential properties in city records. Although Eleven Madison Park has gone vegan, a meal there remains among the priciest in the city: $335 for a prix-fixe dinner before drinks or wine, tip included. Was Humm patiently saving up the profits from the many top-of-the-top-end meals he has served over the years to buy the perfect downtown co-op?
Update, 6/15/2021: An earlier version of this story included some facts and a comment about a different apartment for sale in this building. We have corrected the error.