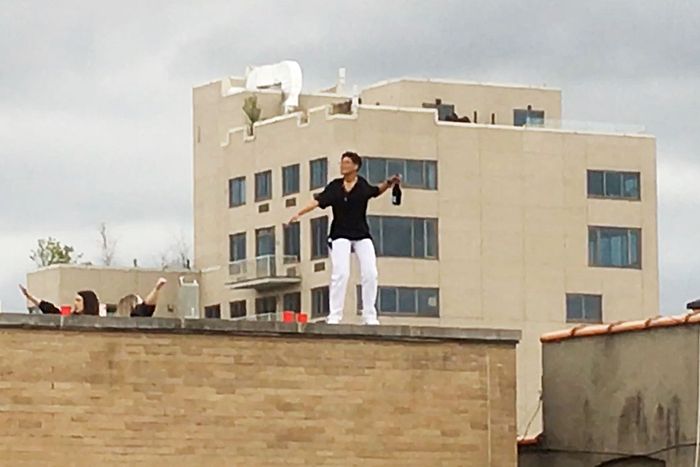 A recent rooftop party on the East Village.
Photo: Courtesy of East Village Resident
Dana Della Valle was woken up at 3:30 a.m. on a recent Saturday night by the sound of footsteps on the ceiling of her top-floor East 6th Street apartment. "These are all tenement buildings — these are not for rooftop entertaining," she said. "The second someone's on our roof, we know." Della Valle texted her neighbor Judith, who also lives on the top floor, and she immediately went upstairs to see what was going on. She saw two young men and a woman drinking beer on the roof, and she told them to leave or she would call the police. Instead of heading for the door, the trio stepped over to the neighboring roof and proceeded to move down the block like that, from building to building. These kinds of rooftop antics have become the norm in the East Village this spring, as New York City reopens and the many students who live there celebrate the college year coming to a close. After a recent party next to his 5th Street building, complete with beer-pong tables and music blasting through speakers, Robert La Force emailed the management company to complain about the "frat-like" parties happening on the roof several times a week. "On several occasions, including this past weekend, I watched tenants go from one rooftop to the next," he wrote on May 17. "They get really drunk at these parties and I'm concerned that one day someone will fall off."
A few days later, several blocks away from La Force's building, 24-year-old Cameron Perrelli died after falling from a rooftop trying to cross from one roof to another during a party on East 12th Street and Avenue A. Following Perrelli's death and the death of 26-year-old Tyler Thorpe, who fell from a building in Kips Bay a few days later, local Councilmember Carlina Rivera announced that she would introduce a bill requiring landlords to restrict access to rooftops that aren't approved for use by tenants or face fines. A bill like this could have prevented Perrelli from accessing the Avenue A rooftop, which did not have a certificate of occupancy, according to Rivera. "I understand that rooftops in New York City are an amenity, and they're a boon to that building, to that community," she said. "But dangerously overcrowded parties have become more prevalent on rooftops that have little to no safety protections or monitoring on them."
East Village residents are also frustrated because their complaints to 311, the NYPD, and building management about parties are so frequently ignored. Rivera wants to streamline the response process for the multiple agencies involved (the FDNY, the NYPD, the Department of Buildings), and her bill would require landlords to provide contact information and easy access to the building so that city agencies can enter and investigate a complaint without being locked out for hours.
But Rivera's newest proposal has its potential limitations, especially in the East Village, where many rooftop spaces would not require a certificate of occupancy. Under current DOB rules, only spaces that can hold 75 or more people or host events involving "excessive noise, vibration and other nuisances" need one. Smaller rooftops must meet other safety requirements, like having a code-compliant railing and exit signs, but the certificate is not required. And in the East Village, many of the narrow, low-rise buildings are exempt. A handful of corporations have purchased many of the buildings between Avenue A and Second Avenue over the past decade, and now rent the updated two- and three-bedroom apartments for as much as $5,000 a month to college students, gradually turning the neighborhood into the place for off-campus housing and the partying that comes along with it. If Rivera is trying to tamp down the roof partying here, requiring certificates of occupancy won't do very much, neighbors say. "I don't know how many square feet they are, but 74 people on top of one of these roofs would be basically standing inch to inch," La Force says.
Longtime East Village residents say those young renters only stay for a few years, and the constant turnover makes it harder to actually make any headway on tamping down the parties. "You can't really control it, because every time you get some tiny grip on the situation, there's a whole bunch of new residents," says Nicholas Peate, who lives on East 7th Street. Both Peate and La Force are so fed up with the constant loud parties, they are thinking of moving out. "They market [these apartments] as a sort of a luxury frat house, that's the issue," Peate says. "So basically, they say, 'You're here, you're entitled, you're wealthy, you're white, and you can just do whatever the fuck you want.'"