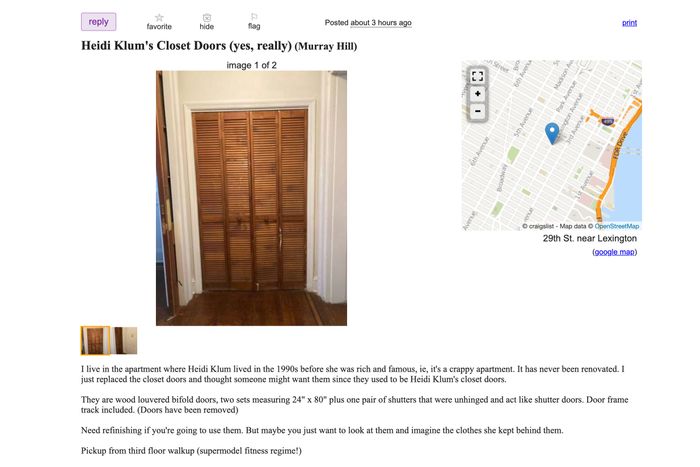 Photo: Screenshot via Craigslist
New York City has an endless supply of before-they-were-famous celebrity hangouts and homes. (You may enjoy this collection thereof.) There's something irresistible about sharing space with fame, even at a remove: Robert De Niro made coffee every morning in this kitchen. Debbie Harry slept here. Heidi Klum … hung her coat in this very spot? Yes, indeed: You too can acquire, at no direct cost, a tiny bit of the supermodel's pre-Seal, pre–Project Runway aura. The present-day occupant of Klum's 1990s apartment in Murray Hill has decided to renovate and is offering on Craiglist a set of louvered bifold closet doors formerly opened and closed by the supermodel herself.
They're free! And possibly even authentic Klumabilia! And if you move fast, you can perhaps install them in your own apartment, providing you with an anecdote with which you can delight/bore your party guests for years to come. Heidi Klum: Rhymes with closet room.