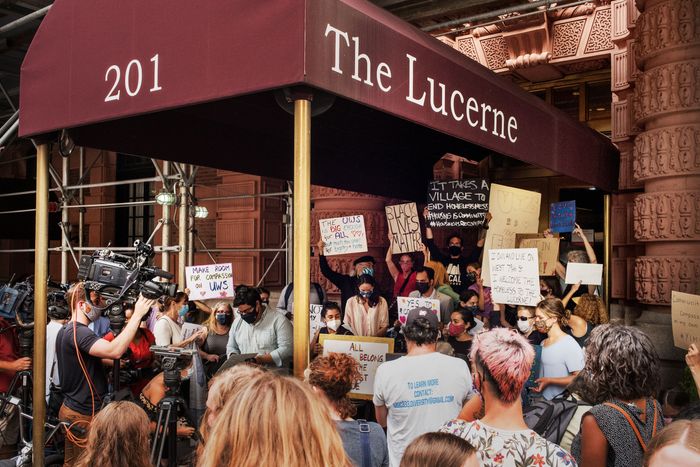 Photo: Steven Ferdman/Getty Images
In April 2020, the owners of the Fairfield Inn & Suites in Long Island City turned to the de Blasio administration for a lifeline. Its pre-pandemic selling points were no longer relevant. Who cares if the Javits Center is 30 minutes away? What use was there for its loungy wall art or gratis breakfast buffets? But it did have something the city wanted: private space. For $110 a room, or about half the old going rate, the city would take its 152 units and house homeless New Yorkers there in a bid to stem the virus's spread. Otherwise, the Fairfield's owners would have had to make ends meet by renting out 15 or so rooms on a good night.
"For a hotel to have 10 to 15 percent occupancy for a month, maybe they can ride it out," Edward Cardenas, who heads regional sales and marketing for the hotel's management company, Chase Hotel Group, told Curbed. "For two, three, four months? Yeah, we were going to go bankrupt. Basically, we had no choice. It was a financial decision that we had to make because there was no other alternative." As of this past week, 139 hotels had signed on.
As the pandemic eases and the number of cases touches record low, the city and its hoteliers are figuring out how exactly, and whether, to disentangle themselves from each another. The city's lifeline, now in its 14th month, may be about to end, and while this kind of resolution would normally augur good news and a return to normal, both hotel owners and homeless advocates are saying it's happening too fast. "We're very soon going to start the process of moving people back to the shelters, where we can provide the most support for them," Mayor de Blasio said on Brian Lehrer's WNYC show recently. "It was never meant to be a long-term thing. It will not be a long-term thing — you'll start to see those changes soon." Yet for hoteliers, international tourism is still effectively nil. Businesspeople would rather use Zoom. The conference circuit is likely years away from returning at full force. Owners also say that the realities of the market require them to do expensive, monthslong, top-to-bottom renovations where homeless people lived, in order to remove any stigma that might discourage future guests. Many are now staring down a future with no government support, no customers, and potentially millions in new renovation debt.
The hotel program was just one of the emergency responses the city took to combat COVID-19, but it stood out for its ability to agitate people. With homeless people taking up in hotels like the Lucerne — located halfway between Sarabeth's and the American Museum of Natural History — it made even starker the gulf between rich and indigent New Yorkers. The New York Post dedicated covers to blaming "homeless hotels" for the rise in crime in neighborhoods like the Upper West Side, even as the virus killed disproportionate numbers of poor and non-white residents. To this day, passersby can typically tell when a Hilton has been turned into a shelter: There are police vans parked outside, even as homeless advocates say the properties tend to have fewer violent incidents than shelters.
"You can't just flip the switch and welcome tourists," Vijay Dandapani, president and CEO of the Hotel Association of New York City, said. "This is very ephemeral business. A snowstorm in the past would have shut our business down 100 percent sometimes. 9/11 did it. Certainly the financial crisis, in a different way, did it. But nothing was as dramatic as this."
For decades, New York City has relied on hotels as overflow space for homeless residents. Even before a landmark 1981 decision established the right to shelter in New York, homeless men from the Bowery were sometimes sent to hotels after getting processed by the city. Before the pandemic hit, the city was housing 3,500 people in hotel rooms who would otherwise be out on the street. Soon after Governor Andrew Cuomo declared a state of emergency in March 2020, the de Blasio administration suspended its procurement rules, and by April 15, it hammered out a deal with the city's hotel industry to provide rooms for an additional 9,500 people, paying $300 million. By April of this year, about one in four people who relied on the city for housing were staying in hotels, according to the Coalition for the Homeless, which publishes city data. "It's been an incredibly valuable resource that provides a safe, private space to people who don't have a safe, private space, slows down the spread of the virus, and helps people protect themselves," said Giselle Routhier, policy director at the Coalition.
For some, staying in a hotel during the pandemic has been a lifeline. "Being in the hotel is much better. I can sleep by myself. It's a blessing," said Ofelia Ramirez, who has been staying in a room at the Hilton Garden Inn on 35th Street in Manhattan. Ramirez, 59, was beaten by other residents at congregate shelters like Casa de Cariño in the Bronx, she said, but she says she likes the women at the hotel. Still, life there can be daunting. Ramirez, who relies on a walker due to lifelong spina bifida and will have part of her foot amputated next month, said the elevator broke recently — an incident that another resident confirmed. A young woman died in her room, and no one from the Department of Homeless Services explained why, Ramirez said. And there were fewer services, like on-site nurses and human resources, available than at congregate shelters, she added. (A DHS spokesman denied that there were fewer services available but confirmed that a woman died there in April from "natural causes" unrelated to COVID-19. A spokeswoman for Hilton declined to comment, and the property's general manager, Frank Cortese, abruptly canceled a call with me and said he was "not able to comment.")
A lawsuit by homeless men fighting for their right to stay at the Lucerne was dismissed as moot by an appellate court, effectively evicting the residents, because the men who brought the suit already moved out — sidestepping the suit's core claims altogether. The city has sent a letter to residents telling them to prepare to move back to group shelters. And while the letter seems intended to help smooth out a transition, it appears to have made for more confusion, causing rumors to fly around shelters like the Hilton Garden Inn that evictions are imminent, Ramirez said.
When will the program actually be cut off? A spokesman for the Department of Homeless Services said there were no plans yet that could be shared publicly. Routhier, though, feels the need for a timetable urgently: "The city needs to have a specific plan in place to start bringing folks back to the congregate shelters, and that plan needs to be approved by the state," adding that she has not seen that plan. Mass shelters, she added, still need to be equipped with better ventilation systems in order to keep homeless people safe from the spread of the virus. But Dandapani, the head of the hotel-industry group, said the city can pull the plug on the entire program with six days' notice. And many hotels, like Cardenas's Fairfield Inn & Suites, have contracts that end on June 30 — and no clear sense of what the city is going to do next.
Cardenas says he hopes that the city will end the program in phases. While it was able to keep the hotel afloat — and averted layoffs — he says the return to a conventional hotel is not without problems. "The word is out: 'Your hotel is homeless,'" Cardenas said. "So to attract the business back, we have to do a complete renovation of the rooms. I'm talking about — it has to be gutted completely." Since the cost of labor and materials have risen sharply, he estimates it could take four months and $4 million, all of which would be funded by loans that would add to the business's debt load. "And by the time it's done, we're looking at November, December. Then we go to slow season." The best-case scenario, he said, would be if the city dialed back its program over time, allowing hotels to keep some homeless residents — and the public money that's funding their stay — through the end of the year while renovating a few floors at a time. "We're just trying to survive," he said. "If it doesn't extend to the end of the year, it's going to be a tough remainder of 2021."