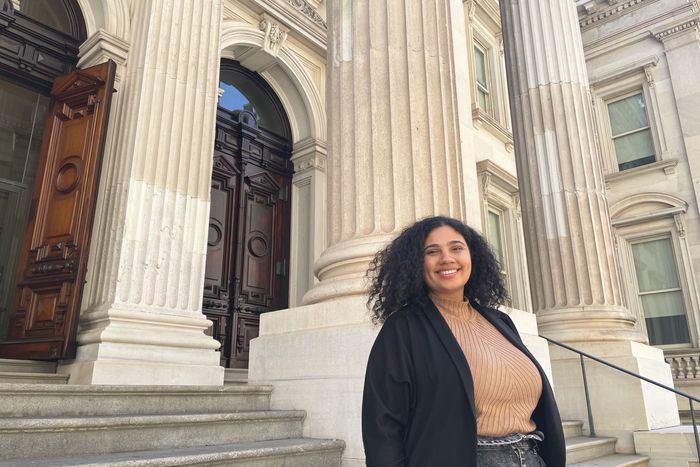 Photo: Alicia McCauley/City Commission on Human Rights
It usually starts with an exasperated call to a city hotline. On the phone is a renter who wanted to view an apartment, but was bluntly rejected by a realtor because she mentioned she had a housing voucher. Or maybe the caller recounts a brush-off that was less obvious, like an enthusiastic broker who turned cold after the words "Section 8" were mentioned. No matter the situation, it's Angela Stovall on the receiving end of the call. The 28-year-old is an intervention manager at the City's Commission on Human Rights, and the only person at the agency whose job it is to intervene in claims against landlords and realtors who may be blocking subsidized tenants from viewing their apartments — what is known as source of income discrimination.
More than 85,000 New Yorkers use Section 8 vouchers, a government subsidy that pays a portion of their monthly rent, and in 2020 at least 11,000 more relied on city vouchers and other rental assistance programs. Discriminating against these renters has been against New York's human rights law since 2008 (the commission created a dedicated unit to cracking down on this type of discrimination in 2018), but enforcement is woefully underfunded, with roughly a dozen specialized staffers across the commission and the Human Resources Administration dedicated to working soling on behalf of voucher-holders. For those New Yorkers who need immediate help, the bulk of that work falls to Stovall. Last year, the Commission on Human Rights logged 493 of these reports. Stovall herself resolved 177 of those incidents before they escalated into official complaints.
Before joining the commission in 2019, Stovall worked as a paralegal at the New York Legal Assistance Group, where her primary job was defending people from eviction and making sure tenants had time to find new housing before getting pushed out. But she noticed that actually securing housing for these tenants — who often relied on vouchers and rental assistance — was almost always an uphill battle. So when she saw an opportunity to crack down on this type of discrimination at the commission, she jumped.
This past year, Stovall has mostly worked from her Bed-Stuy apartment, juggling multiple cases at once. For each tenant who reached out, she begins by finding out: What subsidy does he or she have? How were they discriminated against? Do they have proof? That last question is key, and evidence usually comes in the form of a written exchange with a landlord or a broker, or a Craigslist ad that specifies "no vouchers." But more savvy landlords and brokers have turned to ghosting tenants instead of outright rejecting them, which makes the discrimination tougher to prove. They're still likely to get a call from Stovall telling them that it's illegal to reject voucher-holders. "Because housing goes so fast in New York, we want them to report things as quickly as possible so that the apartment is still open," said Stovall. "The brokers will just say that it's a popular listing, like, 'I couldn't possibly respond to the 300 inquiries that I've received about this.'"
For some brokers, talking with Stovall is a wake-up call regarding the law. For others, it's the shove they need (with the added threat of penalties) to show a voucher-holder an apartment. But there's always people who make excuses, like Oh, I have other voucher-holders in my apartments, or I don't discriminate. These brokers and landlords tend to double down on their attitudes toward renters who use subsidies. "It's literally like listening to the Moynihan Report, very much the culture-of-the-poor attitude, where there is a certain hostility or antagonism against poor people," said Stovall. When they insist they will continue to block voucher-holders from their units, Stovall's investigation shifts into a formal complaint where lawsuits are filed against brokers and landlords.
It might take Stovall anywhere from a day to a few months to resolve a single situation, but no report is resolved with one phone call. She regularly checks in with renters, most of whom are women of color with children, on how their home search is progressing. The work can be overwhelming — both in terms of the sheer number of cases she's working on and in its emotional toll. But Stovall says it's gratifying to know that she's able to help people view and apply for apartments they would have otherwise been blocked from — even if they don't end up renting the place.
Stovall does worry that voucher discrimination will increase as more people turn to them, especially as housing court reopens and more New Yorkers are brought into eviction proceedings or are forced into the shelter system. The city is also anticipating this, and has beefed up budget proposals that would allow its agencies to hire 13 more people to investigate and take legal action against landlords and brokers flouting the rules. In the meantime, Stovall continues to be a first line of defense for those struggling to make use of their vouchers. "I think it's hard to get people to care about this because of the hostility and blame surrounding poverty generally. It's easier to disregard housing discrimination when you demonize voucher-holders," she said. "They have this voucher, it's supposed to be their way of accessing stable, secure housing. And it's almost like a false hope."