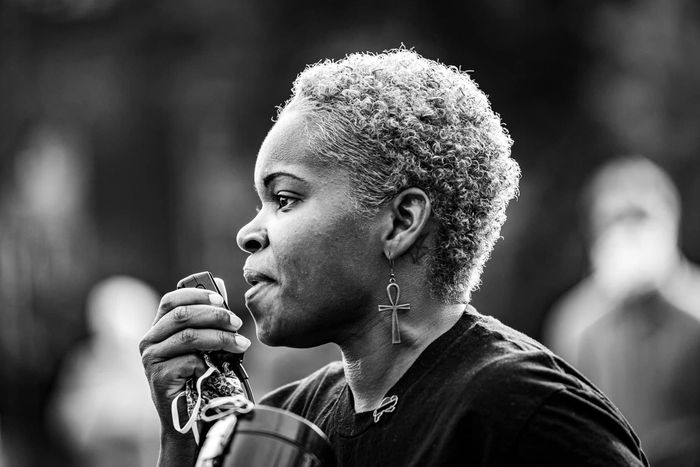 Photo: Carmen Paul Cibella
Two weeks before India Walton pulled off a historic upset in Buffalo's Democratic mayoral primary — defeating four-term incumbent Byron Brown to become the city's presumptive first socialist and first woman mayor — she took me to a police-accountability rally. When we arrived at the street corner near police headquarters, across from Buffalo's soaring Art Deco City Hall, the rally's organizer immediately asked Walton if she wanted to speak. "I'm just here to support," Walton told her — and I involuntarily laughed. In ten years of covering politics, I explained to her, I'd never heard a politician turn down an opportunity to speak. Walton smiled at me and replied, "I'm not a politician."
And now, Walton has managed what many left-leaning politicians have tried and failed to do, notably in New York City: electoral victory on a platform that promises to dramatically cut back on policing in a city experiencing an increase in crime. She did it the way she does everything: by "meeting people where they are," as she puts it.
That's what she did as a nurses-union delegate, and it's a foundational tenet of how she campaigns. Downstate, the leftist mayoral candidate Dianne Morales disappointed supporters with her "nonprofit speak"; Walton notably talks like a regular person. She is a trained organizer and, if asked, can discuss just transition frameworks, Marshall Ganz, and restorative justice. But in general, she tends toward an everyday lexicon and rarely uses catchphrases like "defund" or "abolish the police." Although her dream is abolition, she's clear-eyed about not being able to achieve it overnight, and that good government can lay a strong foundation for this.
Despite being a city with a fairly conservative Democratic establishment and more conservative white ethnic communities that tend to be ardently pro-police, Buffalo was primed to embrace an unapologetic message of police reform. Just last year, the entire country saw Buffalo police crack a 75-year-old's skull open on pavement and attack a Black man who was giving an interview on live television. With a low homicide-clearance rate and a high number of excessive-force complaints, the Buffalo PD is not in a great negotiating position — and the public knows it.
So Walton went out and told people the plain facts: Crime is up, and the police budget is the largest it's ever been; policing is not working as an antidote to violence. Instead, Walton laid out a specific alternative for the voters of Buffalo: Within her first 100 days, she would direct police to stop arresting people for possession of small amounts of drugs or paraphernalia like syringes, take police off of mental-health calls, and work with the department to establish a response that involves mental-health professionals. Within six months to a year, she plans to have officers trained in trauma-informed care and implicit bias, increase the number of trained community-oriented officers, and establish a civilian traffic-safety division as well.
She maintains a labor organizer's respect for workers, and has vowed to include police in the process of reforming the department. The head of the police union is already pushing back, however, claiming that mental-health calls can get violent. But Walton told me that she thinks if she told police, "There are professionals that we have that can do that, and I want you to focus on the job that you were actually hired to do, which is police work, not mental-health work," it would be a relief to the officers. Part of taking cops off of mental-health calls and traffic stops is also about minimizing the instances in which misconduct — which costs the city of Buffalo millions of dollars — can occur.
She also wants to expand existing, evidence-based violence-interruption programs, fund youth-employment programs, and create an unarmed public-safety detail to address quality-of-life 911 calls — further freeing up trained police officers to focus on solving crimes. But ultimately, these steps are part of her larger desire to cultivate a society in which, as she says, "there is so much love and care in our community" that there's simply no need for police.
Walton's success in Buffalo may ride as much — if not more — on her as an individual than on any one policy idea or platform. Charlie Blaettler, the elections director of the Working Families Party, which helped run Walton's campaign, said that she is uniquely well-suited to talk about sensitive subjects with her neighbors in her beloved home city. "You run people who are connected to their communities," he said. "Even people in Buffalo who might not like her can't argue her Buffalo bona fides. These are hard conversations to have, and if you don't have community credibility, you can't have them."