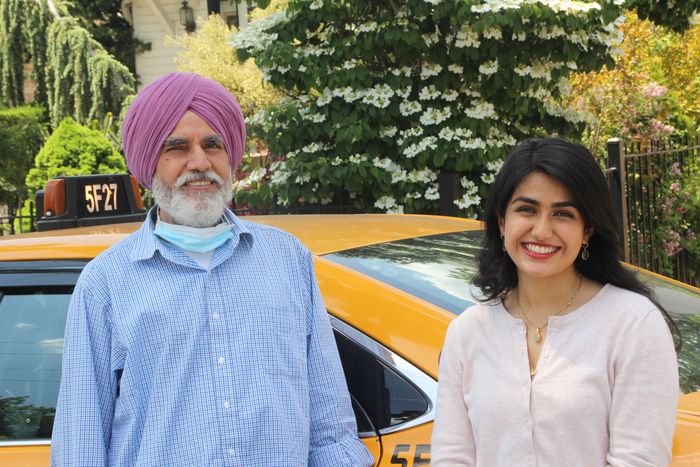 Photo: Courtesy of Jaslin Kaur
On the campaign trail, City Council candidate Jaslin Kaur has said it was her father's struggle with taxi-medallion debt that inspired her run to represent District 23 in Eastern Queens, where she grew up. Like many taxi drivers in the city, Kaur's dad, Partap Singh, took out loans to be able to pay for his taxi medallion in 1993 and to this day works ten-hour days so he can pay it back and take care of his family. When the taxi-medallion market crashed in 2014, he was left with a now-undervalued medallion and around $130,000 in loans to repay. Thousands of drivers across the city had their lives similarly decimated, and the despair and crippling debt have even led some to take their own lives. Despite the extent of the crisis, the city hasn't done much to help drivers like Singh recover.
Kaur, 25, is running on a platform that includes creating a retirement fund for drivers and offering medallion-debt relief and has been endorsed by Bernie Sanders, Alexandria Ocasio-Cortez, and the Working Families Party. We spoke to her and her father, Singh — who immigrated to the U.S. from the state of Punjab, India, in 1985 — about the medallion crisis and his experience driving a taxi over the years.
Kaur: When I was growing up and going to school, sometimes they'd have the career days where they'd ask you to fill out a little form: What do your parents do? I had other friends who were like, "My dad works at the bank." "My dad works as a fireman." "He's a police officer." But I didn't know how to explain what my dad did. So I would say, "Well, he works in the city," which is true because he drives all around the city. I distinctly have these memories of going to bed early to get up for school but always hearing the commotion around three or four in the morning because he would wake up so early for a shift to go drive the taxi. And so sometimes I would step downstairs just to say hello at three or four in the morning. Those are some of the fondest memories I have of just knowing how many hours he would put in every single day.
Of course, I definitely worry about him. Over the years, he's had two eye surgeries. And when he used to work the overnight shift, that places a lot of strain on your physical health. And even just the mental-health toll as well. Like, as immediately after we're in a post–9/11 New York City, for a lot of Sikh Punjabis, a lot of South Asians in New York City, we were often the targets of surveillance, we're the targets of racial epithets. That really hurt our community members.
Singh: The hardest thing about driving a taxi throughout the years was when 9/11 happened. People hated us. We didn't know when somebody could attack us. And there was no business at all in the city. We were going all over, to the Bronx, Brooklyn, trying to find rides. It was very hard to survive. We were so scared of what would happen to our families, and we were so scared that something would happen to me in my taxi. People were calling me Bin Laden.
Kaur: I remember at some point he would actually wear a baseball cap instead of his turban. He tried to not be such an obvious target for some people who would be his passengers and hurled some really awful racist things from the back of the taxi.
Singh: After the 9/11 years, we had a lot of pickups and made good money. My plan was to work hard and have enough money to survive. Plus, I had two young kids, so I wanted to pay for their college. I didn't want them to take out a loan or anything for their college.
Kaur: When did you realize this was going to be a major issue with the medallion crisis? Was there a moment that you realized how hard it was going to be?
Singh: In 2014, when the medallion market crashed, Jaslin was going to college and my son was also going to college, at George Washington University. So I was totally upset; my credit card was full. I didn't know how I could cover everything, because I didn't want to lose my children's education. Even now, it's still a very tough time for me. I'm 62 years old now, so I cannot work extra hours. The last two years have been really hard for me.
Kaur: To me, it really came down to when we were trying to pull the money together to continue my education. And so growing up, I think, especially in an immigrant household, you're often not told what the finances are. Your parents just tell you, "Yeah, well, we'll figure it out. Don't worry about it." But underneath those layers, you understand that there's something very critically wrong. That there's some kind of pressure that your family is facing, because they're working a lot more hours or suddenly you're not buying certain things. And so it was when I had to apply for college — and I think this is what happens for a lot of kids when they have to fill out their FAFSA forms —they start to understand their family's income. They start to understand just how much money we don't have and how much other financial aid that you can qualify for. And that was a moment of clarity because I had to sit down line by line and go through tax forms with my parents that I'd never seen before, up until the age of 18. And that was such a crystallizing moment to understand, Oh, we're really not doing that great. Even though I live in a great house, I think my parents did a great job of trying to shield me from it.
Singh: Most people lost their house, or lost their medallion. Everybody tried to get a good education for their children, but suddenly, you know, everything went down.
Before Uber and Lyft came in, the city would sell medallions for millions. I bought mine for around $140,000 and owe $130,000. The credit unions gave us loans to pay 80-90 percent of the debt. I thought it was a good investment, that I could survive, me and my family, while paying the medallion mortgage.
Kaur: We were with Melrose right?
Singh: Yes.
Kaur: So we had Melrose credit union, and even that credit union, which handled mostly medallion loans, is almost completely liquidated now. So it says a lot about just how fragile and precarious the medallion industry has just become under our mayoral leadership in the city.
A medallion is often a promise to finally be able to afford and put down a mortgage on your home, to move into the suburbs and buy a home, to send your kids to great schools. And then right around the year that the e-hail services like Uber and Lyft came into the city was around the time the medallion market tanked. I had to drop out of university because we couldn't afford the tuition anymore. And while I was eventually able to finish my education, we had spent so much trying to get me into a really great private school, and it just wasn't a viable option for us anymore. I really think that so much of what's guaranteed with a medallion really fell apart with e-hail services like Uber and Lyft.
Singh: Because of Uber and Lyft, I lost everything, and now I don't even have my health. I have no retirement fee. I have no deposit money in the bank. So I depend on whatever I work every day. I still work ten hours, six days a week.
Kaur: And then he goes to campaign after.
Singh: After that, I have to campaign three or four hours — my days are like almost 14, 15 hours. I am very excited about the campaign. I do everything to make Jaslin successful in the campaign.
Kaur: [Our relationship] has become closer I think now that I finished school, because oftentimes, we just wouldn't see each other because of his work schedule. So if I was at school, I would come home and then he'd still be at work, or I'd only see him very early in the mornings. But I think it's definitely been the campaign where he comes into the office all the time.
Singh: At first, I'm so surprised, I didn't even think about Jaslin running as a City Council candidate. I didn't even know she could run for City Council. Now I feel because my daughter is so smart, I think she's going to City Hall, and maybe, somehow, she solves the problem of the medallion crisis. We'll have somebody in City Hall to raise the kind of problems we face day by day — so we can have a say in City Hall.
Kaur:  It was always really great growing up in a family where I was given the choice to be whatever I want. We have a saying in Punjabi, like Jo tusi choundey ho, bas oh hi karo — whatever you want, just do it. And so it feels really great that however big the dream is, they're always there to support no matter what. Now he's out here campaigning every day. He knocks doors. He makes phone calls. And he's been at the poll sites all throughout early voting so far.
Singh:  We want to do something for the cab drivers. This is very easy, you know: Uber has more than 70,000 drivers and only 12,000 taxi medallions, so if the city wants to do something for cab drivers, it can cap the number of Uber taxis. The yellow taxi is more than 100 years old; we are city drivers, but the city is not helping at all. You remember 9/11? [For] at least more than a month, we offered free service for the people. We helped the city, but the city doesn't want to help us.