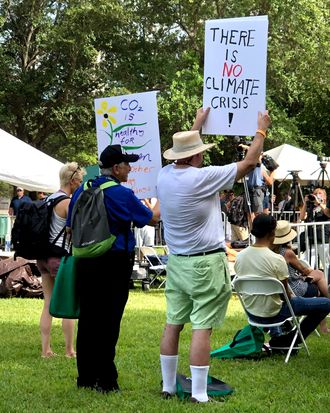 As we walk into Miami's Bayfront Park to what's being billed as the world's "first conservative climate-change rally" — sponsored by something called the American Conservation Coalition — Jet Skis and yachts froth Biscayne Bay behind us, skyscrapers glint before us, and Toby Keith's "Courtesy of the Red, White and Blue (the Angry American)" pipes through the sound system. When I first read about the event, I'd assumed it was being held to protest this putatively liberal concept of climate change, and sure enough, there are two gentlemen there carrying signs that read "CO2 Is Healthy for Children" and "There Is NO Climate Crisis." After all, the party's leader, in temporary retirement not so far from here, was known for beliefs such as "Global warming was created by and for the Chinese in order to make U.S. manufacturing noncompetitive" and "Global warming is a total, and very expensive, hoax!" I'm greeted by what seem like a group of camp counselors — fresh-faced college kids, brows damp with sweat, darting about in cut-off shorts and red tees. They are the event staff, and they have the air of true believers. The question is: What do they believe?
Never mind the clear and imminent threat to this city or to the rest of the world; the Army Corps of Engineers recently proposed a Miami sea wall, which would be as tall as 20 feet, that would save some of the city from hurricanes. Many locals, in denial about the precarity of their blissful landscape, are looking for an easier path: Clearly something (something not as extreme as the Green New Deal, though) has to be done, right? As the MC, Julianna Strout, a local commissioner with beauty-pageant hair and a snug red minidress, reminds the sparse attendees — I wouldn't really call it a crowd — this rally is all about liberty, free enterprise, and pro-growth solutions to climate change.
Stout leads the Pledge of Allegiance and hands the mic to a fellow Republican, who says a prayer thanking the Lord for the planet. Then Survivor's "Eye of the Tiger" plays, and Benji Backer, the clean-cut, square-jawed 23-year-old wunderkind organizer of this event and president of the American Conservation Coalition, strides onstage and high-fives Strout. He's pumped. "This is amazing! This is incredible!" he yells. The onlookers mumble back, low energy.
As a teen, Backer was a climate-change denier speaking at Tea Party rallies and the youngest person, at age 14, to speak at CPAC. In Miami, his talking points are familiar, but flipped in favor of climate science. "We need innovation, not regulation," he preaches. "We need bottom-up local solutions … Florida knows how to take care of Florida … We can't allow China to lead in climate-change pollution and climate-change technology."
The speakers who follow are light on specifics, but most strike a certain duality: Acknowledge that climate change is real but socialism is bad. Regulation is bad. Innovation is good. Some even dare to tap into the party's environmental legacy. Teddy Roosevelt created the National Parks system. Nixon created the EPA (the source of all those pesky regulations). No one brings up the pollution-friendly deregulation policies of every Republican president since Reagan.
Things start to get entertaining with the arrival of Miami's mayor, 43-year-old Francis Suarez, who has taken to courting tech, crypto, and finance types during the pandemic and is rumored to be considering a run for president. Suarez gives a speech touting Miami Forever, a $400 million bond that includes sea-level-rise resiliency plans. Trap music from a passing yacht drowns out his speech for a moment before he cites the need to switch from septic to sewer to save Biscayne Bay — a very pricey proposition. A heckler accuses him of being a RINO, or Republican in name only; Suarez offer to arm-wrestle him before ending his speech.
I head to the VIP tent and manage to pull Backer away from his admirers for a few questions. First, how does he deal with Republican climate-change deniers such as the heckler? "At the end of the day, it's understandable why conservatives have distanced themselves from these issues, because you've been told the solutions don't fall within your values," he says. "But we tell climate deniers that you can fight climate change within your values. Just because you don't like what the left proposes doesn't mean you can't have your own set of solutions." Backer had his come-to-Jesus climate moment a few years ago in a high-school science class. "I saw the data and science, and the reality is there's a lot we don't understand about climate change, but we understand that with increased CO2, the temperature goes up in the atmosphere. That is not debatable. And here I am."
I remind him of the regulation-is-evil theme on stage. "We're for limited government, not no government," he says. The market, to him, is the magic wand. "Consumers have a very important role. We can have that impact with our dollars and our votes."
I turn and pose the climate-change-denier quandary to Mayor Suarez. He begins by quoting Lao Tzu: "'A journey of a thousand miles begins with one step.' Leadership isn't getting people to do what they naturally want to do; a leader will take people to where they need to go."
What about the RINO problem?
"I say our society is way too full of labels," he says. "Even the label of Democrat and Republican — we don't have the luxury of making it partisan. That's something I'm going to talk about a lot more …" he pauses. "I'm willing to work with everybody."
On the way out, I run into the RINO heckler, Rafael Antonio Gomez, whose YouTube channel has over 9,000 subscribers. I ask him why he's here. "I feel indignation because my politicians are being duplicitous," he says. "When you accept climate change, you've already abandoned us. A true conservative wouldn't be preaching this."