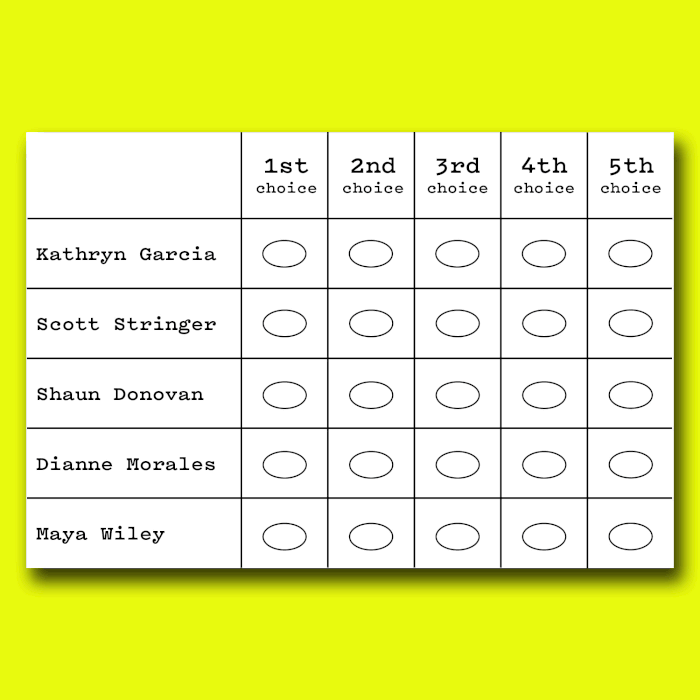 Picking who to vote for in an election with a crowded field, numerous scandals, and New York City's recovery at stake is already a difficult task — but picking five candidates? In the upcoming mayoral primary, voters are being asked to do just that as ranked-choice voting makes its citywide electoral debut. To help at the polls, Curbed spoke with two dozen elected officials, activists, and other notable New Yorkers about how they're ranking the candidates, the issues they care about most, and how they're approaching this new moment in New York City elections.
As each endorsement or scandal drives poll numbers up and down, many voters are regularly changing their mental rankings. So a note about timing: Interviews were conducted after Kathryn Garcia was endorsed by the New York Times and the Dianne Morales campaign began to implode, but before Alexandria Ocasio-Cortez announced that she was backing Maya Wiley and a second woman came forward with allegations of sexual misconduct against Scott Stringer.
While this is ranked choice's biggest test yet in New York, it's not the first. A few special elections have been decided on ranked-choice ballots since February, and the instant-runoff system was first put into practice when none of the nine candidates in the City Council race for District 31 in Queens reached the "50 percent plus one vote" threshold necessary to claim victory. Over the three weeks after the deadlock, Board of Elections officials hand-counted ballots, whittling down the field until Selvena Brooks-Powers, a veteran government strategist, tallied 51.6 percent of the 7,451 votes. And with the most recent mayoral-primary poll showing Eric Adams in the lead with just 22 percent of the vote, it's highly likely the naming of a winner could be similarly drawn out — with second or even third and fourth picks making all the difference.
"On some ballots ranked votes won't matter, and on others they will be extremely important. If a voter chooses a front-runner as their No. 1 choice, the rest of their ranked votes won't matter. In my race, Pesach Osina and I were the top-two candidates the entire time, so the second, third, fourth, and fifth choices of people who voted for us never traveled to any other candidate.
"My hope is that my candidate, Eric Adams, exceeds the '50 percent plus one' threshold so that we don't have to worry about ranked-choice voting. I've known Eric for almost 20 years. He's demonstrated strong leadership, unwavering support, and he just gets it. He was raised in southeast Queens, where I'm from, and he understands the outer-boroughs. I haven't gotten to five candidates, and I don't know if I will. Beyond Eric, my No. 2 is looking like it will be Ray McGuire." —Selvena Brooks-Powers
"Andrew and I sat down before he ran for office for mayor. For someone who is not from the New York political circles, he was very keen on the issues that I cared about, and he was open and moved on some of these policies — like decriminalizing sex work — which gave me the impression that he would try his best to center these decisions and solutions around people that are most impacted in communities like mine. Maya recently came into my ranking. Before, I had thought of supporting another progressive, Morales. But there have emerged some serious concerns about her practices and the campaign as well as her past as a nonprofit executive. I've been going back and forth, to be honest, on the last two. And I just feel Maya has brought the right balance of progressivism and experience. Also I felt very touched by her coming out strong against Governor Andrew Cuomo at the peak of the controversy. I thought that she showed some real conviction in being one of the very first to push to criticize him for his abuse of power." —Ron Kim
"I am a housing advocate, and I got involved in this fight in 2007. For all the times when we had rallies, or we'd go to Albany and we'd do a big civil-disobedience action, Scott Stringer was always there with us.
"I think Maya Wiley is a strong candidate also. She's a strong Black woman, and we need our strong Black leaders to stand up. I have seen her on many occasions, and she's a very astute person when it comes down to policies. And Dianne Morales has a passion for housing: She has shown up to our big tenants-rights rallies and voiced her opinion.
"I have Eric Adams down, because while he's not my first choice, I think he's a good contender. I think he would bring something to the table. And finally I put down Ray McGuire as No. 5, but I'm still trying to figure out what he stands for. I heard him say that he would like to bring the city back by lifting up small businesses, women, and people of color, and I know he knows what suffering is when it comes to minority people, being somebody who grew up in a house with a single mom. So I know he has seen that suffering firsthand. I know he's tenacious. I don't like the fact that he's pushing the privatization of public housing in New York. But there are other things that I like." —Winsome Pendergrass
"I decided to vote platform this time around over any other consideration." —Sarah Schulman
"I don't have a candidate that I'm endorsing per se. I have candidates that I do not like. It's very much the Trumpian sort of logic: I wasn't thrilled about Joe Biden during the presidential election, but there was no way in hell that I was going to vote for Trump.
"With ranked-choice voting, you have to think more strategically as a voter than you would with winner-takes-all. You can have an extremely popular candidate such as Andrew Yang — by popular I don't mean 'well liked'; I mean 'has an enormous amount of name recognition' — and whenever people go down the list, they'll be like, Oh, okay, I'll put him at the bottom. But being at the bottom still makes that a vote. So it's about who you put in and who you keep out. And that's the logic that I have here.
"With the rapid changes in the mayoral election, I have decided that I'm going to rank Scott Stringer and explicitly not rank Andrew Yang or Eric Adams — and the same with Kathryn Garcia. I do take the allegations that came up against Stringer very seriously. But thinking tactically and thinking strategically, I think that having Andrew Yang or having Kathryn Garcia or having Eric Adams would essentially be going back to something that is less progressive than even de Blasio.
"As a trans person and somebody who is engaged in activism around sex work and sex workers in the city, I have a lot of concerns about Garcia. She's not going out there saying, 'I am the social-conservative candidate.' But she isn't talking about the issues that really matter to me: decriminalizing sex work, helping homeless people, helping people get out of evictions.
"I had taken Stringer off my list because of how he handled the allegations. But now, at the 11th hour, I put him back up at the top of the list because I at least know that he cares about these progressive issues and that he says what he means." —Chelsea Manning
"One of the fun things about ranked choice is that it allows you to go off the beaten path. I plan to vote for Stringer for first choice, and I actually like Shaun Donovan for my second choice. While I don't love his father's super-PAC, I do think Donovan had a track record when he was working for the city and being an advocate from the inside." —Pablo Zevallos
"On the Republican side, I'm picking Curtis Sliwa. He works for WABC, one of my companies. I've known and supported him for 30 years. The No. 1 thing is, Who is going to keep New York safe? Curtis stands for law and order. There's only two candidates, so I guess you could write Mateo in for the second vote, but does it really matter?
"I used to be a Democrat. And if I were to vote in the Democratic primary, I'd lean toward Eric Adams because he's an ex–police officer. Maybe Ray McGuire, who was an executive at Citibank and is very capable of running the city. Third would be Kathryn Garcia. When she ran the Sanitation Department, she had the snow cleaned up within 24 hours. I don't know who would fill the four and five slots. The thing is, if you stop 150 people on Second Avenue and ask them about ranked-choice voting, how many would actually know what that means?" —John Catsimatidis
"I will permanently make my residence outside of the city if Andrew Yang or Eric Adams becomes mayor. We don't need that right now. The next mayor needs to have a revolutionary radical perspective. I think that right now a woman of color is what this city needs. Who better than women, who can run the city like they run their families? Women have kept this city together since it was founded. Dianne Morales is getting criticism for how she ran her campaign, and though I don't think she was involved in those decisions directly, your staff is a reflection of you. Sill, meeting Dianne as a human, she's what we need right now. If you don't realize that we need a woman, then you're a fool. I have some issues with Maya Wiley. She's fallen into the trap of hiring an elitist campaign type. And the former Sanitation commissioner, Kathryn Garcia, who has a lot of traction right now? I don't think she is right." —Mariah Lopez
"The real-estate industry will be fine no matter who the next mayor is; capital finds a way. My head is with Kathryn Garcia, my heart is with Maya Wiley, and my soul is with Paperboy Prince." —Ben Carlos Thypin
"Garcia is by far the most qualified candidate and the person I trust most to be the next mayor. My somewhat controversial third pick is Yang because he has no choice but to bring in experts. Given the absurdity of ranked-choice voting, I want to write in candidates for my four and five slots: Christine Quinn, the former City Council speaker, who ran for mayor eight years ago, is No. 4. Then State Senator Diane Savino from Staten Island is No. 5. It's a shame she's in the State Senate, because she has great managerial skills and they're being wasted. I think whoever becomes mayor should bring her into the administration." —Joe Lhota
"I chose a candidate — I'm the co-chair of Andrew Yang's campaign — and I want to be loyal to the candidate I chose. I do get the impression that many in the political Establishment are shocked that Andrew and Eric and Kathryn have emerged as front-runners. I for one am not shocked because I've long known that Twitter is different from the real world. Ranked-choice voting is a useful reminder that the real world is much broader than Twitter and the views of most New Yorkers are much more nuanced than a hashtag, and that's an important sense in which ranked-choice voting is performing a public service, educating us on the complexity of the New York electorate." —Ritchie Torres
"The first thing I would note is that this is not a great field. Our city deserves a more impressive crop of people to be mayor. I'm voting for Kathryn Garcia ranked first. In a stronger field, you can imagine a great visionary candidate with a higher political profile running the city, with Garcia as deputy, but I don't think Andrew Yang or Eric Adams is that person. I have been particularly impressed with the way she talks about managing personnel in the city. We focus on ideology, but the mayor manages hundreds of thousands of employees. Look at de Blasio, someone who ran on strong ideological grounds, getting run over by both police and teachers. He hasn't been able to set NYPD policy or get schools open in a meaningful way. I'm convinced that Garcia can lead a large, unionized workforce, and I'm hopeful that she's in the running after placing third in some polls.
"For the rest of the ballot, then, the key question for Garcia is whether voters rank Adams or Yang higher. I interviewed all the candidates for a forum about a month ago, and Adams and Yang are both very personable. Adams is a classic NYC personality in a way de Blasio was not, which is appealing. Yang is a great booster for the city, but his ideological commitments are unclear and it is a gamble on who he is going to listen to when he runs the city: Will it be Bloomberg people, or will he go off in an unexpected direction? I'm going to put Shaun Donovan second even though I don't know why the fuck he said you can buy a house in Brooklyn for $100k. Generally he's a really sharp guy in policy areas, especially housing. I think I'm going to put Yang third, not very happily, but ultimately a better choice than Adams. And Adams fourth. I am not ranking a bunch of lefty "defund the police" candidates including Dianne Morales and Scott Stringer, who is terrible on housing policy. And finally I'd rank fifth Maya Wiley. I know her a little bit from when we were both at MSNBC, and she's a really nice, smart person, so I'd prefer her over Stringer and Morales. I'm not ranking Ray McGuire. He has an impressive résumé and must be smart and talented but is stuck to completely vapid talking points and unwilling to say anything specific about anything." —Josh Barro
"Maya Wiley, because she's committed to racial and economic justice and is an eloquent leader who will have a steep curve but could be a strong leader of NYC in a troubled time. Scott Stringer, because he is the progressive who could truly start day one who has a strong progressive vision and a track record. Kathryn Garcia, because she is about "making competence great again" (no more MAGA!). Might select Shaun Donovan as fourth to fill out more of the five slots. Will not include Yang on my ballot." —Katrina vanden Heuvel
"I'm backing McGuire because he has been endorsed by one of my favorite New Yorkers: Naomi Campbell. For Yang, most New York City mayors suck, so it would be nice to see an Asian American person up on that big stage, sucking. I liked how Eric Adams went after rats like Cruella de Vil, so he's No. 4." —Cat Marnell
"I work at the polling site in my neighborhood every election, and I'm anticipating this being a very confusing one for a lot of people. The only time I've voted in a ranked-choice election was when my local Democrat group used it to decide on an endorsement. Everyone's second choice ended up winning.
"I might just fill in my first two picks and see what happens. My top choices were Wiley and Morales. Then the Morales campaign started to implode. I still have Wiley as my top choice, and then I have people I would never vote for, like Yang and Adams — I would rather throw my vote away than cast my vote for them. Then there's the Garcia factor. She seems to be a very competent person and is getting a lot of endorsements, so she might be my second choice on the ballot as of right now. And I might leave the rest of the three blank. I think Yang is basically a Republican and Adams has a lot of issues too. McGuire doesn't appeal to me as a rich guy; we did that before, and it didn't work out great for a lot of people." —John deBary
"It's very unfortunate what has happened to Morales's campaign. I have a tremendous amount of respect for her, but I certainly think she should be negotiating in good faith. Union-busting allegations aside, I have not seen any mayoral candidate who has centered the issues around queer people of color in this city the way Morales has. That's important for me. She would have been my No. 1 pick had those allegations not come up." —Elisa Crespo
And
eleven
more
ranked-choice
considerations
…
.

Fran Lebowitz, writer
"I seem to be the only person who recalls that ranked choice was on the ballot at one point, and I voted against it. I am really opposed to this idea. I'm going to vote for one person in each office. I'm not going to do it. What I am doing is something I would not ordinarily do, which is to think not Who do I really like? but Who could be the mayor now? — because the city is in awful condition.
"For instance, I really liked Maya Wiley. She's really interesting because she has a kind of complicated view of things that attracts me. On the other hand, I feel right now we need someone maybe a little more decisive. I would love, as most women I know, I'd love to have a woman mayor. It seems absurd that we haven't had one. So Garcia seems okay to me, you know; she's not my favorite person who ever ran. Truthfully, in my lifetime, I've only liked two mayors: I liked Lindsay, and I liked Dinkins. Even Dinkins was far away. Lindsay, no one even knows — some kid asked me this and then she looked up Lindsay. She said, 'How could you have liked him? He's a Republican.' Today, he'd practically be a socialist.
"To me, Andrew Yang is a kind of a Trump figure. I'm not saying he's bad in that way, morally bad. But it's ridiculous: The reason he was leading in the polls is because everyone knew who he was. The reason everyone knew who he was is that he ran for president. To me, Andrew Yang — he's qualified for nothing. He couldn't be the president of my condo board. I assure you, he could not deal with this. If New York City were a high-school football team, he could be the cheerleader — not a college football team but a high-school football team. In a small town."
.

Sean McElwee, Data for Progress co-founder
"Make sure you rank fifth one of the front-runners. That ensures your ballot is fully counted, even if that means choosing between the lesser of two evils. It's pretty rare for ranked-choice voting to overturn first-round plurality — not saying that it couldn't happen, but it's worth setting expectations. I think that progressives have erred by not having a preference among the most likely last three candidates as an escape hatch, if that ends up being necessary. Instead, I think you'll end up with a basically random distribution, which is why ranked-choice rarely overturns first-choice plurality."
.

Ross Barkan, writer and former State Senate candidate
"From a left perspective, it's a potentially dismal race in the sense that the candidate who might win may have little affinity for activists and for left movements in general. That said, if you want to elevate left-of-center candidates, Stringer and Wiley have to be on your ballot. They offer conventional center-left platforms — pro-labor, critical of charter schools — so would have to be pretty high on your list. For the four and five slots, think of candidates you can live with.
I have reservations about Garcia because her policy platforms are nowhere to the left of Yang or Adams. She is aesthetically better in that she is experienced, she's competent, but she very much lies in the center — it can even be argued that she falls right to Yang and Adams on charter schools and housing. The real battle, I think, is between Yang and Adams. When weighing Yang and Adams, I would consider: Who can I move more? Not very many people agree with me on this, but I think from a socialist perspective, Yang is both intriguing and dangerous. My belief is that the left can gain more from a Yang administration than an Adams administration, because Yang would be a weaker mayor with fewer institutional ties. He can be moved by protesting, organizing, and has some progressive policy ideas. Just as Bradley Tusk sees Yang as an empty vessel, the left can too."
.

Carolyn Maloney, U.S. representative
"I've talked to some of my friends in Maine who voted in early voting and said ranked-choice voting made them feel more satisfied in elections and gives them a better outlook on political process. It makes them feel all candidates are considered, and another important part of ranked-choice voting ensures that primaries won't end in runoffs, which then saves taxpayers a lot of money. I'm not ready to say where I'm voting for mayor, but I'm absolutely going to use all five of my votes. I'm not playing any games: I'm just voting for whom I want to win first, then second through fifth."
.

Huge Ma, TurboVax creator
"I lived in San Francisco for a couple years, so I've voted in a ranked-choice election before. I'm well aware of all of the possibilities — that the second- or third-place candidate in the first round could end up winning the election — and I'm glad that I have more than one way to express my preferences. I intend to vote for as many candidates as I think support my values. I'm looking for a mayor who recognizes that we cannot go back to our pre-pandemic ways. We've seen how freeing open streets and outdoor dining can be. And just how much biking has taken over. We need a mayor who has the vision to transform our relationship with our streets, because it is so much a part of our day-to-day lives and underrated. Having an ecofriendly relationship with how we use our street space and get around is not only good for quality of life; it's good for climate change as well."
.

Cynthia Nixon, actor, activist, and former gubernatorial candidate
"There are no perfect candidates in this race. But there are some truly awful ones — especially Andrew Yang and Eric Adams. Yang lacks experience, but even more concerning is how he's been co-opted by big business. Adams is a former Republican who would take us back to the era of stop and frisk. Both are funded by corporations and right-wing billionaires.
"Because of recent events, progressive voters will have different comfort levels with who they consider an acceptable candidate. While we may disagree about whether or in what order to rank Maya Wiley, Dianne Morales, and Scott Stringer, the difference between these three candidates and the rest of the field is pretty stark.
"I will be ranking all three. Stringer has a strong progressive track record and platform and the managerial chops that are needed for this moment to build back better. While I wish Wiley's platform were more progressive, she is a compelling candidate who will steer the ship in a steady, sure-handed way to make a city that works for everyone. Morales has played a critical role of lifting up a boldly progressive platform and placing issues of racial justice front and center.
"Ranked-choice voting can be confusing, but it can also be a real boon to those of us who want to band together to stand up to all the dark money being thrown around in this race. Let's be sure all of us turn out and rank progressives at the top of our ballots in whatever order feels right to us. The future of our city depends on it."
.

Gersh Kuntzman, Streetsblog
"I actually think what's great about ranked-choice voting is suddenly you can vote for the candidate you want to vote for. You don't have to kind of game the system or think, Well, I'd really like to vote for this person because I really want to neutralize somebody else even though I don't like this person. No, your first pick can be your first pick. And if you know that person is not going to win, then your second person becomes your first pick. Then you're starting to game the system a little bit. I would say do a little more research than you normally do because you can say, My gut is telling me to vote for candidate A. And then you've got a second chance to consider, If A doesn't win, who else would I like?
"Because my first pick can't possibly win in this new crazy nonprogressive city in which we live in now, my second pick will be the person who can win in this new crazy nonprogressive city built on Wall Street that we live in now. And that will be whoever I consider the most liberal, viable candidate among them. So again, you're still using your own bias, but I'm not going down in flames.
"I'm going to do four picks, because I think after I get to that fourth pick, I can't take it anymore. I can't take how incredibly conservative this city has become, reflected by these candidates at least. I can't take it. So, after four picks — it's like I'm just too angry to keep ranking people. I'm so far to the left I fall off the West Coast and I come up in Siberia."
.

Nicole Malliotakis, U.S. representative
"Ranked-choice voting is an interesting concept. On the one hand, it was implemented because there was such a crowded field in that Democratic primary in which Mayor de Blasio happened to have the highest percentage of votes, but it was a very low number of the actual voters who had voted. The objective here was to create a system where most voters will be happy with the outcome — where, if they can't get their first choice, they can get their second choice or third choice — and I think the objective is well intended. But I don't believe that there has been a good effort on behalf of the Board of Elections to educate people on this new process. Even those of us in political circles have no idea how these races are going to turn out."
.

Alison Roman, cookbook author
"I don't think Just because you're a woman, you should be mayor, but I think that it would be great to see a woman as mayor. I would also love it to be somebody who has lived and worked in the city, who knows what it's like to actually be here. I think that that really informs how you conduct policy. I think it goes without saying I'd like having somebody who's not beholden to corporations, or the NYPD, or any other sort of large organization that would sway political choice. It's not in the best interest of the people who live here. I like Maya Wiley. I think that because we're talking about a primary, you get to vote for who you like. She's definitely going to be somebody that I put down in my top three."
.

Anthony Weiner, former politician
"The concept of ranked-choice voting is not very new for me — I wrote about it in my book. I was not a big fan of the runoffs in 2005, and ranked choice should help avoid that. I wouldn't rank anyone I didn't want to win, and I'm probably like a lot of New Yorkers who haven't figured out who to vote for yet. I knew a few of the candidates pretty well, though I don't know Yang besides seeing him on the presidential campaign. I was impressed with him then, and now he's going through the rigors of the campaign to pass the New Yorker smell test. He's a Mets fan, which is a good start."
.

Min Jin Lee, novelist
"Years ago, my shrink told me that the goal in life is to simplify. So I will walk over to the poll site, choose three candidates in ranked order, thank the poll workers, then buy myself an ice cream for being a good citizen."
An earlier version of this article ranked Nixon's picks definitively. However, while Nixon will rank Wiley, Morales, and Stringer in her top three, she has not shared in which order.