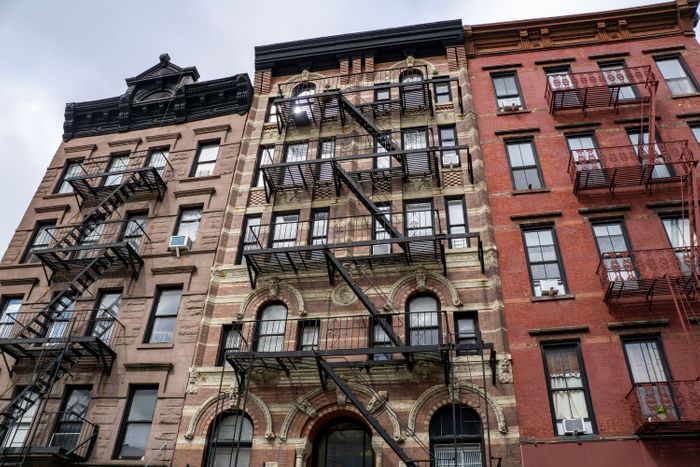 Photo: Education Images/Getty Images
Every year, the largely invisible but powerful Rent Guidelines Board meets to decide the fate of millions of New Yorkers living in rent-stabilized apartments. Will it raise the rent, and if yes, by how much? On Wednesday, the board made the head-scratching decision to raise the rent, kind of, by splitting the increase for one-year leaseholders — rents will remain frozen for the first six months, and then go up by 1.5 percent in the second half of the lease. This goes into effect on October 1. It's supposed to be a compromise: Renters get a little breathing room early on, while landlords get relief later in the year. But no one's happy about it. Here's how we got to this point.
Has the Rent Guidelines Board ever split the rent increase before? 
No. During the seven years of Mayor Bill de Blasio's administration, the board has generally favored tenants. The rent freeze during the pandemic was actually the third since 2015. Before de Blasio, the Rent Guidelines Board approved sizable increases nearly every year for decades, often by 3 percent on one-year leases and up to 8 percent on two-year leases.
Why did the board go this route?
Alex Schwartz, a public member of the board, said during Wednesday's vote that the split lease is "intended to provide additional time for economic recovery, before any rent increase goes into effect." The board didn't approve another yearlong rent freeze because it said it wouldn't be fair to landlords who are dealing with growing operating costs and inflation.
Why are tenants upset with the delayed increase?
In a perfect world, tenants wanted a rent rollback. But at a minimum, they were pushing for another freeze on one-year leases and a one percent bump on two-year leases. Instead, they got what amounts to a .75 percent annual increase crammed into the second half of a yearlong lease. And this comes as tens of thousands of stabilized tenants are still struggling to bounce back from losing income during the pandemic and as many work to dig themselves out of a backlog of rent debt. As of January, rent-regulated tenants across the state owed more than $1 billion in missed payments during the pandemic.
Wait — but isn't there a rent-relief program? 
The state's program is currently accepting applications for grants, but hasn't yet doled out a penny of the $2.4 billion in federal pandemic rental assistance. Sheila Garcia, the director of housing at Bronx-based New Settlement who represents tenants on the Rent Guidelines Board, said it's still too soon to expect tenants to pay more. "Six months doesn't give tenants the adequate time," she said. "It assumes that a state-run program [e.g., the rent-relief program] that we know hasn't worked in the past will all of a sudden work now." There is one silver lining for tenants: Landlords who accept the rent-relief funds cannot raise the rent for one year. That rent freeze would override the Rent Guideline Board's increase.
Landlords are getting more in rent — so why are they still mad?
They wanted at least a 2.75 percent hike on one-year leases, and a 5.75 percent spike on two-year agreements, and this agreement falls below both goals. For two-year leases, the board did approve a 2.5 percent bump for any tenant signing a new lease between October 1 and September 30, 2022.
Landlords were already frustrated by last year's freeze: Operating costs increased during the pandemic, and they argued that lost income from tenants moving out or falling behind on rent was not fully taken into account in last year's rent freeze. Joseph Strasburg, president of the Rent Stabilization Association, which represents 25,000 owners, panned the vote as "incomprehensible" and urged the next mayor to embrace the city's "largest providers of affordable housing as the solution, not the problem — or else affordable rental housing will collapse."
A mayor who embraces this perspective may well happen. Traditionally, a new mayor appoints fresh board members after taking office in January. And Eric Adams, who landed the most in-person first-place votes in Tuesday's Democratic primary, and is a small landlord himself, has said he supports rent increases.