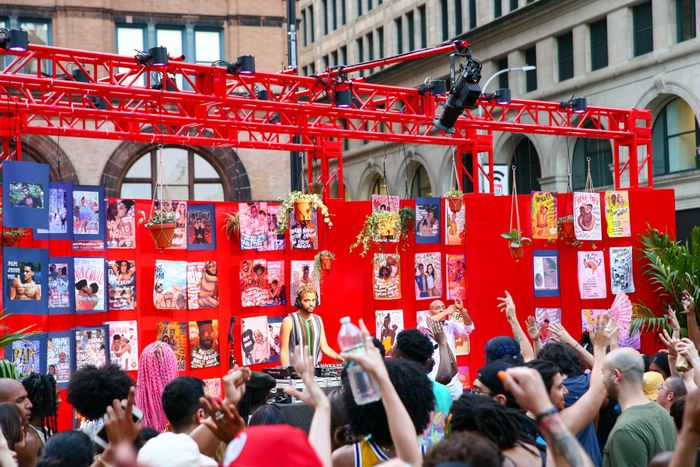 Photo: Matteo Prandoni/BFA.com/Courtesy of Creative Time
This past weekend, Astor Place was full of a young crowd of day-dancers who are fans of the QTPOC collective Papi Juice, all gathered before artist Rashid Johnson's bright-painted plant-bedecked Red Stage. For the next month, it will be spilling over with performances, music, games, history lessons, meet-ups and talk backs, all programmed by the public art nonprofit Creative Time. It will be locus for a kind of ongoing festival of festive intersectionality, a post-pandemic, post–George Floyd party with a purpose, much of it queer and trans-celebrating and so deliberately anti-heirarchical that three days a week will be open-sourced, when "the stage is open to artists and passersby to activate and occupy however they please."
"It's completely under-policed by me; this is ideally a gift to the folks who want to bring it to life," Johnson tells me a few days before the Red Stage went live. In terms of the programming, "I don't want to have anything to do with it" —not his skill set — "but had it been my job I would have chosen these same people. They have turned it into something which is really inviting to LGBTQ folks, and have been really thoughtful about finding voices … I want it to be really representative of the city."
The color of the stage itself is of course deliberate. "Red is this great sign of an alarm," he explains "We've been living in this time of great alarm. And great awareness." He made a series of Untilted Anxious Red Paintings over the pandemic, holed up with his family in the East End of Long Island. But also: "I have these red sneakers I've been wearing. I'm looking down at them and thinking: Maybe I am really into red right now. And using color as a way to illustrate that color can be a tool to capture our mood."
Color aside, the concept of the stage was "strangely born from Carl Andre," Johnson says. "The Museum of Contemporary Art Chicago had a great floor plate piece. When I learned I could walk on it, it blew my mind." Realizing that, he and his friends–"these young black kids" — would get together and break dance on the piece. "It would alarm other people who didn't realize you could interact with it," he remembers. "The guards could not stop it. You can't disallow something which is allowed."
Tell that to the anarchic revelers who are being pushed out of Washington Square Park only a few blocks away by the new curfew; we live in an era of the re-disallowing. It's not yet clear how controlled Red Stage will remain.
Johnson grew up in Chicago, and he tells me that he has little deep personal history with the Astor Place are area beyond going to the Public Theater (although he lives not too far uptown.) It's the gateway to the East Village which during his 16 years in the city has steadily had its naturally-occurring radicality, dating from when rents were cheap and the area had an on-edge druggy abandonment, polished away. The Alamo, that upturned cube from 1967 that its sculptor, Tony Rosenthal, remembered as being sited in "an awful spot," bereft of street life, today sits in the middle of an expanded plaza, surrounded by sleek glass tech bro bourgeiousity. The area itself as fancy as it has been since it was home to the city's finest opera house in the mid-19th Century and a bit later was lorded over by Wannamaker's department store (today home to Facebook.) Johnson doesn't let this bother him too much. "During the time I've lived here I feel like it's been three different cities," he sys. "It's going to change and it's going to disappoint you."
The genesis for the project dates back a few years, when Johnson was approached by Creative Time to collaborate. "It took me some time to think," he says. "I had a couple ideas which I thought might be interesting. And we evolved out of those," since they "did not deliver the experience this pandemic time needed. Touching and other things which didn't make sense. I realized I wanted to be outside; some of those places had interior aspects."
This is Johnson's second stage in the city right now. The first, installed last fall in the courtyard at MoMA PS1, is just called Stage. It's bright yellow and features five also-bright-yellow microphones, arranged at different heights. The idea is that anybody in any body–and admission to PS1 is free to city residents–could get up and speak their mind, or perhaps sing or, since it also celebrates the mic, the central fetish object of hip-hop, rhyme.
"Young black males become obsessed with this opportunity to make their voices louder," he says of the mic, before acknowledging that "it's archaic in that we have now found other substantive ways to make our voices louder on social media," he says. But Stage gives "the opportunity to do that and say what you want to say whether it's poetry or singing or speaking and have it archived by the institution as well."
What the two stages share in common: "Give people something to use," he says "Give them something to amplify their voice or give their bodies agency… I love that I can make these things and then step away and give it to the public. Do with it what you will."
What's next for it after this month? "There are some institutions in other cities which have expressed some interest in taking it to their homes," he says. "So we'll figure it out. I can see it possibly travelling."
Then another comparison comes to Johnson's mind: "There was a Picasso sculpture in downtown Chicago we'd call the slide," he says. "This is just a part of how the work is constructed; You could use it as a slide. I don't think that was Picasso's intention. The public is so aggressive and will make anything what it wants to be. They aren't beholden to critical and conceptual concerns. They don't give a fuck and thats ok."