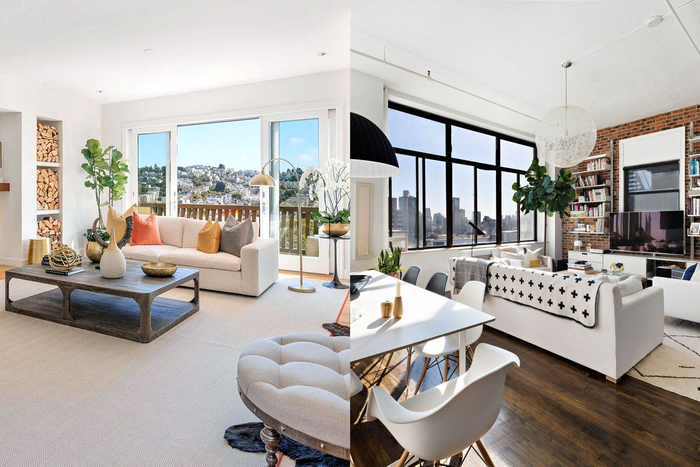 Photo: Courtesy of Sotheby's International Realty
You've probably heard a lot about uncertainty in the real estate market in the past year, especially when it comes to urban areas like New York City and San Francisco. But it can be hard to parse what all of that means for you — are rent prices really down in NYC? Is now a good time to make the jump from renting to buying? Can you use the market situation to your advantage and negotiate a good deal? With all of the uncertainty of the past year, we could use a little guidance. So, we talked to two real estate agents: Lisa Larson, with Sotheby's International Realty in NYC, and Paul Warrin, with Golden Gate Sotheby's International Realty in SF. They answered our pressing questions about the state of the real estate market (more than a year after the pandemic began in the U.S.) and also shared practical tips for those looking to buy or rent right now. Read on for their thoughts.
What do the real estate markets in NYC and SF look like now?
Larson: In general, the panic over families leaving New York City en masse was overblown. The majority of people who left temporarily were those who owned a second home, were able to work from that home, and also opted to have their children learn remotely. Many have already moved back, motivated by the increasing availability of in-person school and the city's impressive vaccination rates. While the current trend toward working from home will continue as long as businesses allow it, many are also eager to return to the office. Buyers are craving human contact and yearning for a sense of community that only New York City can offer.
Warrin: We have all been surprised by the real estate market. We initially thought the market would slow down to a crawl, but shortly after the lockdown and stay-at-home orders went into effect, the market came back as strong as ever. For the first 12 months, the market was driven by buyers looking for more work-from-home and study-at-home space, private outdoor space, and less densely populated areas. There was a big shift away from the city center to more residential areas of the city and outside of the city altogether. However, we are now — just in the last month or so — seeing many second-home buyers coming back into the city, looking to buy condos before the market hits a peak again.
Has the past year really lowered rent prices in urban markets like NYC and SF?
Larson: Absolutely. StreetEasy recently released data showing Q1 2021 Manhattan median rents had dipped 16.8 percent year-over-year to $2,700 and Brooklyn rents had dropped 20 percent to $2,390 — both marking new 10-year lows. Demand drives rent prices, and 2020 brought vacancy rates higher than we'd seen in several decades as people decamped the city — moves primarily made possible by the remote working environment. That said, I do think vacancies have flattened, and there is already a noticeable uptick in showing appointments. As temperatures warm, vaccine rates continue to rise, and businesses begin calling workers back into the office, we will continue to see renters returning to the city — especially those seeking unprecedented deals. There are signs that major concessions, including really deep discounts and multiple months of free rent, may be winding down, but it will probably take until summer 2022 to see a return of pre-pandemic rent prices.
Warrin: Rental prices were hit much harder than sales prices in urban markets. Renters are much more mobile than homeowners, and there was a mass exodus of young professionals leaving the city and working remotely. Rents have been down 20 to 25 percent in San Francisco with record levels of vacancies. However, with companies announcing plans to re-open offices in the next few months, renters are starting to return to the city.
How can prospective renters or buyers take advantage of the current market situation and get a good deal?
Larson: In short, look for areas of weakness in the marketplace. Currently, the upper end of the price spectrum is seeing the biggest discounts. So, for buyers thinking about upsizing, now is the time to act. Renters are also getting terrific deals in the current market. Lock in your dream apartment must-have list, and scour the market for the apartment that fits the bill. Check the unit's rental history to ensure the pricing is in line with today's market realities and negotiate, especially if the apartment has been on the market for a while. Today, discounted rents are standard, and concessions anywhere from one to four months of free rent on 13-month-plus leases are commonplace. While inventory remains abundant, summer months usually drive an uptick in rental activity, and therefore prices. Try to time your lease before or after the summer rush.
Warrin: The sales market in San Francisco has already shifted back to being a seller's market, with some homes receiving 10-15 offers. However, the downtown condo market has not yet fully recovered. There are still relatively good deals to be had there. In other parts of the city, the best strategy is to come in with a strong offer as quickly as possible. Some sellers may not be aware how hot the market is and may jump to accept a strong offer right off the bat.
Is now a good time to make the jump from renting to buying for the first time?
Larson: Yes. Super-low interest rates are here to stay for the foreseeable future, and forecasts point to a very strong decade for the New York City real estate market. With low interest rates, first-timers can lock in a monthly payment that competes with today's low rental prices while avoiding the rental increases that are sure to follow once the market stabilizes. While there is a lot of competition at the lower price spectrum most attractive to first-time buyers, there are still deals available throughout the city. That said, all buyers will want to make sure their finances are buttoned up before entering the market, as the pandemic economy has tightened lending standards.
Warrin: Interest rates are so good right now, and prices in some parts of the city are still well off their peaks. It is a great time for renters looking to buy.
What should first-time home buyers be aware of, especially in an urban market?
Larson: When looking at online listings, buyers have to learn to look past the great decor, which may be staged specifically to make a lackluster home look better. Focus instead on the home's bones, including a good floor plan and flow, nice views, high ceilings, and location. Also, first-timers should be very knowledgeable about the building in which their desired unit resides, including both the financials and the structural health. A smart broker is critical in advising buyers on all the nuances involved in an urban market.
Warrin: Find a well-established realtor who you like and trust to help you find a great home. Buyers who try to do it themselves often end up overpaying or overlooking important factors. In addition, they miss out on many of the best opportunities, as a surprising number of homes sell before they even hit the market. In some locations as many as 25 percent of sales happen pre-market, and often the nicest homes are the ones that sell pre-market.
This interview has been edited and condensed for clarity.
This advertising content was produced in collaboration between Vox Creative and our sponsor, without involvement from Vox Media editorial staff.