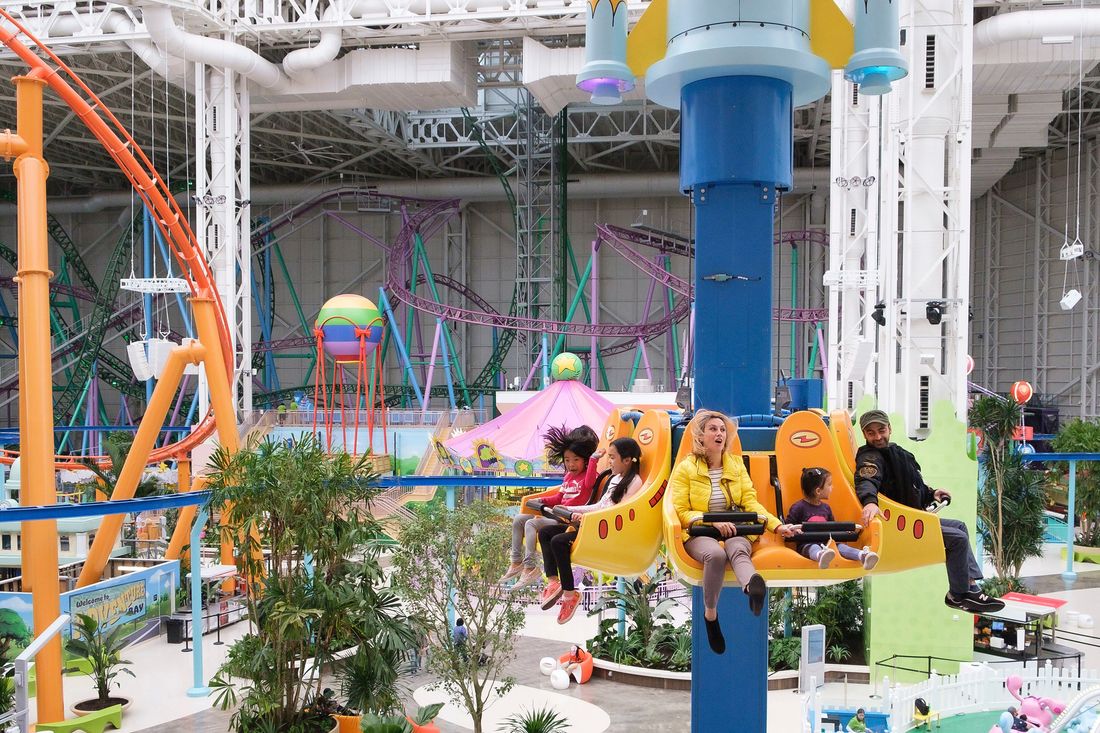 This is a mall.
Photo: Justin Lane/EPA-EFE/Shutterstock
In this country, we believe in opportunity and vanquishing impossible odds. We hold it as an article of faith that even, say, a ruinous dud of a mall can lift itself up by keeping people supplied with three-packs of undershirts and oversize candy. It's a vision that has drawn investors to the paved-over promise of the Meadowlands, where a new shopping center has risen out of the spongy earth. Around 2007, a mirage dubbed Xanadu materialized by the side of the New Jersey Turnpike, a great jumble of structures wrapped in an assortment of brightly colored patterns, like a gift table of the gods. But before the packages could be opened, the Great Recession blew those fond plans away, leaving only a shell that then-Governor Chris Christie called "by far the ugliest damn building in New Jersey, and maybe America."
Still, a new set of developers persevered. The doomed pleasure dome was redesigned, repainted, and rechristened American Dream — and voilà, a polychrome elephant was turned into a white one.
In the fall of 2019, the Bergen Record celebrated the achievement by running through a 23-year history of the site's vicissitudes and postponements and concluding with a sigh of relief: "Now — barring some unforeseen glitch — a small portion of the dazzling super-mall and amusement center, with its roller coasters, world-class shops and restaurants, and artificial ski slope, will open Oct. 25." Alas, there was an unforeseen glitch. The complex was still scheduling various ribbon cuttings the following March, when the pandemic shut it down. Just over a year later, the company behind it, Triple Five, defaulted on a $1.2-billion construction loan.
On a stormy weekday afternoon, the recently reopened city of shopping was disconcertingly serene. Maybe it was just a momentary lull. Perhaps, with the pandemic ebbing, crowds will ditch their online shopping carts and return to physical stores. Or, at least, families may crave indoor entertainments of the kind that require bulk acreage. This place is not primarily about picking up school supplies or refreshing a wardrobe; it's about experience. There's a water park with a wave pool, an ice rink, an amusement park, and a ski slope that from the outside looks like a huge chute on stilts. The spiritual heart of the place may be TiLT — A Tracy Lee Stum Museum of optical illusions, where visitors can have their picture taken rappelling down the face of the Statue of Liberty or riding a flying hot dog through the sky above lower Manhattan. So much stimulation might require a pause before your next sortie — a retreat to Grisini, say, where you can nurse a cup of coffee at a window counter, with a view onto the highway, tundras of parking, and MetLife Stadium's mountainous bulk. The vista seems like a pointed letdown. Who needs what's on the other side? Leave your troubles outside. So life is disappointing, forget it! In here, life is beautiful.
Why brave the fickle outdoors when you can snowboard on perpetually perfect powder or ride a roller coaster without braving summer humidity? Big Snow (as the slope is called) might not gobble up quite as much terrain or defy nature quite as extravagantly as Snow Dunes Qatar, or offer a run as long as the AlpinCenter in Bottrop, Germany, but it does provide the definitive retort to anyone softhearted enough to argue that the best use of a sensitive, polluted zone is ecological restoration. Why protect wetlands when you can just sluice money into them like PCBs from a chemical plant?
A decade ago, the architectural firm GH+A, along with Adamson Architects, overhauled the design of the nearly completed structure to make it less obtrusive. They have triumphantly reached their goal: The American Dream Mall is no longer the ugliest damn building in New Jersey, or maybe America. It goes so far out of its way to avoid ugliness, in fact, that, like the sky itself, it blends into the atmosphere. The design is a compendium of watered-down references to more extreme models. With its white curvilinear atriums, escalators masquerading as ramps, and strip lighting that emphasizes its swooping contours, the interior suggests a pale echo of Maxxi, Zaha Hadid's modern-art museum in Rome, only without the kinetic energy. A ghostly memory of Xanadu lingers in a few foyers painted with a thatch of stripes in groovy 1970s shades of lilac, mauve, and tangerine and accessorized with triangular ottomans.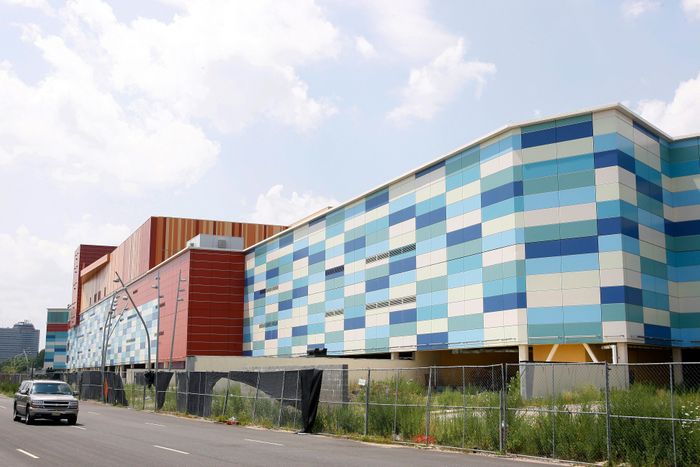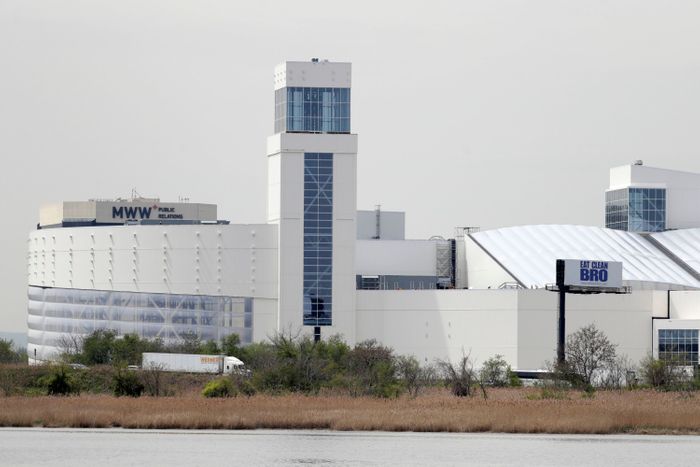 On the way to Primark, passing a dead Century 21 store, I felt the cool breeze of ersatz authenticity on the back of my neck. Looking up, I saw I was standing beneath a barrel vault, clad in dark wood and coffered to boot. For some reason, this otherwise unremarkable length of hallway merited a special ceiling, the clubby, olde-tyme antithesis of all those spaceship-white atriums. A little farther along, I hit a rotunda — a foyer to the parking garage, really — with a stalactite-like chandelier dripping from the ceiling. As I meandered through atriums and up escalators, I craved a bit of genuine, over-the-top exuberance, the kind embodied in Yayoi Kusama's grinning pumpkins and hallucinatory flowers in the New York Botanical Garden's summer show. Kusama's work has popped up in shopping centers in Honolulu and Tokyo, but East Rutherford opted for a cut-rate version of real art. In the center of one court, giant, rainbow-colored letters spell out LOVE. Robert Indiana, call your office.
To dismiss all this as tacky is to be generous: It's not tacky enough. To attack it as generic is also not quite right. I wish it were more blank, like the vast and neutral Costco shed at Teterboro, which gathers the whole demographic mix of northern New Jersey at what must be one of the most diverse spots in the nation. American Dream is timid where it might have been outrageous, sporadically fancy where it should have been plain. (The high-gloss marble slabs scattered among unpolished tiles suggest that the builders were making the best of a scant supply.) Architects should by now have learned from Las Vegas to do fakery with panache. Here, the design is half-heartedly bold and quasi-apologetic. It's like stealing a car for a joyride and then keeping to the speed limit.
Like so much of America, the entire space is tailored to the taste of 6-year-olds. A colonnaded portico apparently made of jellybeans and topped with a mini Statue of Liberty leads into a chain candy store with the no-shit name It'sugar. Hallways are wide as airport concourses, so kids — and adults, for that matter — can twirl and run to the point of exhaustion, have their yelling smothered by pillowy background music, and ride around on electrified stuffed animals on wheels. In this child's-eye view, the frame around the fantasy — the architecture, that is — hardly matters. If the close-ups are sharp and the colors bright enough, then the white steel truss overhead doesn't spoil the sense of limitlessness but instead just fades into distant heavens. The whole place is designed in portrait mode, to make the foreground dominate and everything else fade into a utilitarian blur.
Evocations of dark forests and fairy tales come in for the same ruthless treatment. In the Garden Court, lawn dwarves and fiberglass bunnies frolic across mounds of moss that's been killed, dehydrated, chemically treated, and dyed to make it look alive again. This taxidermied fuzz is draped over little hillocks and hangs, Spanish-style, from twisty arches that vaguely resemble the branches of live oaks. The stuff also domes a little wrought-iron gazebo above a winding path that should really lead to a pitcher of juleps. Here and there, the too-green greenery is studded with plastic daisies the size of garbage-can lids. The jangle of references is a bit disconcerting — what are Sleeping Beauty's companions doing on an antebellum plantation in northern New Jersey? — but that's in the nature of dreams.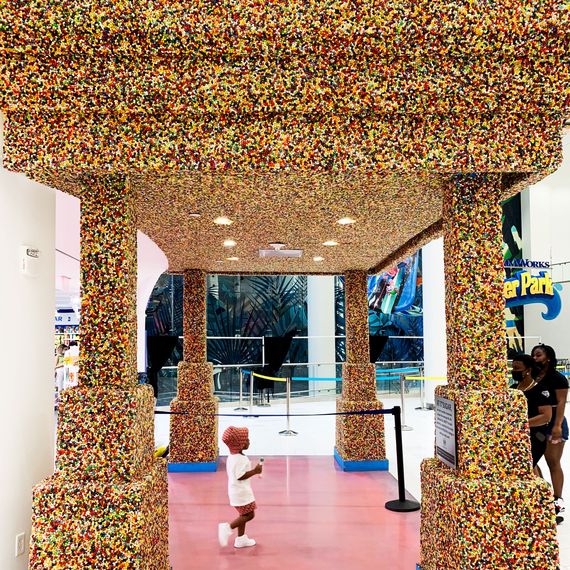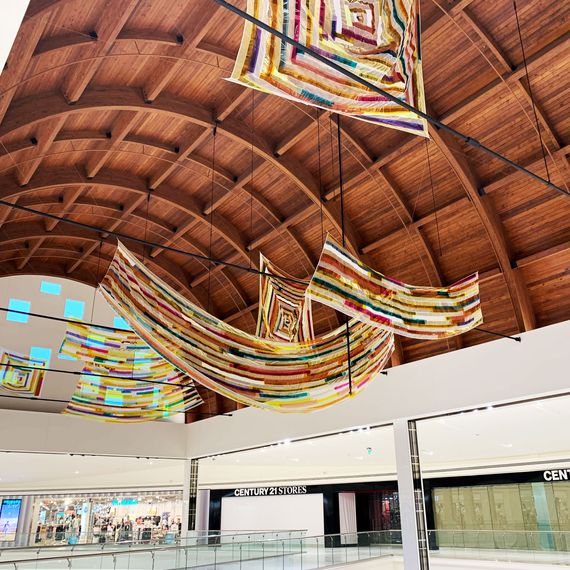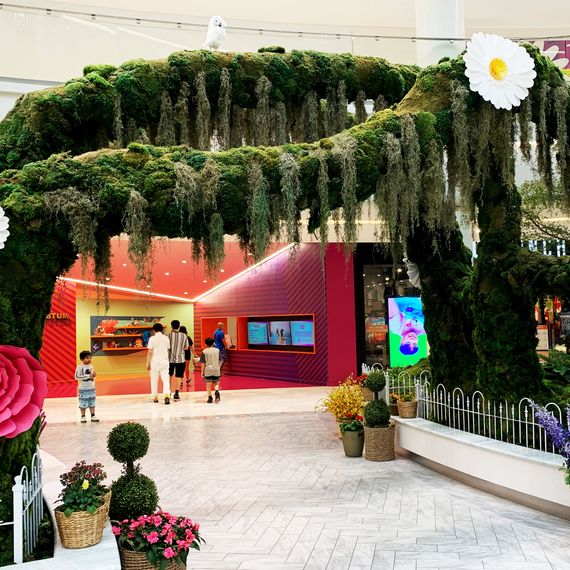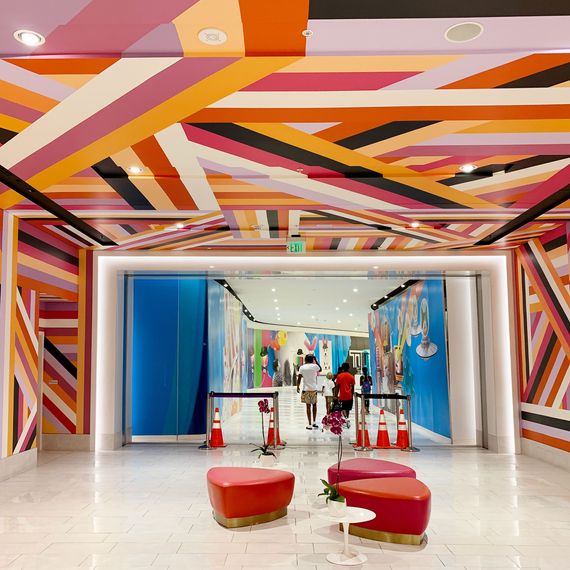 Exploring this off-brand shire, I kept thinking of the gardens in the Gaylord Opryland Resort in Nashville, a glass-roofed tropical Eden that makes the Ford Foundation look like a terrarium. Some years ago, I spent the better part of an evening exploring the rivers, waterfalls, islands, and lush (real) vegetation of the hotel's four linked atriums. The place is a marvel of indoor-landscape architecture, where temperature, light, and humidity are kept in a state of unchanging perfection. The East Rutherford crew didn't dare emulate that level of engineered romance; apparently, the American dream doesn't include horticulture.
After a while, I began to suspect that the fantasy is an anxious one, as befits a troubled establishment shuttered by a pandemic and rocked by a retail revolution. In a flourish of adorably apocalyptic whimsy, the new aquarium imagines New York as a drowned city. Sharks flit above Art Deco skyscrapers planted amid the reefs. The Brooklyn Bridge lies submerged. Subway cars sleep with the fishes. If your children ask you, "Mommy, what's the absolute worst-case climate-change scenario for coastal cities?" or if they clamor for a literal representation of an underwater investment, this is where you come to explain.