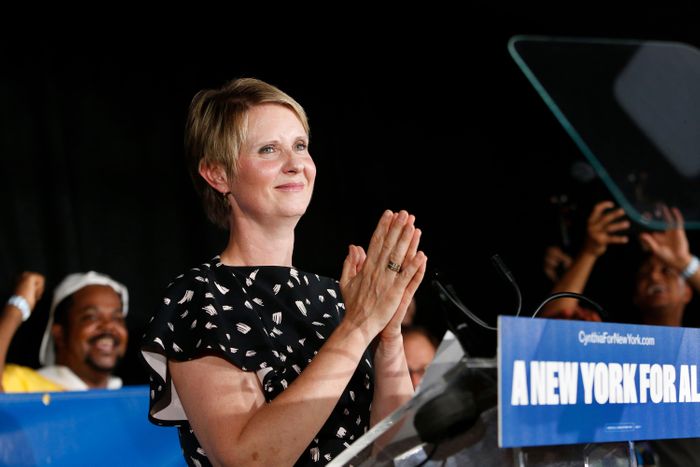 Photo: Jason DeCrow/AP/Shutterstock
As the teaser for the new Sex and the City reboot put it: "I couldn't help but wonder, where are they now?" Well, we know where Cynthia Nixon, the once and future Miranda, will be: a townhouse on East 32nd Street in Kips Bay. Nixon and her wife, Christine Marinoni, just bought the four-story, 12-room townhouse for $4.4 million, according to public records. The couple currently owns a four-bedroom loft at 10 Bleecker Street in Noho, which they bought for $3.25 million in 2012.
Nixon, a lifelong New Yorker, grew up in an Upper East Side walk-up with her mother, which might help explain the attraction to Kips Bay, which isn't exactly the kind of trendy neighborhood celebrities typically gravitate toward. (Because NYU Langone and Bellevue are nearby, townhouses in this neighborhood tend to be well-stocked with doctors.) The New York Times once called it "an anonymous neighborhood with fringe benefits." But, hey! Nixon is also a sometime politician and education activist who challenged Andrew Cuomo in the 2018 governor's race and maybe sort of pushed him to the left on a few issues?
Nixon's townhouse, which was listed with Dexter Guerrieri of Vandenberg for $4.4 million, is well-suited to the neighborhood: a "tidy" three-family property with a peach-colored façade that doesn't draw undue attention to itself. Given that Nixon is reportedly earning more than $1 million an episode for And Just Like That, the SATC reboot, she can almost certainly afford to take over the whole building. (Her co-star Sarah Jessica Parker has a pair of West Village townhouses.) But the owner's triplex, should Nixon and Marinoni chose not to renovate and turn the property into a single family, sounds pretty great as is: a sunken living room, with a "glorious wall of glass sliding doors and windows," that is "a celebration of mid-century styling and 'outside in' energy," according to the listing. There's a backyard, too.
Otherwise, the building has four operational fireplaces and "even a few peek-a-boo views of iconic buildings." The seller was the Isolina Gerona Asset Management Trust. Gerona, who died in 2020, was — among other things noted in this striking and lively obituary — a Milanese bookbinder and apartment manager. Nixon was reportedly scoping out townhouses in Tribeca before making this purchase, but given the hubbub around the reboot, she seems to have wisely decided to settle down in a place where most of the tourists will be medical tourists. Plus there's a great bagel shop nearby — Daniel's, on Third Avenue — where Nixon can indulge her regrettable cinnamon-raisin-and-lox order.