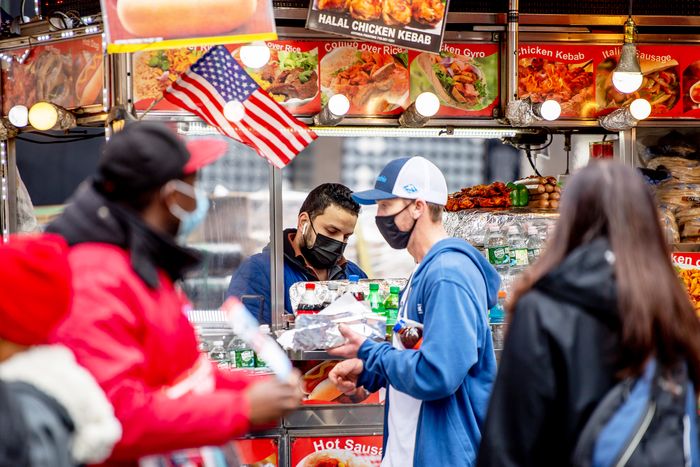 Intro 1116 will double the number of New York City's street vendor permits.
Photo: Roy Rochlin/Getty Images
The past year has proven, more than ever, that street food is vital. The small-business owners who run sidewalk carts and food trucks — the original outdoor-dining experts — not only preserved access to good cheap meals throughout the pandemic; they're paving a delicious path back to in-person interaction. Which is why calls to legalize street vending — which has, historically, required complex permit procedures and often operated at the margins of the law — have been stepped up to promote economic recovery at this crucial moment. Investing in the "open-air economy," as Rudy Espinoza, executive director of the Los Angeles organization Inclusive Action for the City, calls it, is also a way cities can step up to support the communities hit hardest by the pandemic. "Street vendors are a microcosm for the economy," he says. "If we want to make sure the working poor have a chance, we want to make sure we're investing in a way to get them back into the ring." Across the country, cities are proposing policies that would strip away red tape for vendors, and New York City, where antiquated street vending policies have created a competitive black market for permits, is poised to see a dramatic expansion of its street vendor system for the first time in four decades. Intro 1116, passed earlier this year, adds 400 new permits per year for a decade starting in 2022. The total number, by the end, will be more than doubled. New York City could actually end up with taco trucks on every corner.
Of all the U.S. cities that have put progressive street-vending policies in place, Los Angeles might serve as the best model. Since 2018, L.A.'s city council has had an ordinance decriminalizing vendors, backed up by a state law, the Safe Sidewalk Vending Act, passed in 2019. The city's official permitting process began in January 2020 at a discounted rate of $291; later in the year, the city council made $6 million in grants available to help vendors pay for paperwork and equipment. (Because so many vendors are undocumented immigrants shut out of pandemic relief, advocacy groups are now pushing for direct financial assistance.) As of May 2021, however, only 142 L.A. street food vendors out of an estimated 10,000 have received city permits — and the price goes up to $541 on July 1. Milagros Aguiar, who sells bacon-wrapped hot dogs from a pushcart grill in Hollywood, wants to get her permit before the price goes up, but her situation epitomizes L.A.'s policy catch-22: She can afford only a basic $300 cart setup as she saves up to apply for a permit, which requires nearly $1,500 in county health department inspections and fees. But without a more expensive cart, she won't be able to pass the inspection, and enforcement agents have continued to issue citations and confiscate carts during the pandemic to vendors for selling without permits. That's what happened to Aguiar last month. "Three cars arrived and took everything away from me — my cart, my tray, even my seat," she says, in Spanish. "I would like to sell in peace. Everyone should have the right to sell."
Code compliance, changing laws at the state level, better relationships with regulators: these are some of the same challenges that New York City is facing as vendor permits increase, says Mohamed Attia, director of New York's Street Vendor Project. But the other big one — in which the city can be a real help — is infrastructure. New York needs more prep kitchens, known as commissaries. There are about 100 right now; according to Attia, just to keep pace with the expansion of the program, the city will need to add 10 more each year. As vendors move to new, larger, health-department-approved carts, they'll also need parking lots and garage spaces. And, of course, they'll need more vending areas on sidewalks and plazas, where curb space remains at a premium. Over the last year, brick-and-mortar restaurants were allowed to expand their footprints into streeteries, further limiting available sidewalk space for vendors who are legally required to stay 20 feet away. Now a coalition of 150 restaurant owners and business groups, who opposed the increase in permits, want vendors kept off their streets for good.
L.A. is taking small steps towards demarcating space for vendors in public rights-of-way. When the city's Al Fresco initiative expedited permitting for outdoor seating on sidewalks and in streets one year ago — something the city now wants to make permanent — it created some conflicts in places vendors had traditionally relied upon for revenue. One of the neighborhoods feeling the crunch is L.A.'s Leimert Park, says Wo'se Kofi of Baba's Vegan Cafe, who has been selling his vegan soul food for eight years alongside a growing number of vendors at the African Marketplace and drum circle in the historic plaza. "We need more space," he says. "Vending is even more popular now. The pandemic has encouraged a lot more people to give it a try." As organizers try to reopen an adjacent park that's been closed to the public for three years, designers from RIOS and MetropolitanmomentuM are working in partnership with the office of L.A. mayor Eric Garcetti to help the plaza balance the needs of both vendors and brick-and-mortar merchants. After nearly a year conducting community outreach, the team is starting to pilot a new type of flexible gathering space with umbrellas, seating, and customized street furniture elements that include CNC-milled cubes with designs by local artists. "The intention is that these are pretty easy to move, and could support things like outdoor dining," says RIOS's Abby Stone. "But then on the weekends, when tons more street vendors come out, they're easy to move out of the way for when people want to set up."
While making space is one challenge, cart design has presented some of the most vexing issues for L.A. vendors, who build ingeniously modified golf carts, cargo bikes, shopping carts, wagons, and push carts that can cost up to $20,000 but may not meet the county's stringent requirements (like a three-basin sink, for example). According to a report by Janette Villafana and Jack Ross co-published by L.A. Taco and Capital & Main, a team from Kounkuey Design Initiative is working with L.A. County's health department on a prototype that could be sold for $5,000 to $7,000 — with mixed success, because all the rules have left it too big and heavy for a sidewalk. Just as in New York City, one way to take a load off vendors would be to build out a series of shared kitchens, says Melissa Acedera, who coordinates meal distribution and produce giveaways for communities throughout the L.A. region through her nonprofit, Polo's Pantry. "Ghost kitchens" have been authorized for app-based restaurant delivery services, but cities aren't making the same effort to make food prep easier for vendors and volunteers who are feeding Angelenos affordably or, in some cases, for free. "We're making vendors cut through all this red tape, but the way mutual aid has been able to work is by being so responsive," she says. "The networks are really robust already. The city needs to work with the system that's already there." Creating dedicated food hubs could help bring together vendors and mutual-aid groups to become a gathering place where neighborhoods could tackle food insecurity, says Todd Cunningham, the food and wellness organizer at Los Angeles Community Action Network, which is trying to improvise on that model when it serves community meals on Skid Row multiple times per week. "We couldn't do something that was just food service, so we created a whole experience, with a DJ and music when you go to pick up food," he says. "It's like a street festival, with no stigma."
A brand-new type of permit for vendor-driven food markets that's handled more like that street festival could also be tested in L.A. soon. Carla De Paz, senior organizer at Community Power Collective, is working with the city on developing a "special vending district" permit, that's somewhere between a special event permit and a farmers market permit, she says. "We're talking about the city being more flexible with the spatial requirement regulations for vendors." Under this model, which is being discussed for L.A.'s Exposition Park and a thriving Guatemalan night market in the Westlake neighborhood, groups of vendors could theoretically sell together under a blanket permit with city support, similar to private food events. That solution would bring relief to the Avenue 26 market in Lincoln Heights, where 100-plus vendors gather in a narrow canyon between beige-walled warehouses in what might be the country's largest informal night market. Robert Preece, who spends three nights a week here making tiny pancake-batter balls piled high with TikTok-friendly toppings like animal crackers, says the entrepreneurs have big ideas about what would make the market more profitable for all of them: a proper street closure, more trash cans, storage lockers, and — the dream — public sinks. But the vendors are worried that any type of official request for help would result in a crackdown on vendors. "These are people that are trying to survive. If you take this from us now, we can't pay our rent," Preece says. "This is what's feeding my family."
A year ago, New York City mayor Bill de Blasio made a major commitment to the city's estimated 10,000 unlicensed vendors when he announced that NYPD would no longer handle vendor citations. The street-level view, however, shows that the city still has a ways to go. Not only are vendors still getting ticketed, some neighborhood groups, including alliances and BIDs, have found new ways to discourage vendors from selling on their streets, as a recent throwdown at Hudson Yards demonstrated. (Last month, three of those vendors were again cited by NYPD officers.) At a rally, standing behind a podium that depicted Hudson Yards developer Stephen Ross as a shark "eating small business," vendors talked about the newly aggressive treatment they'd received from various city departments. "Now the NYPD is serving as the Hudson Yards private security guards, harassing us and writing us tickets for some imaginary violations they make up," said Mohamed Awad, who has sold hot dogs and halal food on the sidewalk here since 2014. "We need protection and support, not tickets and displacement." As the rally was happening, an inspector from the city's health department, which organizers suspected had been called by the property managers, just happened to arrive — ostensibly to inspect Awad's cart.