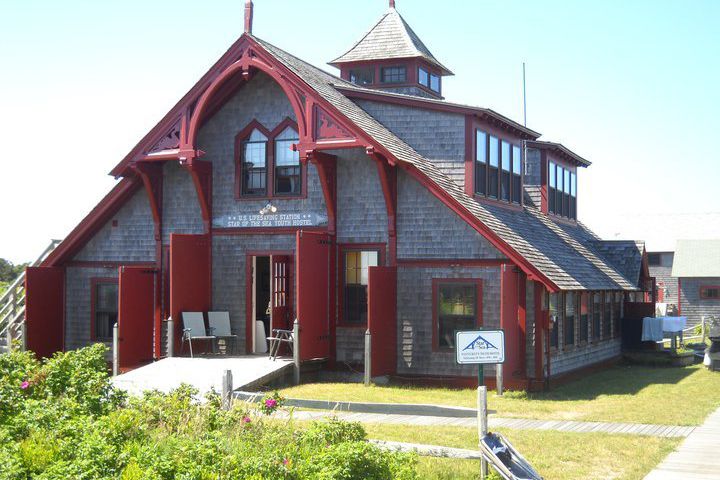 No longer the Star of the Sea.
Photo: Hostelling International
"It was simple and it didn't change," said Sharon Ames. She should know: She spent the past 35 summers at a little cottage on Nantucket next door to the Star of the Sea Hostel, an operation of roughly 40 beds in a repurposed lifesaving station, up the bluffs from Surfside Beach.
Which is very much how Nantucket, 30 miles off the coast of Cape Cod, likes to think of itself: straightforward and unsullied, a place where nearly all the buildings are gray-shingled — the cedar loses its coppery color over the course of a few winters — and roses still climb over low wooden fences and up the siding. Never mind that all the cute two-bedroom cottages are $1.5-million teardowns, summer-house rentals run to more than $30,000 per week, and a bagel with smoked salmon will cost you $21. On Nantucket, the aesthetic leans Quaker, but the prices are full-on Kardashian, and the spirit of the global elite is the one that has come to dominate.
Until last fall, there was one exception: the Star of the Sea, the only real budget lodging on the island, where a bed cost $40 a night. As such, it attracted those of modest means and thrifty habits: schoolteachers, scouting troops, bicycle-touring groups, iron-man athletes, foreigners on J-1 summer work visas, families, groups of middle-aged friends, retirees. "Everybody on Nantucket is really, really rich, right? It's this rarefied bullshit party," said Janice deMooy, who managed the hostel for a decade, from 2008 to 2017. "And in order for a family or kids or college kids to come to Nantucket — they want the history, the whaling museum, they read Moby-Dick — we were the only place. And everyone was equal there. You're all staying together, you all paid $40. A community would come together." And this past fall, it shurt down for good.
In July 1963, American Youth Hostels purchased the building, a decommissioned 1873 lifesaving station that's awash in carpenter Gothic details and has a cupola that guests could climb to via ladder. Its large, open rooms were well-suited to the barracks-style arrangement most hostels had back then. Popular activities included bathing in the sea, visiting historical sites, and beachcombing. Hostelers of that era, according to a local newspaper, were said to find the islanders "friendly" and "sociable" and the island pleasing in its "outdoorsiness" and "marvelous beaches."
Over the years, even as the ultrawealthy flooded into Nantucket, overwhelming the local blue bloods with bigger houses, bigger boats, and private jets, that same wholesome, down-to-earth ethos prevailed at the hostel, with cookouts and campfires, stargazing, sunbathing, and, of course, swimming. As it was surrounded by Nantucket conservation land on three sides, at the end of a quiet dead-end street about three miles outside of town, it was also physically removed from many of the changes that washed over the rest of the island.
"Can you imagine … being able to stay on Nantucket for less than $50 a night!! … breakfast included!" raved a TripAdvisor review from a few years ago. "It sounds too good to be true, but if you can share a bathroom and sleep in a dorm, you are good to go!"
I stayed at the hostel several times over the years, as a child and later on as an adult, and it did feel too good to be true, especially as the island became more and more expensive and exclusive. And it wasn't only Nantucket that was becoming more and more expensive and exclusive but everywhere, as Airbnb took hold of the vacation market and people realized that by putting in white oak wide-plank floors and a high-design woodstove, they could turn a Catskills rental cabin into a $400-a-night "experience." When cabins in the sticks a few miles from the local swimming hole were out of most budgets, it seemed fantastical that you could stay for so little at one of Nantucket's loveliest spots, where you could hear the surf crashing at night and walk for miles on the beach after breakfast — the beaches, unlike those in so many East Coast vacation destinations, are undeveloped and almost all public-access — stopping to swim whenever you got hot or lie down with a book whenever you got tired. Staying there put one very much in the mind-set of a cat may look at a king, and honestly, one of the hostel's many charms was knowing that the ultrarich couldn't claim the spot as their own.
Until last October, that is, when it sold to a Boston developer, Blue Flag Partners, for $3.55 million. Hostelling International, which owned the property, said COVID-19 was the cause. "We were an organization that was shut for the better part of a year. We had to make some really tough decisions," said Aaron Chaffee, the vice president of Hostelling International, who is responsible for operations and real estate. "We sold ten hostels. We weren't planning to do this." Nantucket's two big dorm spaces, he said, were a big part of what doomed it. Over the years, that model has been phased out in favor of buildings divided into smaller, more hotel-like spaces. "The old-school camp feel of a hostel isn't in as high demand as it used to be," he explains, noting that the subdivided layout also happens to be much better matched with COVID protocols.
It won't be torn down. The lifesaving station, the last of its kind on the island, has received preservation grants in the past, according to Mary Bergman, the executive director of the Nantucket Preservation Trust, and it's considered a contributing structure to Nantucket's National Historic Landmark status. And Blue Flag is helmed by a local, of sorts: Terry Sanford, who has longtime ties to the island — in fact, there's a New York Times story from 1979 about his parents "Homesteading on a Tugboat" in Nantucket Harbor with him and his brother Matthew. Matthew Sanford is the president of the Egan Maritime Institute, which was the other bidder for the hostel property. Neither Sanford brother responded to requests for comment, but Blue Flag, which owns several luxury hotels downtown, told the Inquirer and Mirror last fall that plans for the property "included both a hostel and luxury hotel units."
But Blue Flag's other Nantucket properties make it clear what class of traveler Sanford caters to: At one, the modest "innkeeper's quarters," with a double bed, rents for $715 a night in August, and at another, the décor is inspired by "the maritime adventures of an exotic captain."
In any event, it doesn't seem likely that the property's future configurations will involve $40 beds or teenage bicyclists. This summer, it's slated to house lifeguards; the town of Nantucket rented it out for the season for $45,000. "I used to love the Girl Scouts and the Girl Scout moms," said deMooy. "All of a sudden, you'd hear singing coming from the bathroom; they'd be in the shower and they're all singing and using up all the water. It was pure joy. The magic happens with whoever shows up that night." As Bergman put it: "Luckily, the building will endure. We'll see as far as the use." Ames, for her part, thinks she knows what that will be. "I'm not against change, but we were really hoping that it was going to be bought out by a museum," she said. "I'm sure the people who bought it are going to turn it into a beautiful whatever. A beautiful boutique hotel."