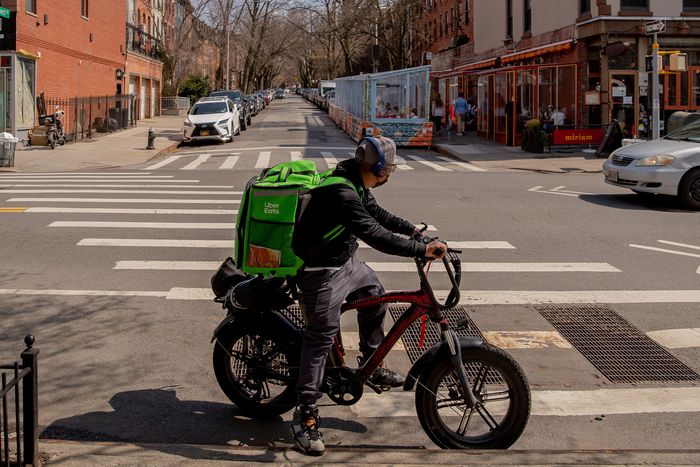 Photo: Amir Hamja/Bloomberg via Getty Images
Before the pandemic, Michael Fuquay's restaurant, the Jackson Heights diner the Queensboro, hardly used delivery apps. The experience there is a big part of the draw, so his staff would only send out a few orders a day, tops, and he didn't mind partnering with companies like Seamless, he said, despite the 30 percent they'd charge in fees. But once the city locked down, Fuquay did what few restaurateurs were willing to do: He cut ties with the apps. Instead, Fuquay reached out directly to customers, put flyers in people's takeout orders asking them not to use the apps, and retrained service staff so they could do delivery work.
Yet the Grubhub orders kept coming. So did Postmates. Fuquay didn't work with them in any official way; they simply put his restaurant on the site, and picked up orders and delivered them. Not only were they still charging his customers fees; they were using old menus, promising customers meals he hadn't made in years, like duck breast in mole sauce. That led to confused and upset customers, negative reviews, and a general frustration that tech giants are gaining from his business and leaving him with little to show for it. "It's misrepresenting my business to the public," Fuquay said. "What I lose is the ability to control the transaction with the customer, the ability to market my own current menu and my own current prices, and to resolve any issues that come up." He tried calling them time and time again, but the response, he said, has been the same: "Crickets."
Now, New York is on the verge of allowing restaurants like the Queensboro to have more control over their own deliveries. Mark Gjonaj, a Bronx City Council member and chair of the Committee on Small Business, is set to introduce a new bill on Thursday that would make it illegal for third-party delivery companies to add restaurants to their apps without explicit permission — and would fine the companies as much as $1,000 a day, per restaurant, for violating those terms, according to a version of the bill obtained by Curbed. "Often in cases where a restaurant doesn't want to be included on a third-party marketplace, it's because they lose quality control on the food, and they give up having a direct relationship with their own customers — both put restaurants in a no-win situation," Gjonaj told Curbed. "Now more than ever, locally owned restaurants should be able to control their business and how it operates. If they want to sign up for a delivery service, then great. If they don't, they shouldn't have to grovel to tech companies and hope to be taken off of a platform that may be harmful to their business."
The law, should it pass, would potentially double penalties imposed by a state bill from Staten Island state senator Diane Savino that nixes the practice statewide. The state bill, which passed both legislative houses in May and will go to the governor for review in the next few weeks, also allows restaurants to pursue legal action against third-party delivery companies for adding them. And it's coming as city lawmakers are looking to redouble their efforts to rein in the middleman apps, just as restaurants that survived the pandemic are able to return at full capacity. "With the struggles that restaurants have faced over the last year, this legislation will help ensure that they are not taken advantage of," Senator Savino said. Surreptitiously adding restaurants has been a delivery practice for years. DoorDash and Postmates, now owned by Uber, were exemplars of the practice, and used it to fuel their Silicon Valley–style growth. Seamless, the parent company of Grubhub, soon followed suit, adding hundreds of thousands of restaurants in a race for market domination. While the growth has been undeniable — especially during the pandemic — it's still a generally unprofitable industry.
By the time the pandemic started in March 2020, tension had been building for years between New York City's restaurant industry and these tech-enabled delivery companies. Seamless and DoorDash, they complained, charged extremely high fees, discouraged indoor dining — where restaurateurs typically make more per meal — and actually made it more confusing than before for some customers. By May, just a few weeks into the lockdown, the City Council had passed a suite of emergency laws temporarily capping fees and reining in their ability to charge commissions for orders made through their phone systems— a situation that's had the potential to cost restaurants thousands of dollars extra a month. Those bills expire this August, and Gjonaj's office is planning on holding a hearing later this month to discuss making them permanent as well as making phone-ordering fees more transparent. "My colleagues and I are currently considering whether it is needed to temporarily extend, make permanent, or allow the laws to sunset," Gjonaj said.
The reaction from delivery companies has been mixed. Uber declined to comment. DoorDash had already announced in November that it was ending the practice of adding restaurants to the platform without their explicit permission, though it has retained the ones that it already listed, according to a person familiar with the business. "We're proud that the odds of staying in business during the pandemic are eight times better for restaurants on DoorDash, and we commend efforts to support local merchants and ensure that they are heard," a DoorDash spokeswoman said.
Grubhub, which started adding these so-called non-partner restaurants only in 2019, didn't directly address questions about the new bills, but said it's  supportive of local restaurants that want out. "We're developing tools that make it easier for restaurants to claim their menus or request to be removed from our platform, and if a restaurant would not like to be included on Grubhub, they can reach out to us at restaurants@grubhub.com," a company spokesman said.
New York has generally been among the most aggressive states in pushing back against the delivery companies. While the restaurant industry has been battered by the pandemic — Andrew Rigie, executive director of the New York City Hospitality Alliance, told Curbed that there are still about 130,000 fewer jobs in the city — lawmakers have been more receptive to getting them back. "We need to have penalties for non-compliance," Rigie said. "Many of these are billion-dollar corporations. We've seen they are willing to exploit local restaurants, they try to creatively wiggle around laws so they don't impact them, and even in cases when laws are in effect, they willfully break them." Fuquay said that while the Queensboro has been able to rally its customers to support it, not every restaurant would be able to pull that off. "Some restaurants feel trapped, and those restaurants are usually the least well-resourced," he said. "We've connected the dots in a way that a lot of restaurants don't have the resources to do, and they're being exploited by these companies."