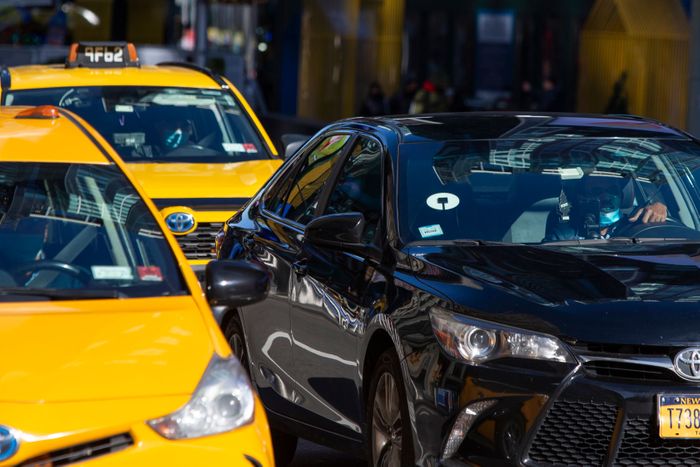 High demand, high prices, high wait times.
Photo: Eduardo MunozAlvarez/VIEWpress/Corbis via Getty Images
The lockdown ended. The curfews were lifted. And just as New Yorkers started to peel off their masks and make their way back out into the world, they were confronted by a rather rude reopening reality. Ride-hailing prices are up — way up, by 50 percent or more over pre-pandemic rates. The shocking incongruity of Uber's pricing in particular went viral when Sunny Madra, vice-president of Ford's accelerator program, posted screenshots of a Wednesday morning ride from midtown Manhattan to JFK Airport that cost $248.90 — about as much as his flight to San Francisco. But why now? A sudden boom of vaccinated riders ready to hit the town? A shortage of drivers? Start-up-subsidized transportation companies finally facing the financial facts?
Much like the supply-chain issues that are plaguing virtually every industry now, Uber and Lyft are dealing with a moment of exceptionally high demand, says Harry Campbell, who reports on the industry at the Rideshare Guy. "People have been cooped up and are taking their first ride in a year, or a year and a half, and there are many more people wanting to get out there." In the Before Times, Uber and Lyft handled these moments of peak demand really well — "surge pricing," you no doubt remember, was the term — but now there's another factor that's complicating the issue: a driver shortage. "So you have the perfect storm of extremely high demand and extremely low supply, which makes it seem like reliability is at an all-time low — and prices are as high as they've ever been," Campbell says. Waiting times are longer, too.
The inability for companies to retain employees is not unique to ride-hailing, but the situation is particularly dire right now at Uber and Lyft, where morale among its gig workers is low. Campbell says he talks to drivers every day who say they're not benefiting from the higher prices that passengers are being charged. Last week, Uber CEO Dara Khosrowshahi said the company would be proposing new incentives to draw drivers back to the app. Lyft's CEO John Zimmer also said the company was considering driver incentives. As the apps work to recruit and retain more drivers, Campbell thinks the high prices will likely last two to three more months. But there's another driver-related challenge New York City is facing, which can be seen in the rest of Madra's ill-fated airport ride thread (which included many people reminding him he could have taken the AirTrain to JFK for tens of dollars instead of hundreds). Before booking his Uber, Madra also tried hailing a cab for 20 minutes, to no avail. There are two-thirds fewer cabs on New York City streets — only 3,500 per day compared to 10,500 before the pandemic — and it's not clear how many of those taxis will ever return.
New Yorkers do have some new options for booking rides. The app Obi (formerly called Bellhop) recently relaunched in New York City, allowing users to compare prices for Uber, Lyft, taxis, other black-car services, and micro-transit options like Via. So far, aggregated data shows that riders can do better with some of the lesser-known car services, says Obi's CEO Payam Safa. "The reality is, Uber and Lyft are more expensive all the time compared to all the other options in our app." Just this week, another alternative that might be both more economical and ethically attractive has also launched: The Drivers Cooperative, a driver-owned ride-hailing cooperative, is now booking rides. According to co-founder Alissa Orlando, Co-op's rides are designed to be 5 percent cheaper than Uber or Lyft because the cooperative only takes a small commission compared to the large overhead of corporate apps — and more of it goes to drivers. "It's about community and keeping profits local," she says. "You'll know that the billions of dollars that New Yorkers spend on rideshare gets reinvested in working-class neighborhoods."
And when it comes to getting around not just New York City but any city, Uber's business model is, frankly, never going to be sustainable from a financial, environmental, or spatial perspective. "Uber has been losing billions of dollars for years and years," says Robin Chase, founder of the New Urban Mobility Alliance. "Raising their prices is the only way they'll ever break even or become profitable." She hopes that revealing the true cost of hiring and retaining drivers will force a reckoning that will make other ways of moving around New York more attractive (much in the same way congestion pricing will prod drivers to consider alternatives). "People flocked to Uber because they were so favorably priced," she says. "People had a suite of choices before Uber, and these choices still exist." One wild card for New York City's reopening is that a lot of people bought private cars during the pandemic and may begin to rely on them — and although ride-hailing vehicles have been proven to exacerbate traffic congestion, it's the many more not-for-hire automobiles in the city, motionless or not, that are clogging up streets, Chase notes. But over the last year, New Yorkers also started doing a lot of bicycling, which is good news, and that boom continues; Citi Bike posted two all-time daily ridership records on back-to-back days last month. With summer weather ahead, shared scooters soon to hit streets, and 24/7 subway service restored, maybe a few months of high Uber prices won't be the worst thing for New York.